Roberts wants slumping Puig to clear his mind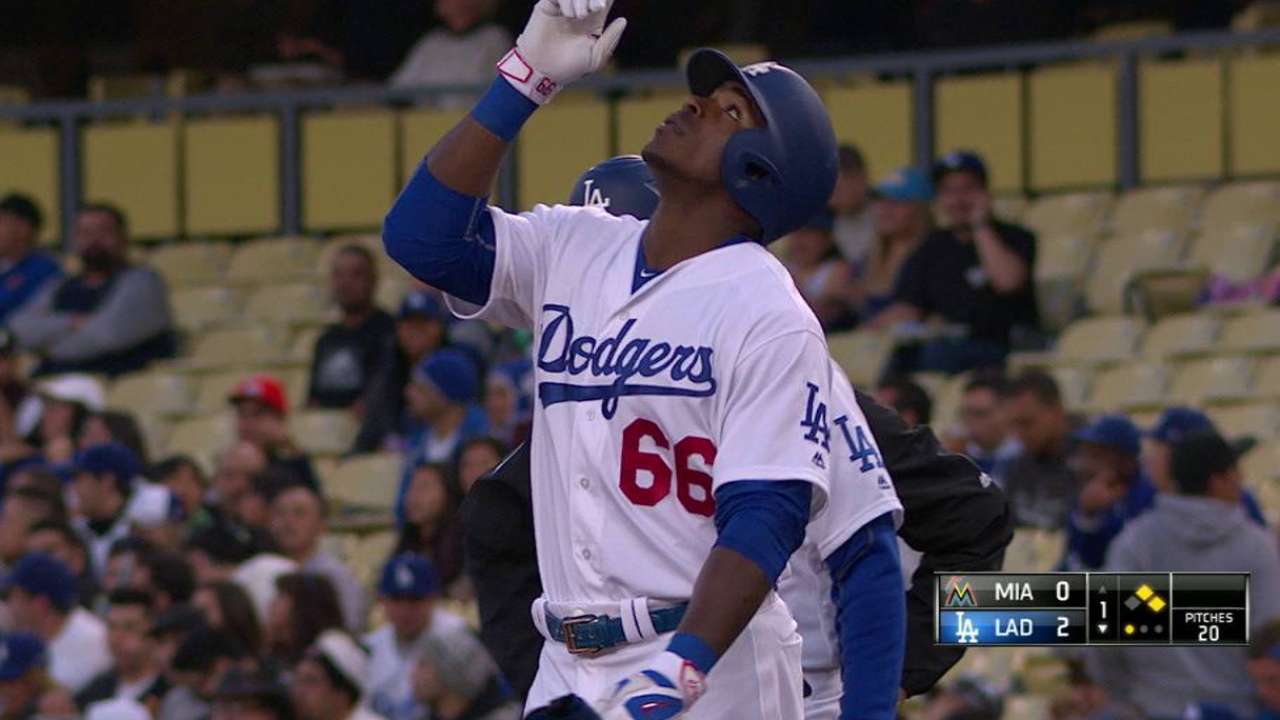 LOS ANGELES -- At this point, there's no other way to frame it: Yasiel Puig is in a slump. Since April 15, the Dodgers outfielder is hitting .137/.154/.235 in 52 plate appearances with 15 strikeouts and one walk. He was hitting .400 in the first two weeks of the season and is now down to .250.
Manager Dave Roberts gave Puig Saturday night off, electing to start Kiké Hernandez in right field instead.
"Kiké's played some right field, and it's more about giving Yasiel a day off," Roberts said. "I just think that he needs to get a blow. To get Kiké out there, I could have put Trayce [Thompson] out there, I just like the matchup with Kiké more."
With off-days Monday and Thursday on the Dodgers' schedule, Puig will have three days out of the lineup in the next week. The team's hope is that he takes the time to clear his mind. It has been an issue Roberts has discussed several times in the past few days, including Thursday when he chalked up the struggles to Puig's pitch recognition.
"He's been getting out of the strike zone a little bit more," Roberts said. "The first seven days, where he's taking balls, swinging at strikes. I think they're still throwing in and he's offering at those pitches."
In the last 14 days, Puig ranks in the bottom 25 among qualified players in both strikeout rate and walk rate, and has the third-worst on-base percentage in that span. He has also had his moments, like his RBI single against the Marlins on Thursday, but even that came off a 44-mph bloop that landed in a dead zone of the infield.
Saturday was Puig's third day out of the starting lineup in 2016 and his first in over a week.
"I think he's just trying to do a little bit too much," Roberts said. "Sometimes, if you can get a day off the pressure to perform for that night, get away from that for a day, can sometimes help."
Jack Baer is a reporter for MLB.com based in Los Angeles. This story was not subject to the approval of Major League Baseball or its clubs.