Prayer of the Week: Papi HRs, child honored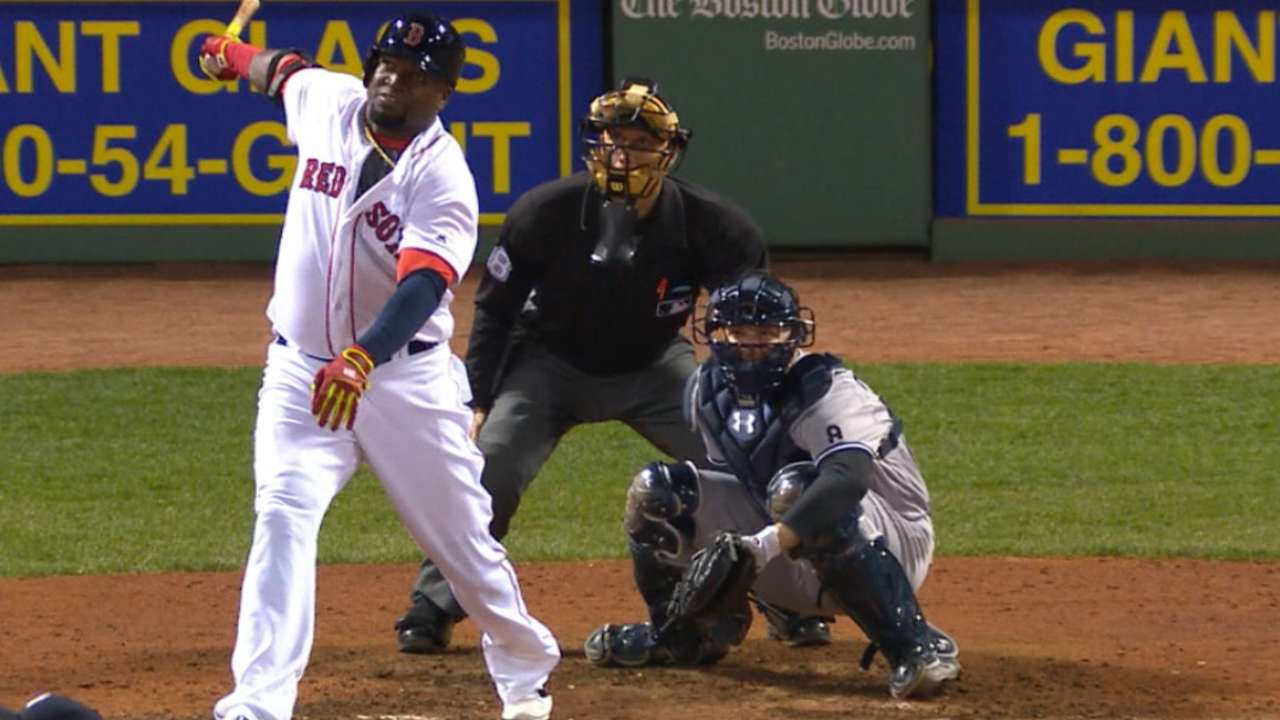 BOSTON -- David Ortiz's go-ahead home run that led to the Red Sox beating the Yankees on Friday night seemed big enough in the scope of a baseball game. But it turned out to have so much more meaning, particularly to a 5-year-old boy in Wyoming named Maverick Schutte.
Before the game, Kevin Millar, who was in town for MLB Network, made his former teammate aware of Maverick, a baseball enthusiast who has a congenital heart defect.
Together, Ortiz and Millar produced a video prior to Friday night's game which was quickly sent to Maverick.
• Papi homers again Saturday as Red Sox rout Yankees
"Hopefully you're doing great. Stay positive," Ortiz told the boy. "Big Papi right here with my boy Kevin. Remember that. We love you."
Then, Ortiz in a completely unscripted way, closed it out in poignant fashion.
"Always stay positive. Keep the faith. You take care, buddy, and I'm going to hit a homer for you tonight," said Ortiz, as he pointed emphatically into the camera. "Remember that. For you."
This is the video me and @davidortiz sent our little buddy Maverick before Red Sox game tonight.... pic.twitter.com/kVTqSoe8OV

— Kevin Millar (@KMillar15) April 30, 2016
Once the game started, Ortiz got caught up in the task at hand and was simply trying to figure out how to hit Masahiro Tanaka and Dellin Betances.
With the game tied at 2 in the eighth, Ortiz stepped to the plate against Betances, who he was 0-for-7 lifetime against and smashed a two-run homer on a first-pitch curveball. The ball landed in the Green Monster seats and handed Boston a 4-2 victory.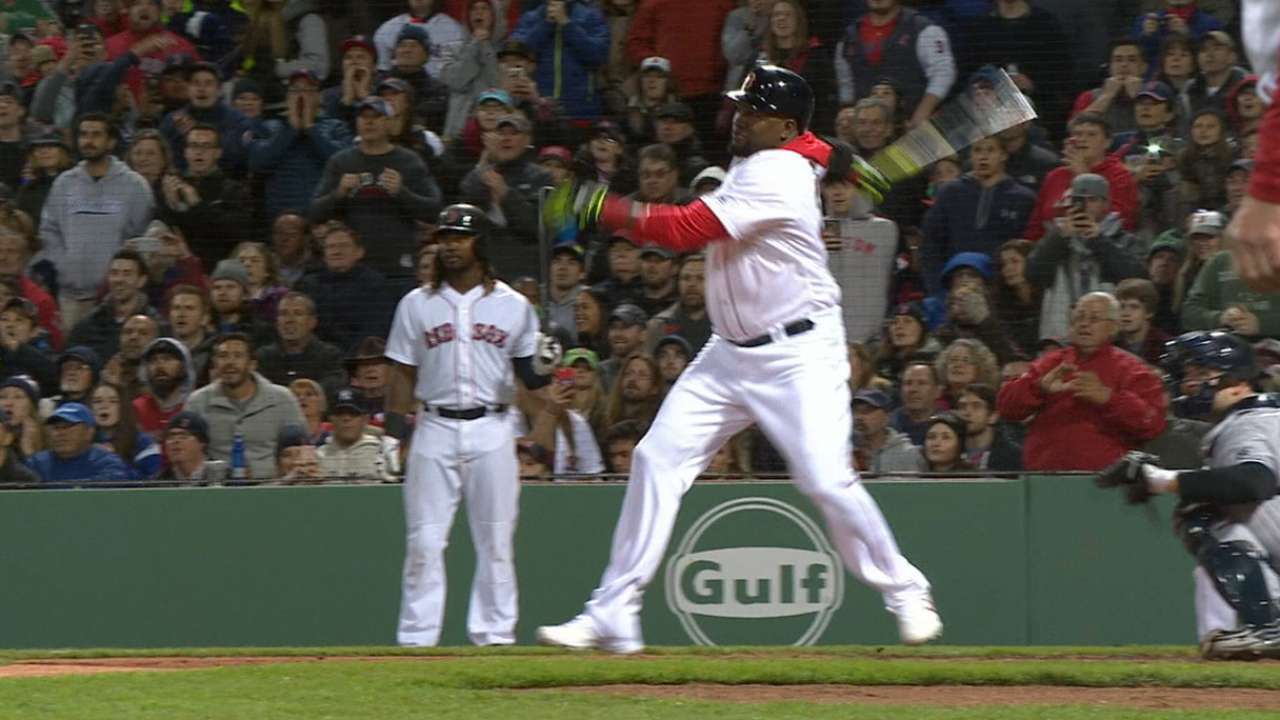 Ecstatic that he had given his team the lead, emotions truly took over for Ortiz when he saw Millar in the stands with his kids. At that instant, Ortiz remembered that he had delivered on his promise to Maverick, who was watching the game on television. Ortiz reached over into the stands and gave three of Millar's kids a group hug.
"When I got home, that was really when I was like, 'Wow, I can't believe this really happened.' It is what it is," said Ortiz. "Millar told me that his parents haven't seen him that happy in a long time. He has been very sick. I always say that there's something special out there. I'm a huge believer in that. You know, I would say God is the one who took over this [situation]."
The story gets even better. After the game, Millar came into the clubhouse and showed a video that Maverick had made for Ortiz after the homer.
And this is Maverick video back us @davidortiz after home run 2nite. The man touches lives daily and brings smiles. pic.twitter.com/SPUhx7Hmdq

— Kevin Millar (@KMillar15) April 30, 2016
"Big Papi, you never let me down and you're the best player ever on the Red Sox," Maverick said. "And I'm trying the hardest to get out to Fenway Park and meet you. Great homer, we saw it."
Hopefully Maverick was watching again on Saturday night. Ortiz again went deep, unloading for a solo shot over Boston's bullpen in right-center in an 8-0 victory over the Yankees. The slugger now has 49 homers in his career against the Yankees.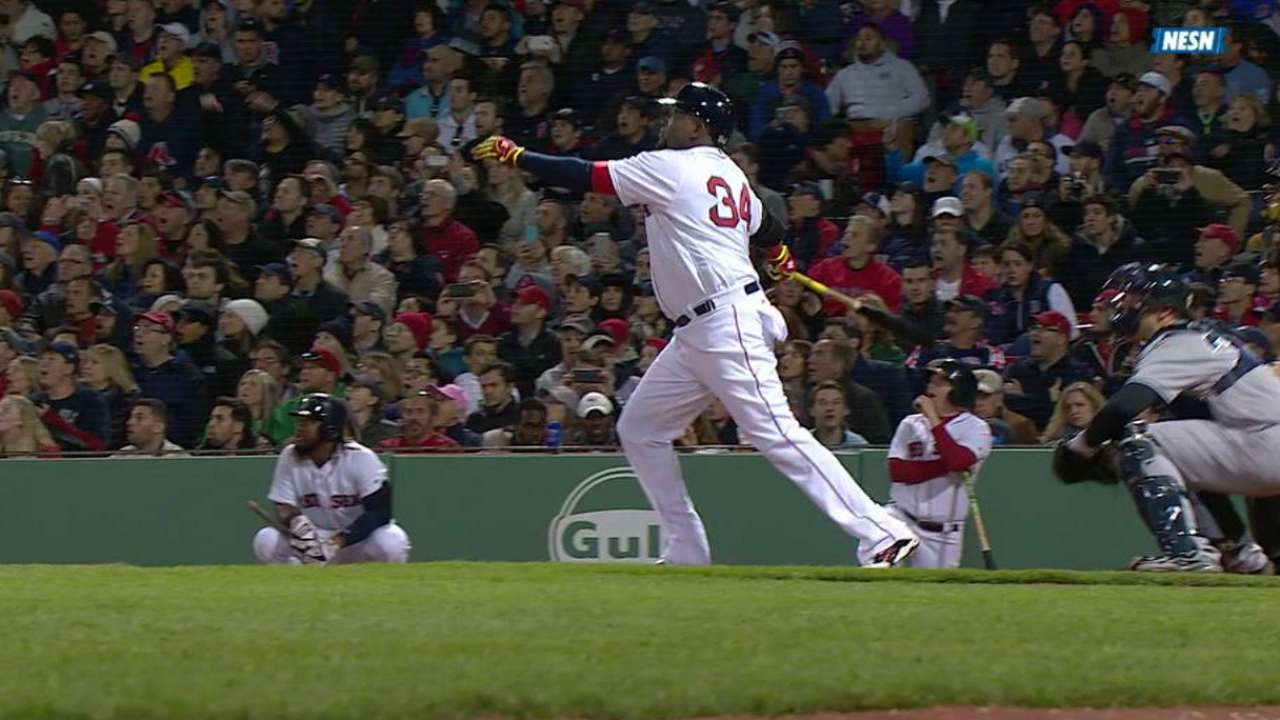 A day later, Ortiz remained touched by the entire sequence of events. Maverick has had roughly 30 surgeries in his young life, and there could be more in his future.
"I'm crazy about kids, especially a sick kid. When you see he's going through that situation, I can't imagine," said Ortiz. "I don't think I'm prepared to see my child struggle like that. When you can put a smile on a child that is sick, especially someone who is going through what Maverick is going through or something like that, it's priceless."
The Ortiz/Millar/Maverick story would have been poignant even if Ortiz hadn't homered.
"It's not a guarantee," Ortiz said. "This is baseball. This is not, 'Hey, I'm going to shoot a free throw when nobody is playing defense on you or I'm Stephen Curry and I'm going to hit a three-pointer. Stephen Curry can shoot a three-pointer and you know it's going to happen, regardless.
"This is baseball. You are facing another pitcher and you don't know what he's going to throw. But what you're trying to do with that video, I was trying to do was make Maverick feel happy and have that connection with him. You throw that out there just to make sure he has a friend he can count on right here."
Ian Browne has covered the Red Sox for MLB.com since 2002. Read his blog, Brownie Points, and follow him on Twitter @IanMBrowne. This story was not subject to the approval of Major League Baseball or its clubs.