Home is where rest is? Cash says so for outfielders
Manager looking to protect players from overexposure to turf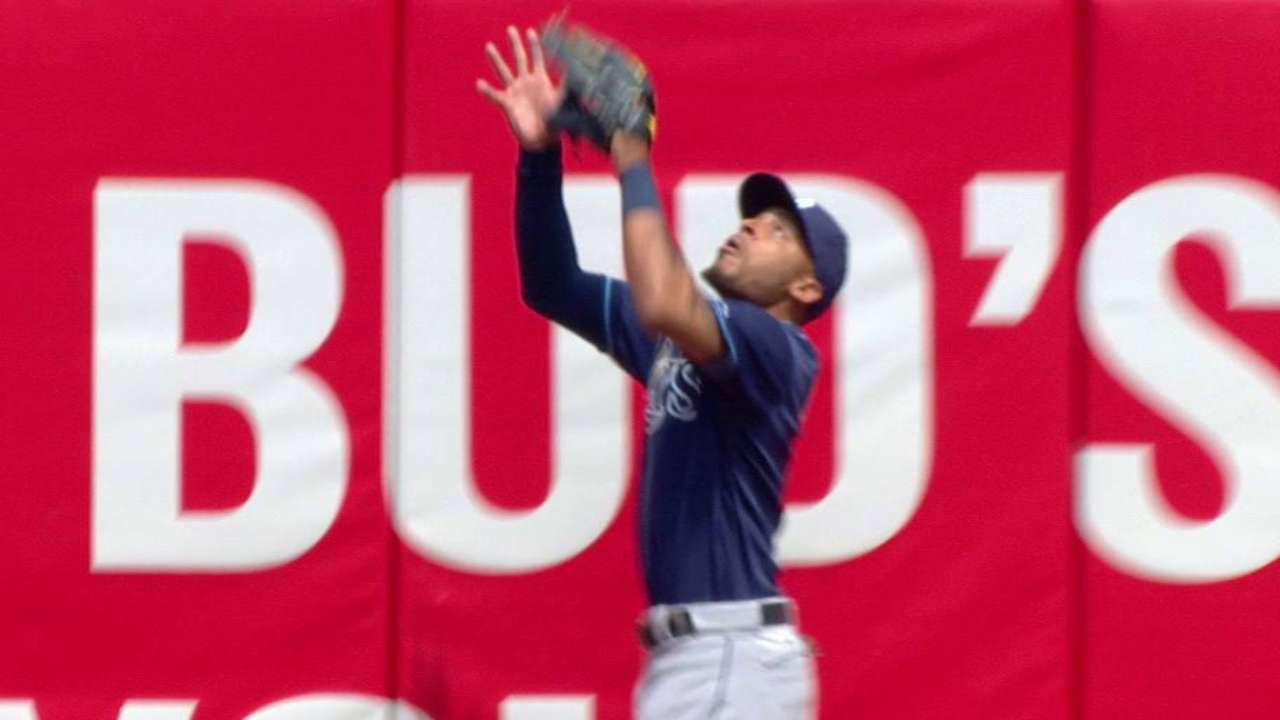 ST. PETERSBURG -- Resting his outfielders at home will be a priority for Kevin Cash as the season progresses.
Tropicana Field's turf makes that call an easy one for the Rays' manager. So expect to see Desmond Jennings, Kevin Kiermaier, and Steven Souza Jr., take a day off at Tropicana Field -- when they need one, rather than on the road where they play on grass at most venues.
"I know they're young and they do a lot of good things," Cash said. "But playing on this every day can wear you down."
Jennings, who fought a knee problem last season and eventually had surgery, was asked whether he'd rather have time off at home, or on the road.
"I mean I think everybody would rather have games off at home," said Jennings, who managed to have two days off ths week as he didn't play Friday night after Thursday's off-day. "I feel good. This time last year I wasn't playing, I was hurt. I'd rather have off-days on the turf than grass, yeah."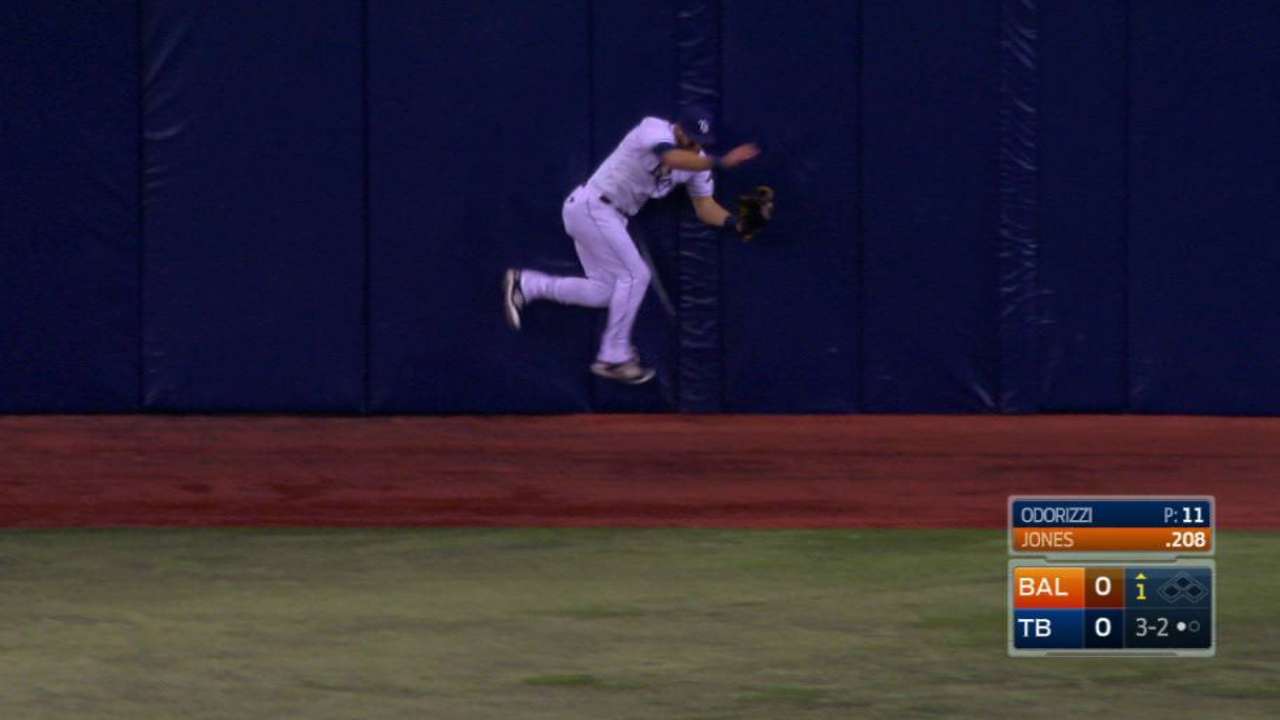 "I think [having days off at home] makes the most sense," Cash said. "Ideally, when our guys get days off, it's here. Especially the guys who are so athletic in the outfield and running around all the time. K.K. and Des, the turf takes a toll on their bodies. Souza also."
In addition to having Brandon Guyer to use in the outfield, the Rays can press into action Steve Pearce and Corey Dickerson when they want to give one of their regulars a rest.
"We're going to get those guys out there for sure," Cash said.
Guyer got the start in right field on Saturday against the Blue Jays, with Souza serving as the designated hitter.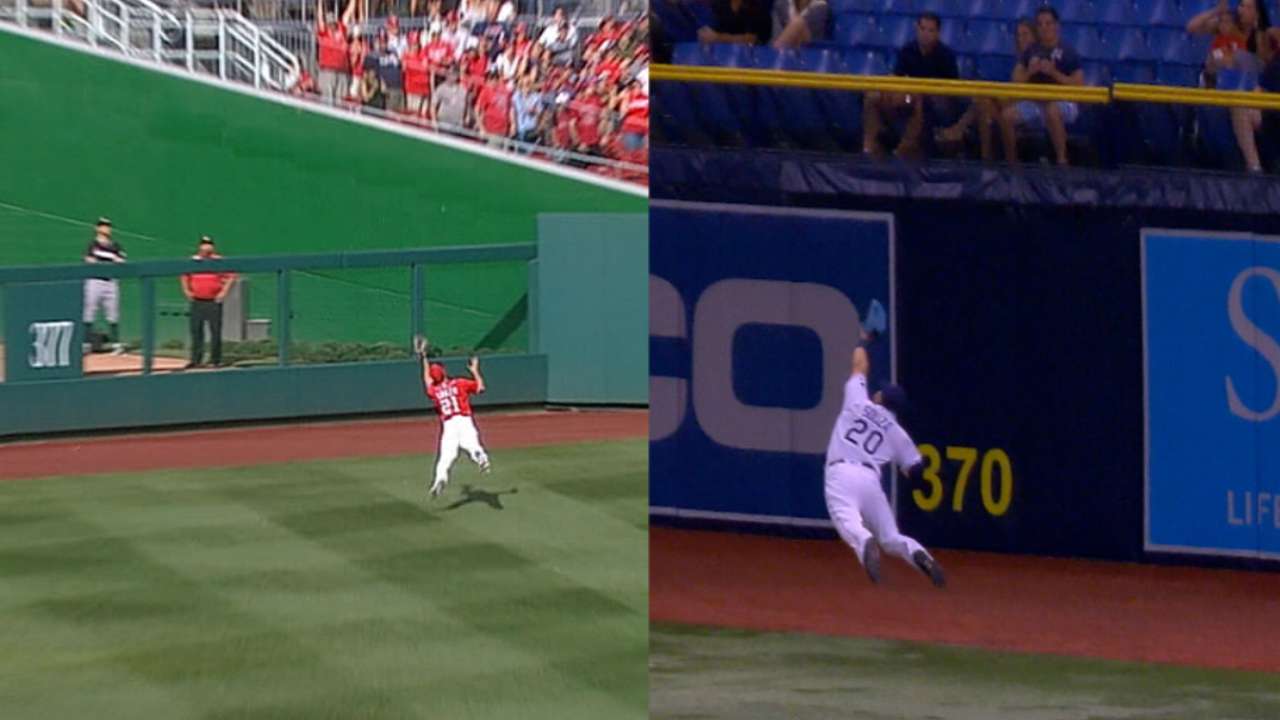 Worth noting
• Alex Cobb threw 25 fastballs from a mound on Saturday and said his outing "went fantastic." The right-hander also was pleased at having thrown changeups from flat ground.
Cobb had Tommy John surgery in 2015, and is tentatively scheduled to return to the team by late July or early August.
Currently, Cobb is building up his arm strength throwing bullpen sessions, which is the program he'll follow until he begins to face hitters in June.
• Brad Boxberger (adductor surgery), who led the American League in saves with 41 last season, threw 30 pitches on Saturday, mixing fastballs and changeups.
"Pretty much the same [as the last bullpen session]," Boxberger said. "Location was a little bit better and more consistent."
Boxberger will throw one more bullpen, and he plans to throw sliders during that session. After that, the plan is to have Boxberger face hitters.
"Every day off the mound try and be as consistent as possible and get my arm back in shape," Boxberger said. "[This situation is kind of] like starting over, but at a quicker pace. Just stay on track, stay healthy, and keep going at the pace we're on."
If Boxberger has no setbacks, he's expected to be back with the team by mid-May.
Bill Chastain has covered the Rays for MLB.com since 2005. This story was not subject to the approval of Major League Baseball or its clubs.