MLB.com Columnist
Bill Ladson
Span reflects on time with Nats, joining Giants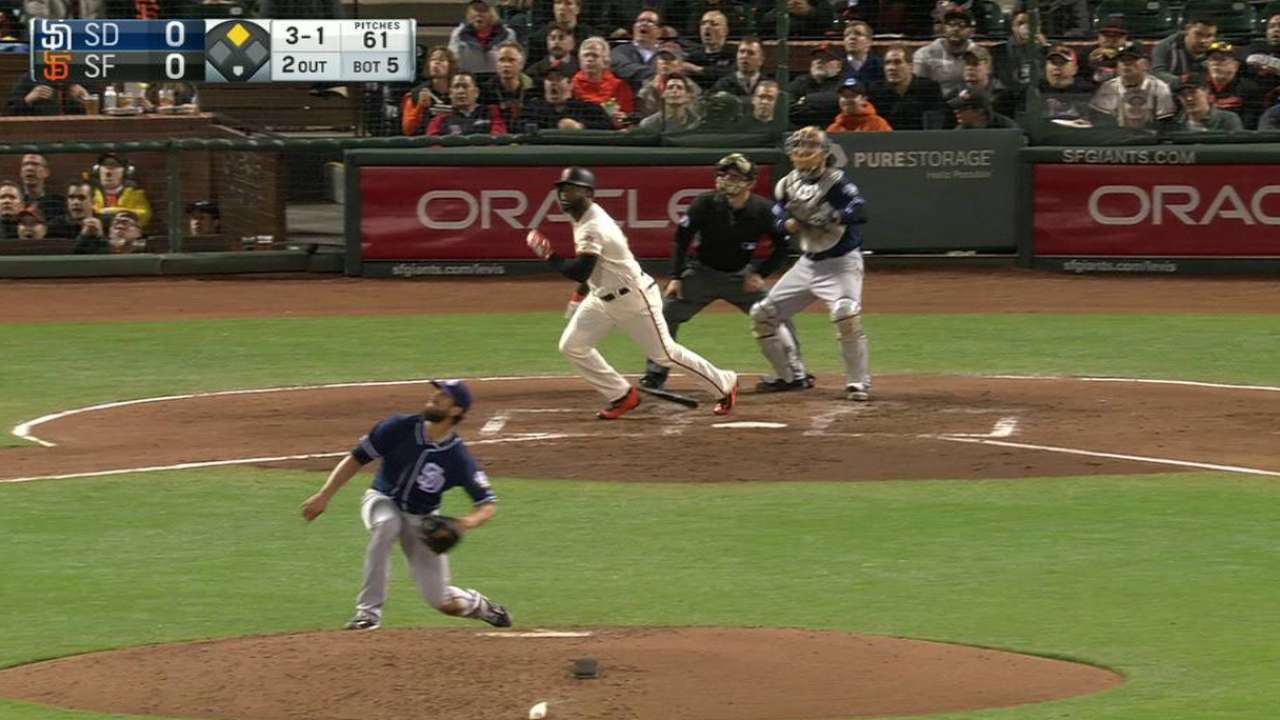 Giants center fielder Denard Span started the 2016 season on time. Some didn't think he would after what he went through with the Nationals last year.
The Nats had to use four people at the leadoff spot because Span missed a lot of time due to back tightness and abdominal and hip problems. Some even wondered if he would get a multi-year deal once he became a free agent this past offseason. It didn't help that he had hip surgery in September. But agent Scott Boras helped Span get a three-year, $31 million deal with San Francisco.
MLB.com caught up with Span on Saturday afternoon to talk about the Giants and the Nationals.
MLB.com: Why did you decide to sign with the Giants?
Denard Span: That's the one team that showed the most interest. I'm at the point of my career where I want to win. They have done that in the past. By signing Jeff Samardzija and Johnny Cueto to a roster that is already good, it made it an easy decision for me.
MLB.com: Word had spread during the offseason that you would not be ready to play until June.
Span: ... I've always been in good shape. I've always taken my strength and fitness very seriously. I went about my business this offseason with my rehab with a purpose. I did everything the doctors and personal trainer asked me to do. That was the reason I was able to [make it back]. I showed up to Spring Training. I wasn't moving as I normally was, but I was full go.
MLB.com: When did you know you were going to be ready for Opening Day?
Span: It had to be around December. I started to feel a lot better. Once I started moving around and running, that's when I started thinking I'll be fine.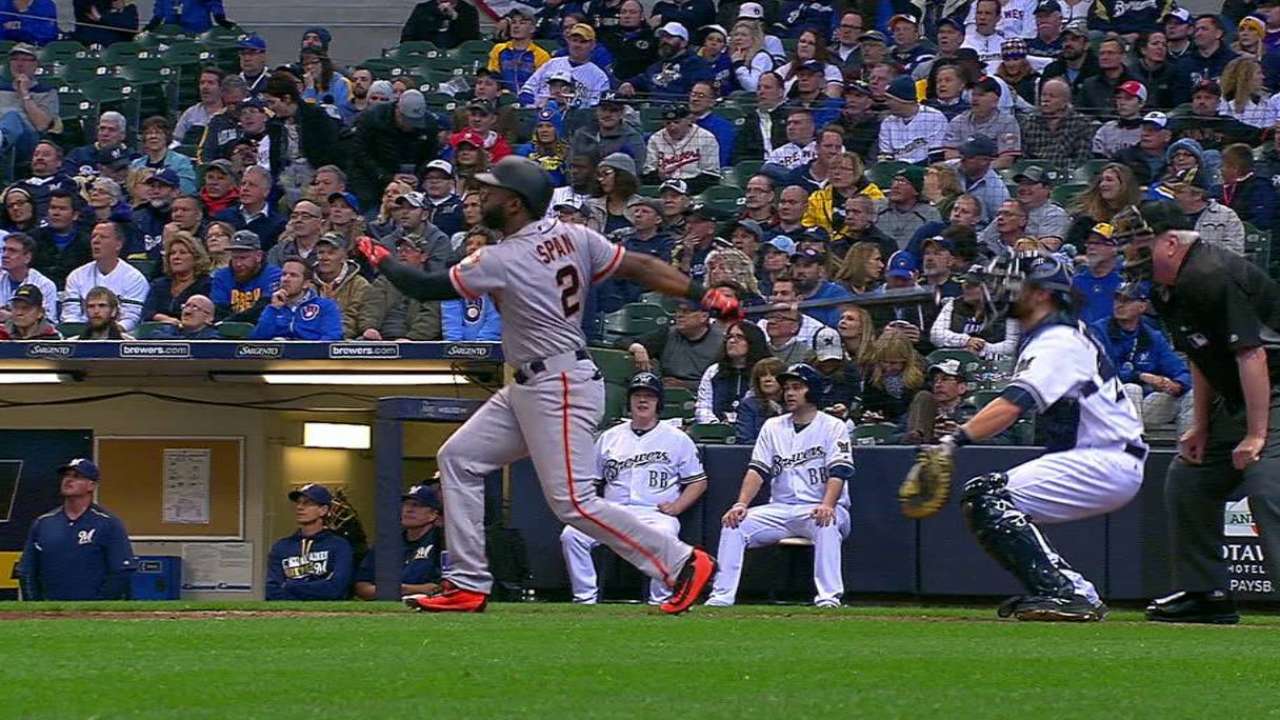 MLB.com: We saw a video this offseason with you jumping hurdles. That was pretty good to watch.
Span: That was probably a week before I signed [with the Giants]. I posted that video. I'm not sure if that motivated the Giants to come see me. They came out shortly after that, watched me work out. By that time, I was jumping hurdles. I was running pretty well. I was probably 80 percent at that time. It was enough for the Giants to see that I was on track.
MLB.com: How are you doing now? You are off to an OK start.
Span: I feel good. As each game goes by, I'm getting more and more confident with my body. I'm trying to be patient. It's a long season, but overall, I feel good. I'm just happy to be on the field. Last year was rough for me.
MLB.com: You are considered the best leadoff hitter in Nationals history. What did you think of your three years in Washington?
Span: I enjoyed it. It was three good years. It didn't end the way I wanted it to end. I played in only 61 games, but it will be a place I will always remember. When I'm done with my playing career, I hope I'm able to come back and have some input, coach or do something or just put on the uniform. I really feel like Washington revitalized my career. It was the right place for me at the right time to get traded over there.
MLB.com: Why do you say it revitalized your career? You had a nice career with the Twins.
Span: I was doing well in Minnesota, but the coaching staff in Washington brought a lot out of me. I think I was able to be aggressive, be myself. It was just a breath of fresh air.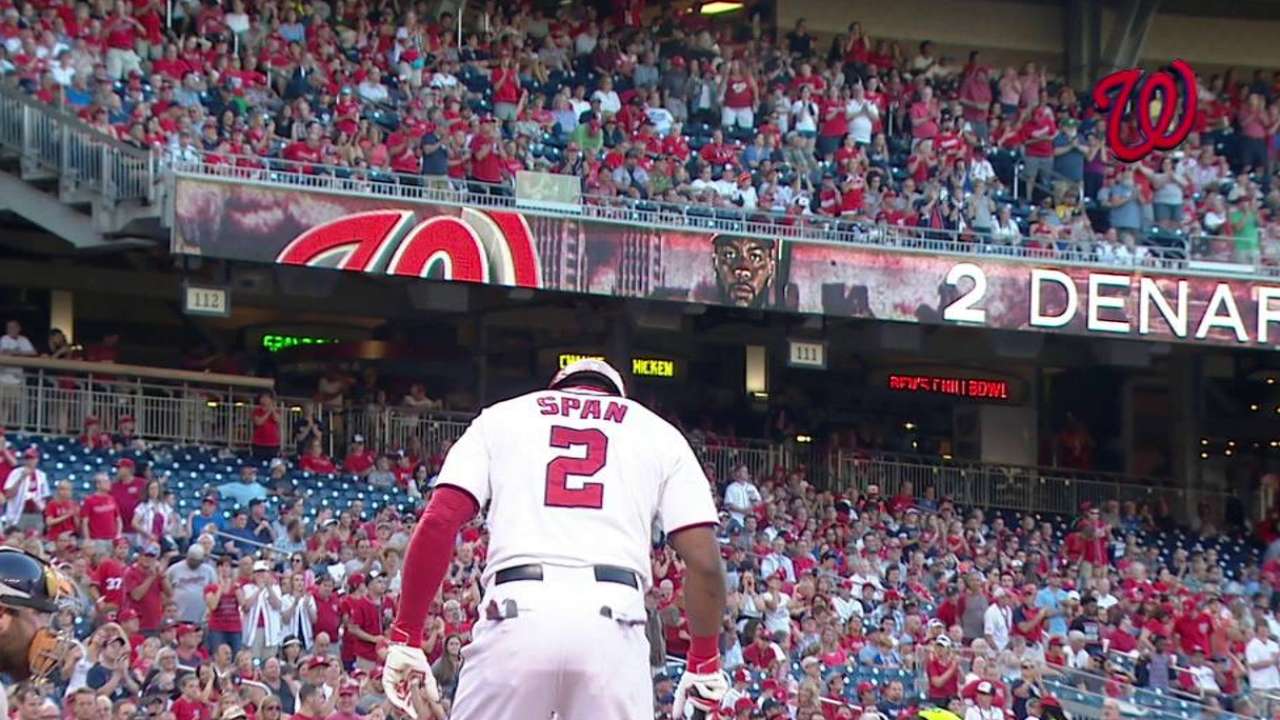 MLB.com: In retrospect, with the injuries that you had last year, did you think you came back too soon?
Span: In retrospect, yeah. I pushed the envelope too fast. There is nobody to blame. I can't say it's the Nationals' fault. A lot of it was my fault. It was both of our faults. We tried to win. We had a lot of expectations last year along with trying to win a World Series. With me being a free agent, I pushed the envelope too soon. If I had to do it all over again, I would have taken a few more weeks or made sure I was strong and ready to go.
MLB.com: Do you still keep in touch with some of the Nationals players?
Span: Yes. I reached out to Jayson Werth. I talk to him a few times since Spring Training. Anthony Rendon, I've talked to him. Rick Schu, I talk to him as well. A lot of it is keeping in contact. If they see something on MLB Network, we'll exchange a text message here and there. I talk to Jacque Jones, who I knew in Minnesota. I still stay in contact as much as I can.
MLB.com: Were you surprised the Giants gave you a three-year deal? What did you expect during the offseason?
Span: I wasn't sure. There was a lot of uncertainty going to the offseason. I know my numbers were there, but the concern was my health. Like I said, San Francisco came out and watched me work out. They took a chance on me. It turned out to be a pretty good deal at this point of my career. Most teams wanted to do one-year deals. A couple of teams wanted to do two. But it was an easy decision for me.
MLB.com: Did the Nationals try to re-sign you?
Span: I think it was a one-year deal [offered].
Bill Ladson has covered the Nationals/Expos for MLB.com since 2002 and writes an MLBlog, All Nats All the Time. He also can be found on Twitter @WashingNats. This story was not subject to the approval of Major League Baseball or its clubs.