Mets taking look at backstop Rivera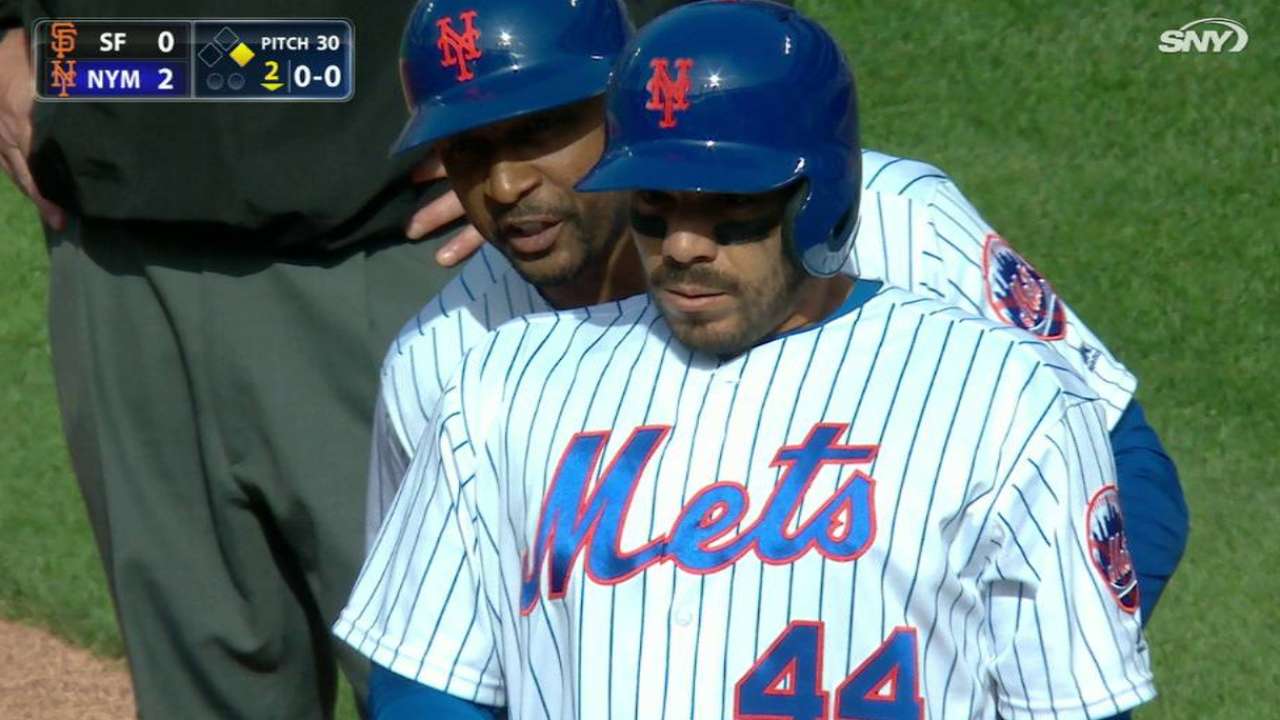 NEW YORK -- There is no timetable yet for Travis d'Arnaud's return from the right rotator cuff strain he suffered this week, which made the Saturday debut of his roster replacement more important for the Mets than it may appear.
Rene Rivera made his first start since being recalled from Triple-A Las Vegas, catching Jacob deGrom and batting eighth against the Giants' Matt Cain in Saturday's 6-5 victory. Rivera went 0-for-3, scoring a run in the second on Michael Conforto's two-run double after getting hit by a pitch.
Signed as a Minor League free agent after Spring Training, Rivera is known for the wide gap between his excellent defensive skills and rarely productive bat (career .211/.258/.331 slash line entering Saturday). He broke into the Majors with the Mariners and has been valuable in spurts for the Twins, Padres and Rays in limited playing time, with most of that value stemming from elite receiving, blocking and throwing abilities.
Rivera is a career backup catcher, a member of the timeless fraternity of fringe Major Leaguers who always hang around longer than the back of their baseball cards suggest they should. And that's what Rivera will be with the Mets, with Kevin Plawecki still set to receive the bulk of the playing time in d'Arnaud's absence.
But the Mets are also looking for Plawecki to take a step forward offensively from the .219/.280/.296 line he produced last season, mostly in place of the injured d'Arnaud. If he doesn't -- Plawecki entered Saturday hitting .192 in 26 at-bats this season with no extra-base hits -- Rivera could win some extended playing time if he finds some offensive success.
"If he gets some hits, he'll play a lot," manager Terry Collins said. "We'll see how he does and how he plays."
This isn't to say the Mets are expecting Rivera to light the National League ablaze from the eight-hole. What they hope more realistically is Rivera does what he's done over parts of seven big league seasons -- anchor a defense that has had trouble this season holding baserunners in place.
Entering Saturday, the Mets had allowed 18 stolen bases in 21 games, tied for the third most in the Majors. They had caught eight, for a percentage almost exactly league average. This part of Plawecki's game is improving. He's thrown out five of nine baserunners after throwing out 26 percent of runners during his rookie season.
The Major League average last season was 28 percent.
Rivera throws out baserunners at an elite 38 percent rate over his career. At worst, he'll give the Mets the type of sneaky, once-a-week weapon they haven't had since Henry Blanco in 2010.
"He's a great catch-and-throw guy and a great receiver," Collins said. "I know his reputation precedes him and speaks to how good of a receiver he is. If he calls the kind of game people tell me he can call, I like our chances."
Joe Trezza is a reporter for MLB.com based in New York. Follow him on Twitter at @joetrezz. This story was not subject to the approval of Major League Baseball or its clubs.