Cubs approach club records in memorable April
North Siders tie mark for wins in first month, Rizzo finishes third in RBIs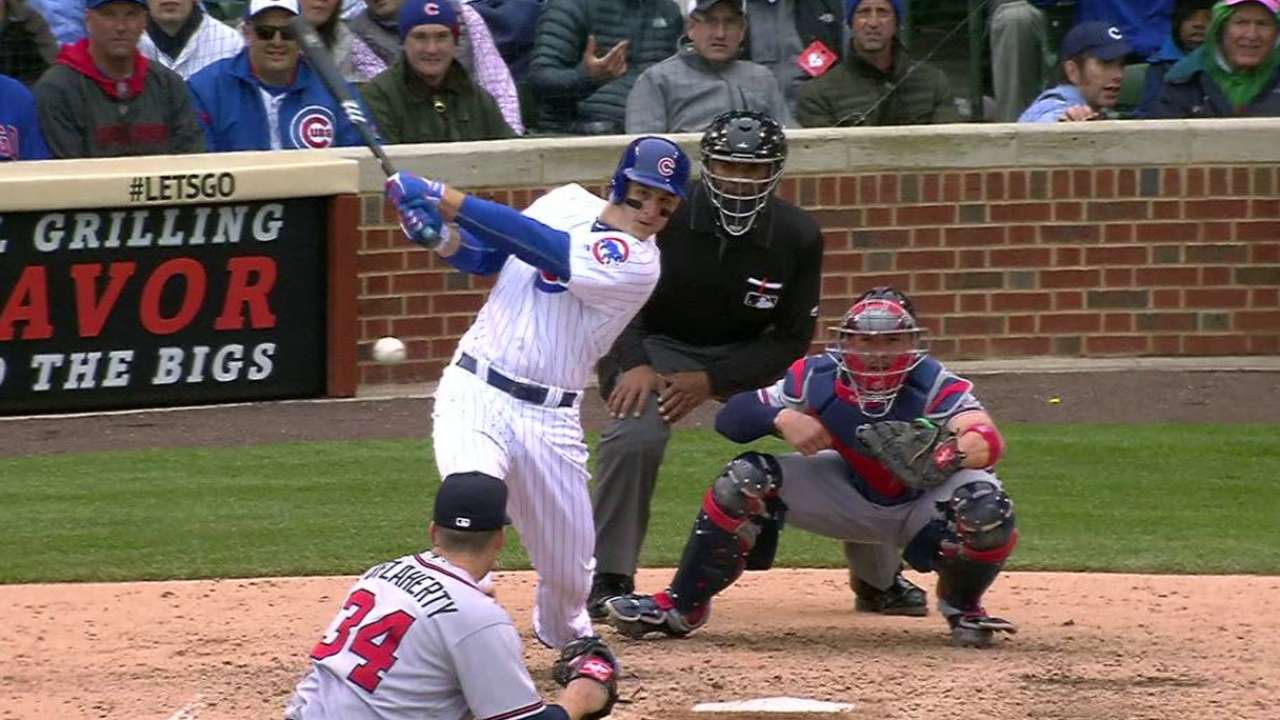 CHICAGO -- Rain on Saturday ruined the Cubs' attempt to set a franchise record for most wins in the first month of the season. Chicago finished April at 17-5, which is tied with the 2008 team for the most wins in an opening month.
The Cubs also have a 2.39 team ERA, the lowest in the opening month of the season since the 1985 team had a 2.16 ERA in April. Chicago's starters have 17 quality starts, tied for the Major League lead, and the bullpen has totaled 53 innings, fewest in the big leagues.
"Everybody is talking about the offense, but primarily the pitching and defense has set this up," manager Joe Maddon said of the strong start.
There's talk about the offense because the Cubs have outscored opponents, 136-57, the best run differential in the Majors. And Maddon sees the young players making progress. Javier Baez, for example, drew a walk in the eighth inning on Friday against the Braves. Baez has walked twice in 29 at-bats, but that's far better than last season, when he walked four times in 76 at-bats.
"That might be part of the conga line that really does it all the time, and these guys are watching," Maddon said of the patient approach at the plate. "To me, last year, [Baez] is swinging, he's trying to hit a ball over the wall right there, and [taking a walk] was not part of his thought process. When you're willing to accept your walks, you have a much better chance of hitting for a higher number."
Anthony Rizzo finished April with 24 RBIs, the third most by any Cubs player in the opening month. Derrek Lee drove in 28 runs in April 2005, and Hall of Famer Billy Williams finished the month with 25 RBIs in 1970.
• When Baez doubled in the fifth inning on Friday, he lifted his arms and did a little wiggle move. When David Ross singled Baez home two batters later, he made a slashing move across his chest. What's going on?
"It's our little inside man thing," Ross said Saturday. "What you're doing is you're giving a high-five to the bench in a different way. Your buddies on the bench are in the at-bat with you. We're grinding with you, We're rooting you on, so give me some love, whatever it is. Everybody has a different thing. Tommy La Stella has a little meditate [sign]."
Last year, the Cubs players put their hands on their heads. This year, some just point to the base, sort of an "all in" type gesture. None of it is done to show up their opponents.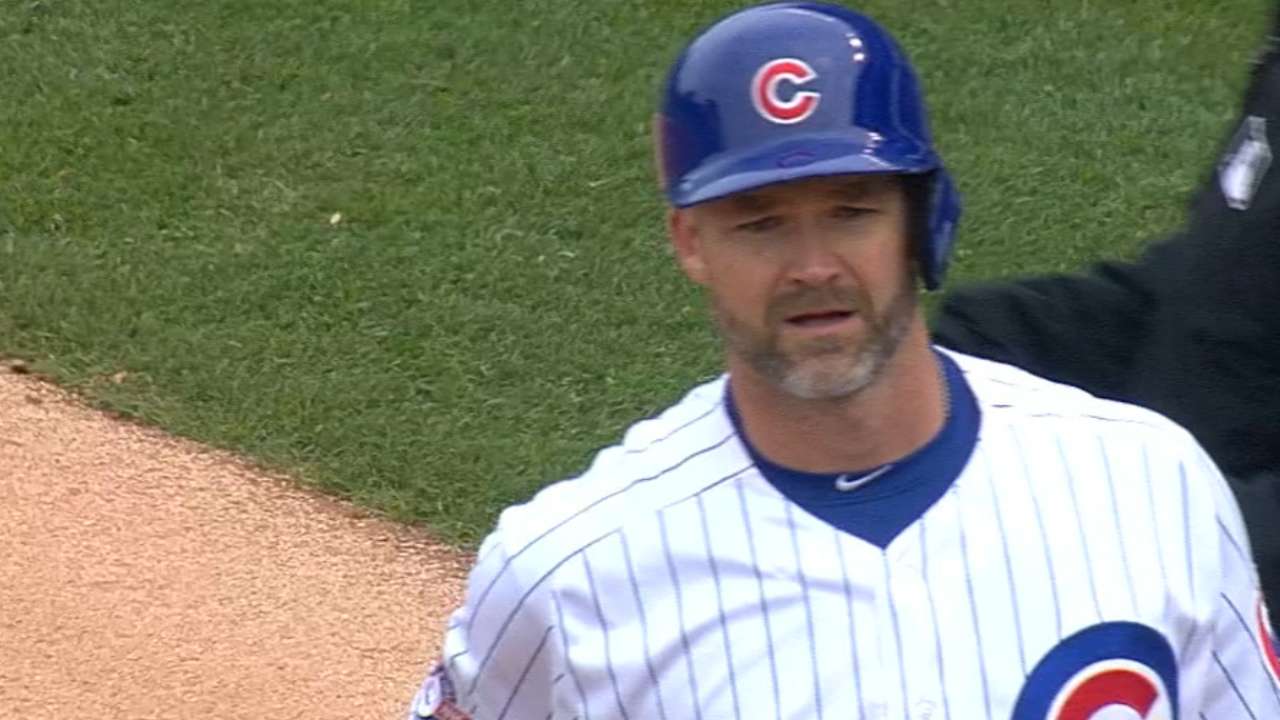 • With Saturday's postponed game, the Cubs tweaked their pitching. Jason Hammel, Jake Arrieta and Jon Lester will face the Pirates in the three-game series that starts Monday at PNC Park. Kyle Hendricks, who was scheduled to start Sunday, was skipped and will now start Thursday when the Cubs open a series against the Nationals at Wrigley Field.
"Kyle's fine, he doesn't need any extra time," Maddon said of the right-hander, who is 1-2 with a 3.52 ERA. "It's just something we chose to do. He actually, on paper, matches up well against Washington. It's one of those things. The weather permitted us to do these things, so we're going to do it."
Tuesday will be Arrieta's first start at PNC Park since he shut out the Pirates in the National League Wild Card Game last Oct. 7.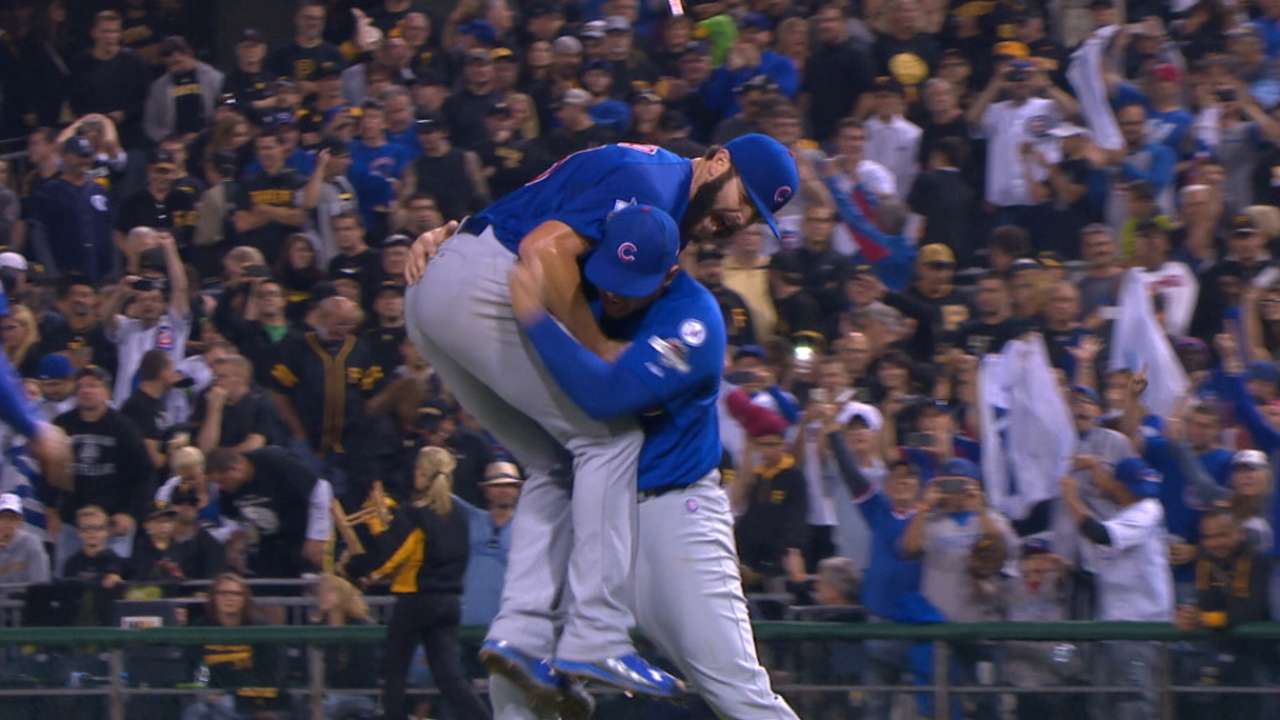 • Third baseman Kris Bryant received treatment Saturday on his right ankle, which he sprained on Thursday while running the bases. An MRI confirmed a mild ankle sprain, and he was on deck to pinch hit Friday but did not get an at-bat. Maddon said athletic trainer PJ Mainville was pleased with Bryant's progress.
"I'll debate whether to play him or not [Sunday]," Maddon said of Bryant, who could simply be sidelined because the forecast isn't good for the series finale. "If we don't start him for sure, he'll be able to come off the bench."
Carrie Muskat has covered the Cubs since 1987, and for MLB.com since 2001. She writes a blog, Muskat Ramblings. You can follow her on Twitter @CarrieMuskat and listen to her podcast. This story was not subject to the approval of Major League Baseball or its clubs.