Near no-no turns into near improbable Brewers rally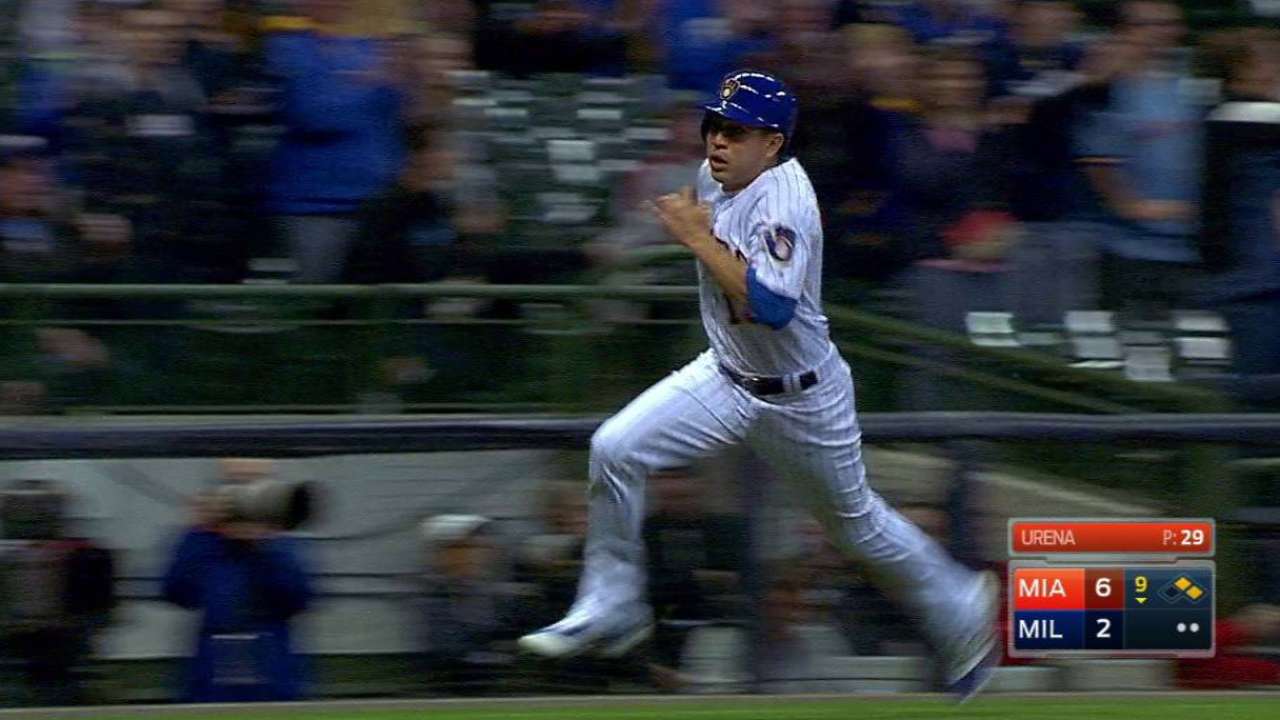 MILWAUKEE -- From nearly being no-hit to flirting with the most improbable comeback of their season, the Brewers packed a week's worth of drama into the ninth inning of Friday's 6-3 loss to the Marlins at Miller Park.
It started with a bloop single.
"All I know is it was 68-mph exit velocity. I really drove it," said Brewers catcher Jonathan Lucroy, who produced the single in question. "I'll take it. That was a battle."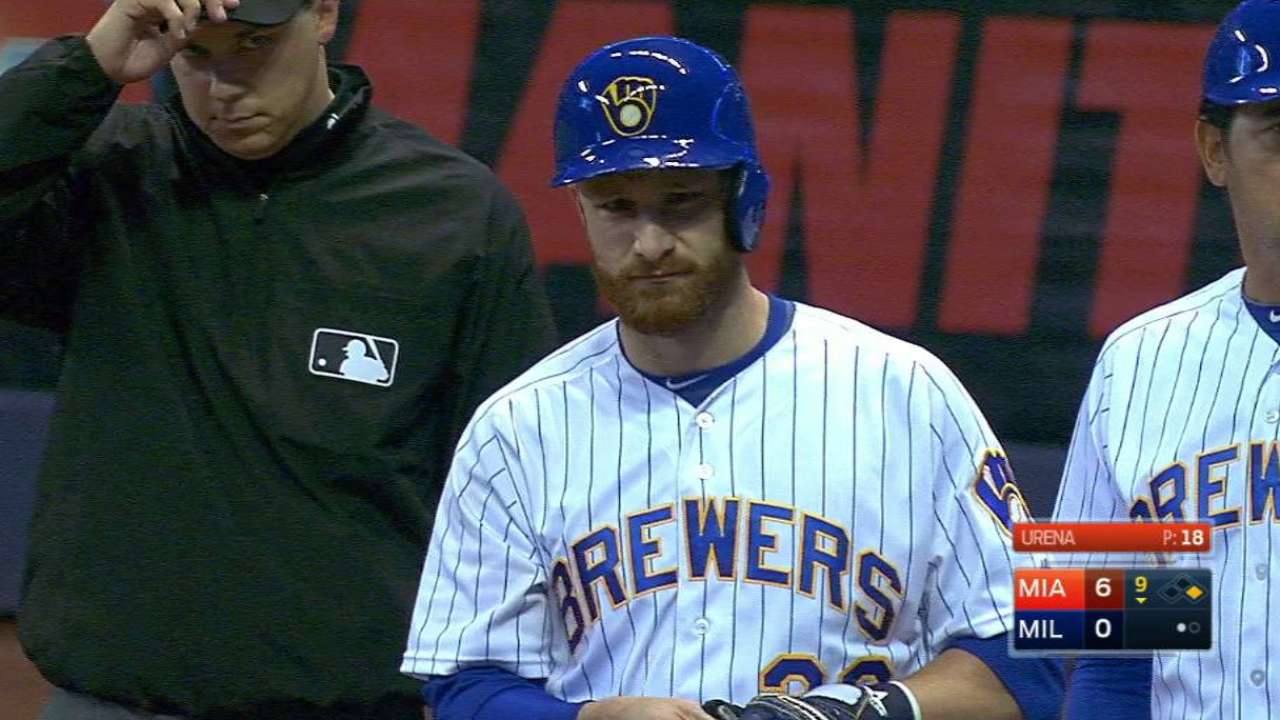 For 8 1/3 innings, the Brewers battled Marlins starter Adam Conley and reliever Jose Urena, with zero hits to show for their effort. In the fourth inning against Conley, they'd loaded the bases with nobody out thanks to an error and a pair of walks, but Lucroy struck out and Chris Carter hit into a double play. In the sixth, Hernan Perez hit a deep drive that settled into right fielder Ichiro Suzuki's glove at the warning track. Even after Conley's elevated pitch count ended his outing, to the dismay of 23,215 baseball fans, the Brewers remained hitless into the ninth.
With one out, Lucroy changed that. His floater over second baseman Derek Dietrich's outstretched glove fell to the grass for a clean single.
Would Dee Gordon have caught it? The speedy Marlins second baseman began an 80-game suspension for violating Major League Baseball's drug policy on Friday.
Heck, Lucroy thought Dietrich was going to catch it.
"I was like, 'Yeah, this guy is definitely catching this ball,' while I was running to first," Lucroy said. "I guess it just snuck past."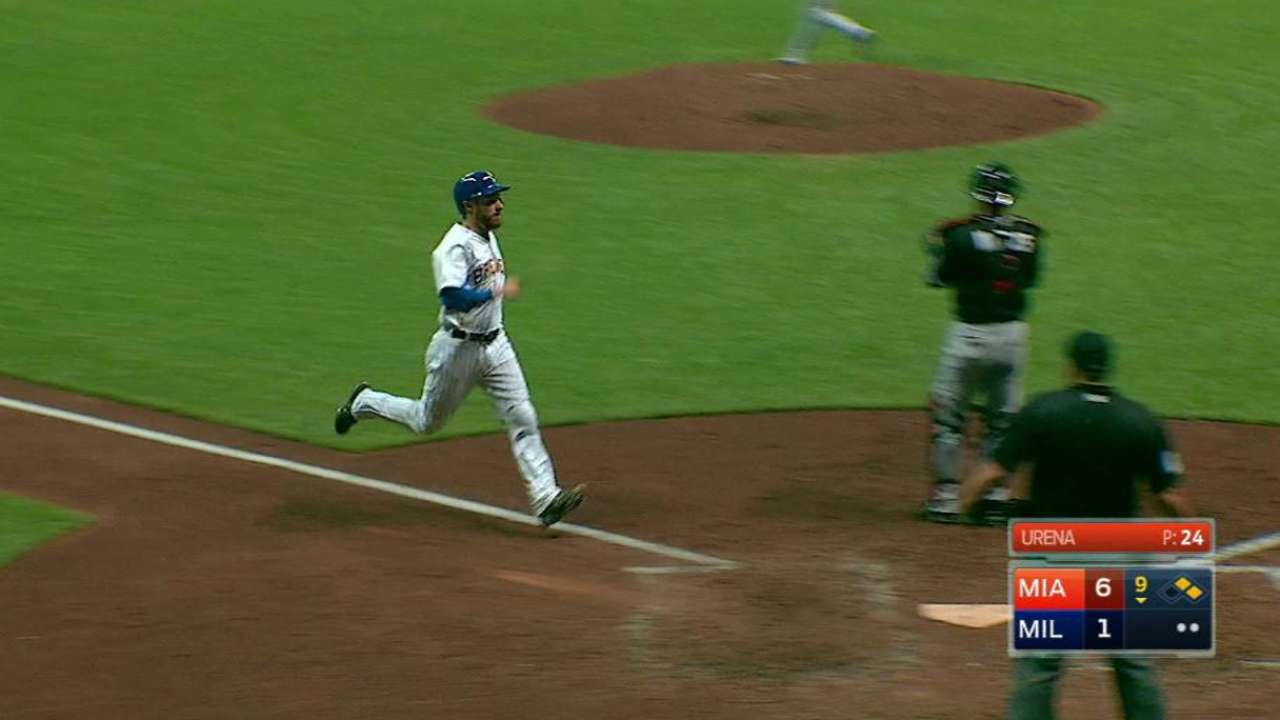 "Certainly there wasn't much for us to get excited about the first eight innings, but the ninth inning was fun," Brewers manager Craig Counsell said. "The guy threw a good pitch 3-2. [Villar] had a good at-bat up to that point; he just threw a good pitch 3-2."
Said Lucroy: "That was a battle, and we were able to break it up there in the ninth and put some runs up. We had the winning run up there in the ninth, and that's all we can ask. We just couldn't get it done there."
Adam McCalvy has covered the Brewers for MLB.com since 2001. Follow him on Twitter @AdamMcCalvy, like him on Facebook and listen to his podcast. This story was not subject to the approval of Major League Baseball or its clubs.