Rangers get Pujols out -- but on the bases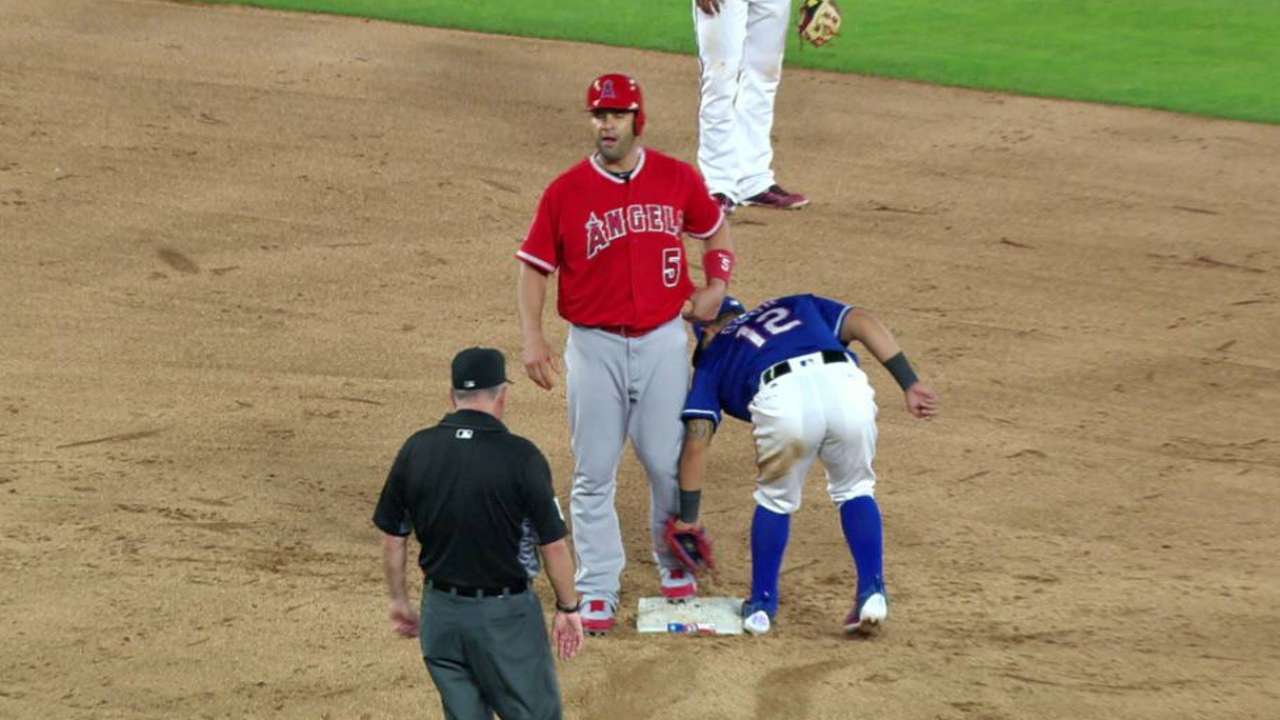 ARLINGTON - Rangers second baseman Rougned Odor alertly kept a tag on Angels designated hitter Albert Pujols and a replay review turned it into a big moment in the Rangers 4-2 victory over the Angels.
The Angels led 2-1 at the time and Pujols getting called out when he seemed to be standing firmly on second base helped cut short their budding sixth-inning rally.
"A huge out," Rangers pitcher Colby Lewis said.
"That's a big call in the game," Pujols said. "That changed the whole thing. No outs in there. We could've easily gotten a rally."
Rangers manager Jeff Banister gave credit to Adam Brenner, the Rangers video coordinator, and Bobby Jones, the replay coordinator. They sit in the clubhouse during the game and watch every play to see if it could be challenged.
"We challenge them to stick with all plays, look at it all, no matter how small or not close it is," Banister said. "We have been on the other side of a number of those. They did a great job and gave us enough time, called down and said, 'Go (challenge), Pujols' foot is off the bag and tag applied.'
"Big play for us."
Pujols started the rally with a leadoff infield single against Lewis. Kole Calhoun followed with a single to center and Pujols went to second, rounding the base as Ian Desmond fielded the ball. Desmond threw to Odor at second base and Pujols was back in plenty of time on what appeared to be a routine end to the play.
But Odor put a tag on Pujols as he was standing on the base and kept it there. As he did, Pujols lifted his foot up and disengaged the bag ever so slightly.
"I put the glove on his leg and just stayed there," Odor said. "Now the camera can see everything so I hold the tag. I always try to stay with the tag."
"Come on, dude," Pujols said. "That's not baseball, dude. It's not baseball. My foot on the bag and I tried to switch foot, and now because I got off when I was safe. One thing if I pop up and my foot is way up there. My foot is on the bag. I just tried to switch feet. He was looking down, waiting for me to switch my feet, if you look at the replay."
They did. Second base umpire Dale Scott didn't call anything but Banister asked for a review after hearing from Jones.
"Adam gets the credit," Jones said. "He said, 'He was out, his foot was off the bag.' We ran it back in slow motion. We saw the foot was off and we called down. Adam was on the ball."
The Rangers won the challenge. "If you look at the replay, you probably can't squeeze a piece of paper in there," Pujols said. "I guess in super slo-mo they call those things. It is what it is. It's just embarrassing about the replay thing.
"I don't think that's fair, but whatever. I tip my cap to their video guy and the manager. They challenged the play. Nothing you can do. And the replay shows that my foot was off just a hair. It happened last year. I stole a bag and I popped up just barely and they called me out. I don't think that's what replay was meant to be, but it is what it is."
Instead of two on and nobody out, the Angels were left with a runner on first and one out. Lewis retired the next two hitters and the Rangers responded with three runs in the bottom of the sixth.
"We've seen it before," Angels manager Mike Scioscia said. "It just happens. The slightest little hop you have, if you're off the base and the glove's on you, they're going to look for that."
T.R. Sullivan has covered the Rangers since 1989, and for MLB.com since 2006. Follow him on Twitter @Sullivan_Ranger and listen to his podcast. This story was not subject to the approval of Major League Baseball or its clubs.