Nicasio makes quick work of Reds
Pirates encouraged by righty's pace, efficiency in scoreless outing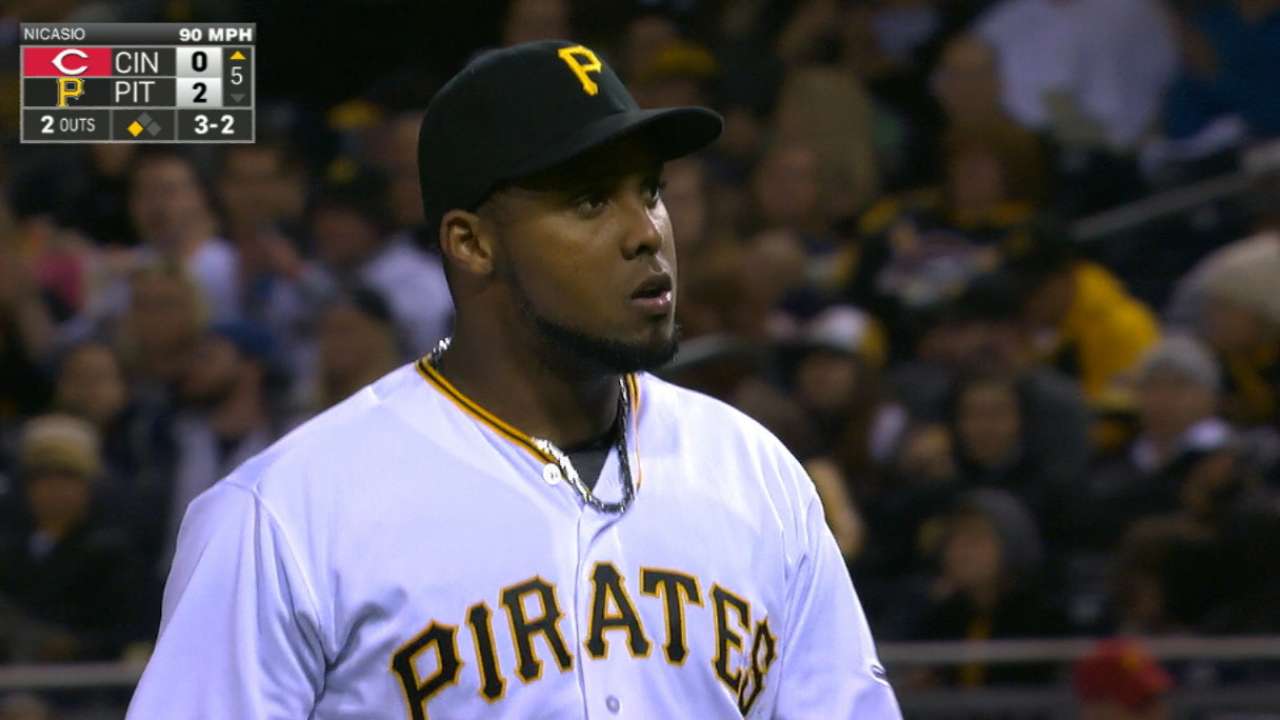 PITTSBURGH -- Juan Nicasio's fastball hit 98 mph in the first inning Friday night. It clocked in 12 times at 96 mph or better. But that wasn't why the Pirates knew Nicasio was in for a good start.
It was Nicasio's pace, not his velocity, that encouraged the Pirates. Sure enough, Nicasio worked quickly and efficiently through seven scoreless innings in a 4-1 win over the Reds at PNC Park.
"You could tell from the first inning tonight that he was sharp," second baseman Josh Harrison said.
Odd as it might sound, the Pirates have discouraged Nicasio from pacing himself. Pitching with a reliever's mentality -- pitch to pitch, batter to batter -- helped him break out this spring and earn a spot in the Pirates' rotation. A similar intensity brings out the best in him as a starter.
"Throw your best pitch this pitch," manager Clint Hurdle said. "Get the ball back. Throw your best pitch this pitch."
Nicasio threw 14 pitches in the first and didn't throw more than 16 in any inning the rest of the night. His fastball was consistently strong. His slider was working. His changeup was giving right-handed hitters something else to think about.
He didn't give the Reds a chance to get comfortable, either.
"That's one of my main plans right now, to make sure that when I hit the mound, I'm working up to beat and at a quicker pace, where I don't give batters enough time to be thinking about everything," Nicasio said through interpreter Mike Gonzalez.
Nicasio struck out a season-high eight batters and walked one, lowering his ERA to 3.33. He became the second Pirates starter, alongside Jonathon Niese, to complete a seven-inning start this season, and he did so on 97 pitches.
The right-hander pitched fairly well in his first four starts. He dominated the Cardinals in his debut, struggled in Detroit, logged a quality start against the Brewers and threw five solid, albeit inefficient, innings in Arizona.
Still, top prospects Tyler Glasnow and Jameson Taillon are dominating in Triple-A. Despite Nicasio's strong spring and the Pirates' reputation for reviving pitchers, some fans want to see one (or both) of them in the Majors and Nicasio in the bullpen.
But from the first inning on, Friday night was a reminder of how effective Nicasio can be when he's quick and efficient.
"It seems to make sense for him," Hurdle said. "He talked about it being one of the reasons he believes he had success last year going to the [Dodgers'] 'pen. The mindset is get the ball and pitch. Tonight was a perfect example of it.
"He'll paint the picture for us as we work through the season. He showed everybody what he's capable of doing tonight. He showed everybody the guy that we saw a lot during Spring Training. That's got to bode well for his confidence moving forward."
Adam Berry has covered the Pirates for MLB.com since 2015. Follow him on Twitter at @adamdberry. This story was not subject to the approval of Major League Baseball or its clubs.