Martin goes 'wall' out for game-saving catch
Mariners center fielder hangs on for final out in win over Royals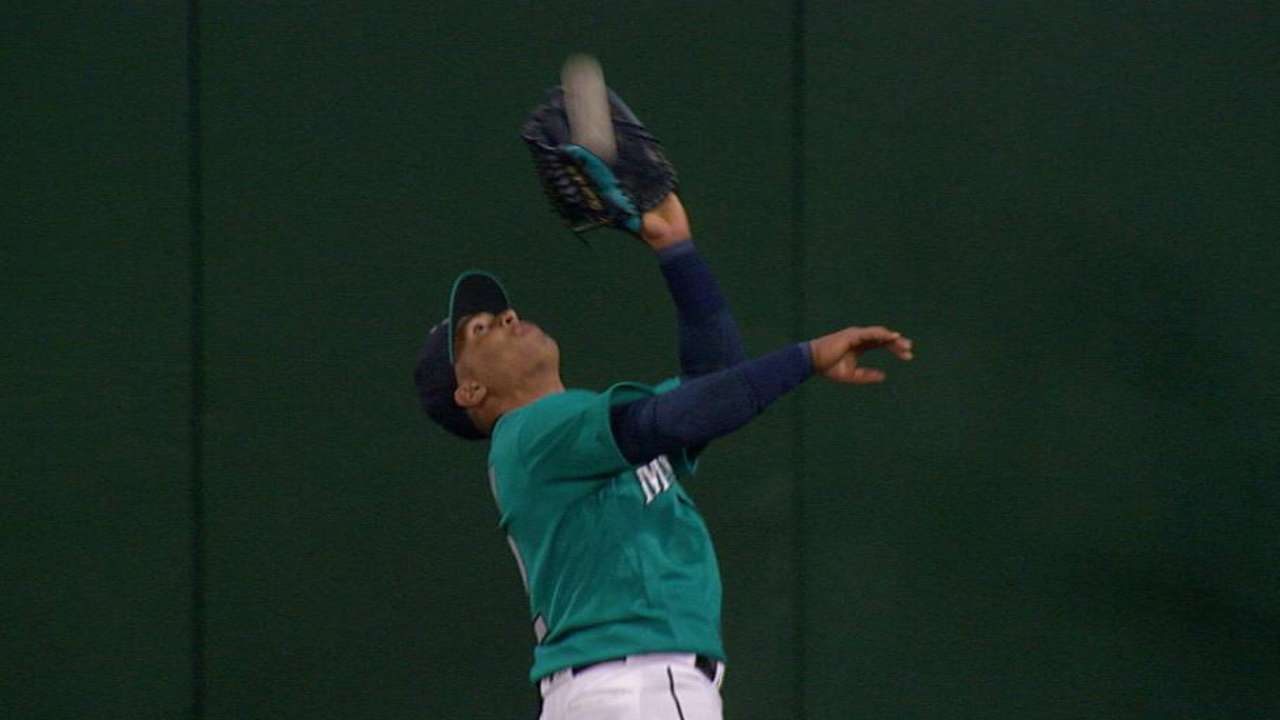 SEATTLE -- Leonys Martin said he knew he had it all the way. But 38,364 fans at Safeco Field -- not to mention his Mariners teammates and manager Scott Servais -- were holding their collective breaths as the center fielder tracked down a deep drive by the Royals' Salvador Perez and then crashed into the wall for the final out in a 1-0 victory on Friday night.
On a night the Mariners got just one hit -- a home run by Seth Smith -- they capped things off with their best defensive play of the season on Martin's game-saving catch with the potential tying run on second as closer Steve Cishek tried to save Felix Hernandez's franchise record-matching 145th win.
"Phenomenal catch to end the game," Servais said. "It doesn't get a whole lot better. We were actually playing semi-shallow there -- didn't want a little dinker to hurt you -- and then Salvy put a good swing on it and smoked that ball.
"Luckily, we were playing at home and there's a lot of room out there. I was just hoping there'd be enough. Great catch."
Martin, acquired by the Mariners to shore up their outfield defense in spacious Safeco, insisted he had a bead on the ball as soon as Perez laced the line drive over his head.
"After a few steps, I knew it was going to be a long way to run, but it wasn't going to be out of the ballpark," Martin said. "That's a long way to go to go deep that way. Thank God I could get it. I saw the ball and just put my head down and ran. That wall is really hard."
Cishek, who recorded his sixth straight save for Seattle, was Martin's biggest fan as he tracked down the deep drive. The sidearming closer said it was about as good a game-saving catch as he's seen.
"That was a great, great play," Cishek said. "He whacked that wall pretty hard. That definitely ranks up there, especially for me since I was the beneficiary there. The team is the beneficiary, but all the pressure is on me in that situation and it was definitely one of the better catches I've seen, for sure."
After hitting the go-ahead homer, Smith wound up with the best view in the house of Martin's catch as he watched from his right-field position.
"I saw the whole thing," Smith said. "He hit it and I knew it was going to be really close. Even if he gets to it, he's going to have to deal with the wall. But he did what he does. He's been really good out there. He's been fun to play with and to watch run down balls. Obviously that was no exception."
Martin went 0-for-2 with a walk and saw his average drop to .194, but made his mark with the glove in a game that gave Seattle its 10th win in the last 14 games.
"It was an amazing game," Martin said. "Felix threw an unbelievable game and we showed you can win if you play the right way, whether you hit or not."
Greg Johns has covered the Mariners since 1997, and for MLB.com since 2011. Follow him on Twitter @GregJohnsMLB and listen to his podcast. This story was not subject to the approval of Major League Baseball or its clubs.