Felix hits mark by keeping Royals in check
Mariners ace pitches out of several jams for 145th career victory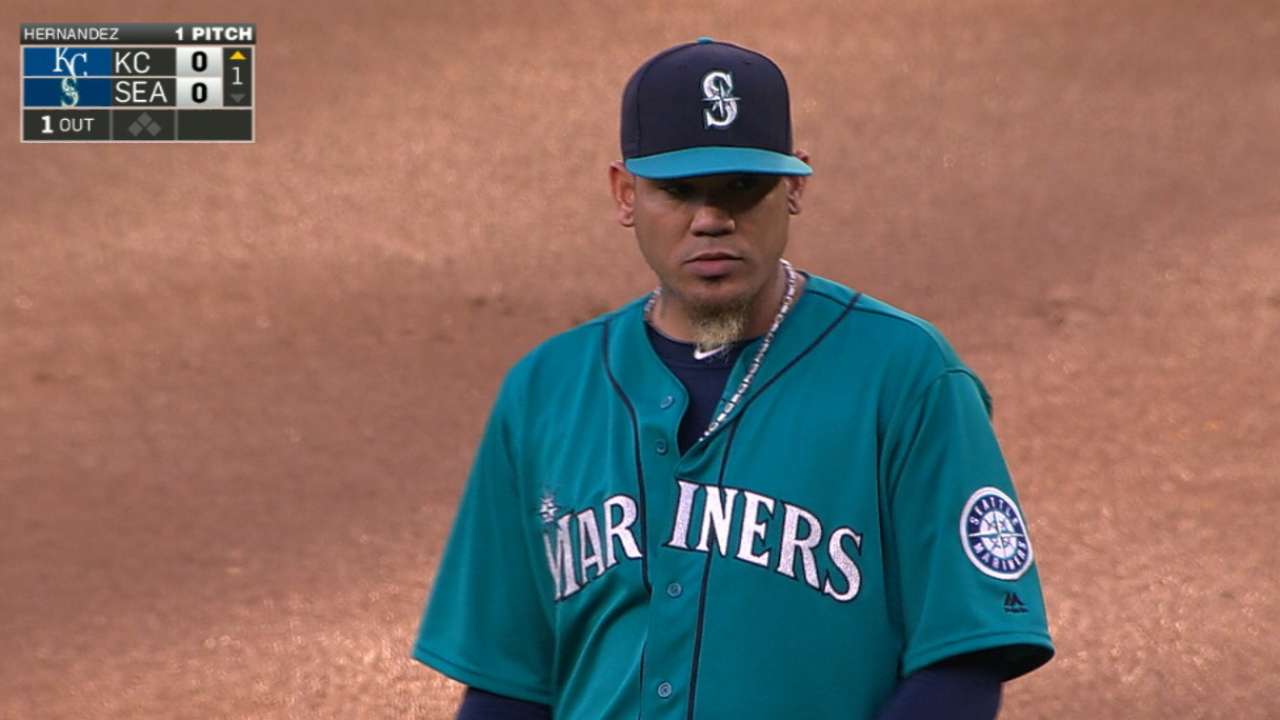 SEATTLE -- Mariners ace Felix Hernandez, who has found himself on the short end of far too many 1-0 games in his career, came out on top Friday in a dramatic nailbiter over the Royals on a night Seattle won despite totaling just one hit.
The Mariners became the second team to win a game this season despite recording just one hit, but this time Hernandez came out on top. The Mariners' ace limited the Rangers to one hit on April 4, but Texas came away with the win.
In the process, Hernandez recorded his 145th career victory, tying Jamie Moyer for the franchise record.
"I know Jamie pretty well," Hernandez said. "For me it's an honor to be up there with him. We'll see next game if I can pass him."
Hernandez had to do some fancy pitching to land this win, holding the Royals hitless in eight situations with runners in scoring position. He wound up going 7 2/3 shutout innings on five hits with three walks.
"What else can you say?" manager Scott Servais said. "He's been the face of the franchise here for a long time and it's nice watching him pitch."
Hernandez got himself into hot water in the second when Eric Hosmer led off with a little nubber down the third-base line. Hernandez fielded the ball, but threw wide of first baseman Adam Lind as Hosmer steamed into second.
But Hernandez has been incredible with runners in scoring position this season (1-for-23 coming in) and though the Royals moved Hosmer to third with a groundout by Kendrys Morales, he wound up stranded there when shortstop Ketel Marte made a nice over-the-head catch on a blooper to center by Alex Gordon and Hernandez struck out Salvador Perez on a nasty sinker to end the frame.
"That was a good play," Hernandez said. "That was huge right there. And after that I made good pitches to get out of that tinning."
Hernandez did it again in the third when Alcides Escobar drew a two-out walk, stole second and moved to third on catcher Chris Iannetta's throwing error. But again, Hernandez left the runner stranded as he got Mike Moustakas to ground to first.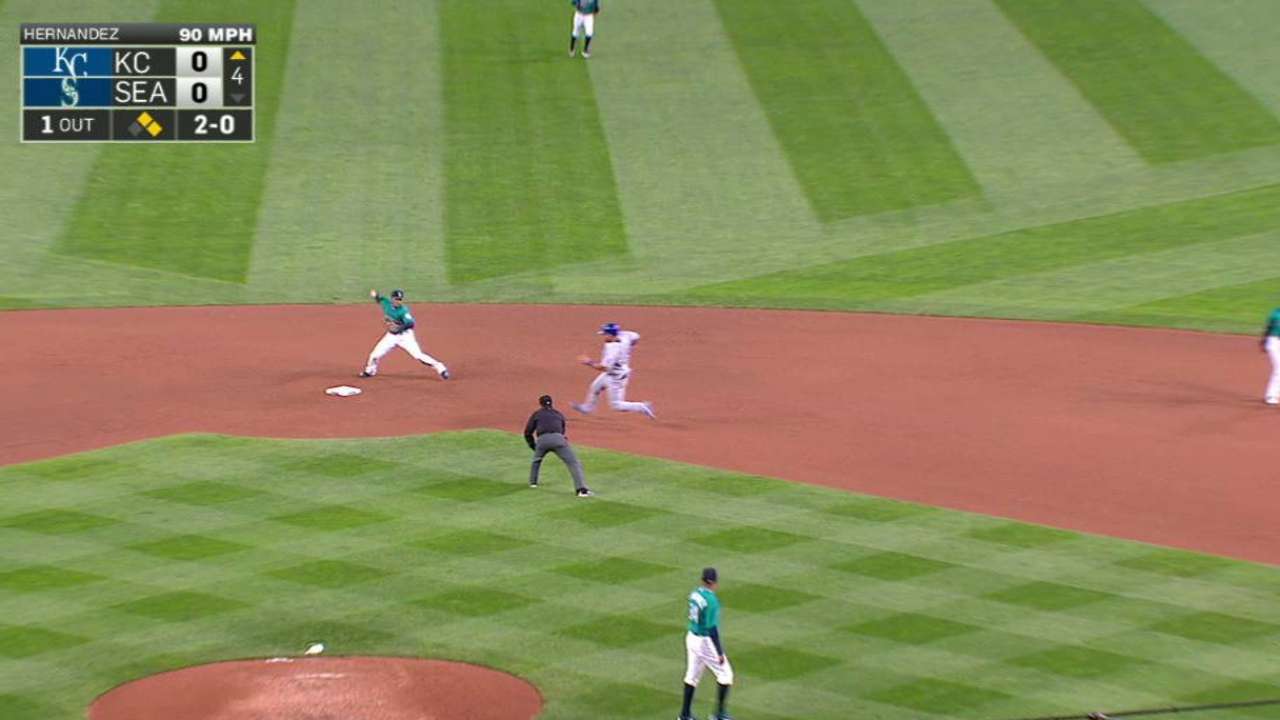 Then came the fourth and a 4-6-3 double play grounder by Gordon after the Royals put two on with one out.
Hernandez retired two more batters with runners in scoring position in the fifth, with some help from Lind. After a leadoff walk and sacrifice put Perez on second, Lind fielded a grounder by Jarrod Dyson and fired across the infield on a heads-up play to nail Perez trying to go to third. Dyson then stole second, but again Hernandez dug in and struck out Escobar to keep the game scoreless.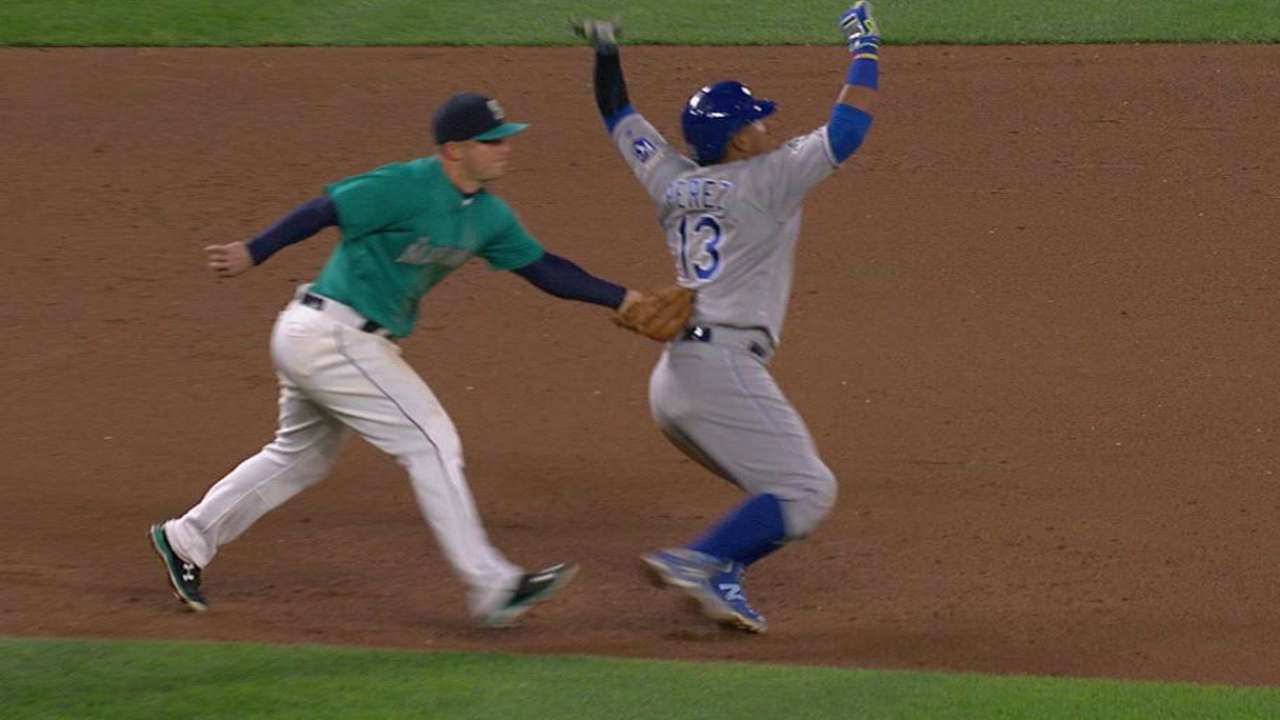 "Lind made a great play throwing to third," Hernandez said. "This was good. [Kris] Medlen pitched a real good game. We got one hit, but that's all we needed to win the game."
Hernandez now has 91 games in which he's thrown seven-plus innings while allowing one or fewer runs, the most in the Majors since 2009. Dodgers ace Clayton Kershaw is the next closest with 85.
Greg Johns has covered the Mariners since 1997, and for MLB.com since 2011. Follow him on Twitter @GregJohnsMLB and listen to his podcast. This story was not subject to the approval of Major League Baseball or its clubs.