Royals still waiting to turn on some key hits
Despite Medlen's solid start, KC finishes 0-for-11 with RISP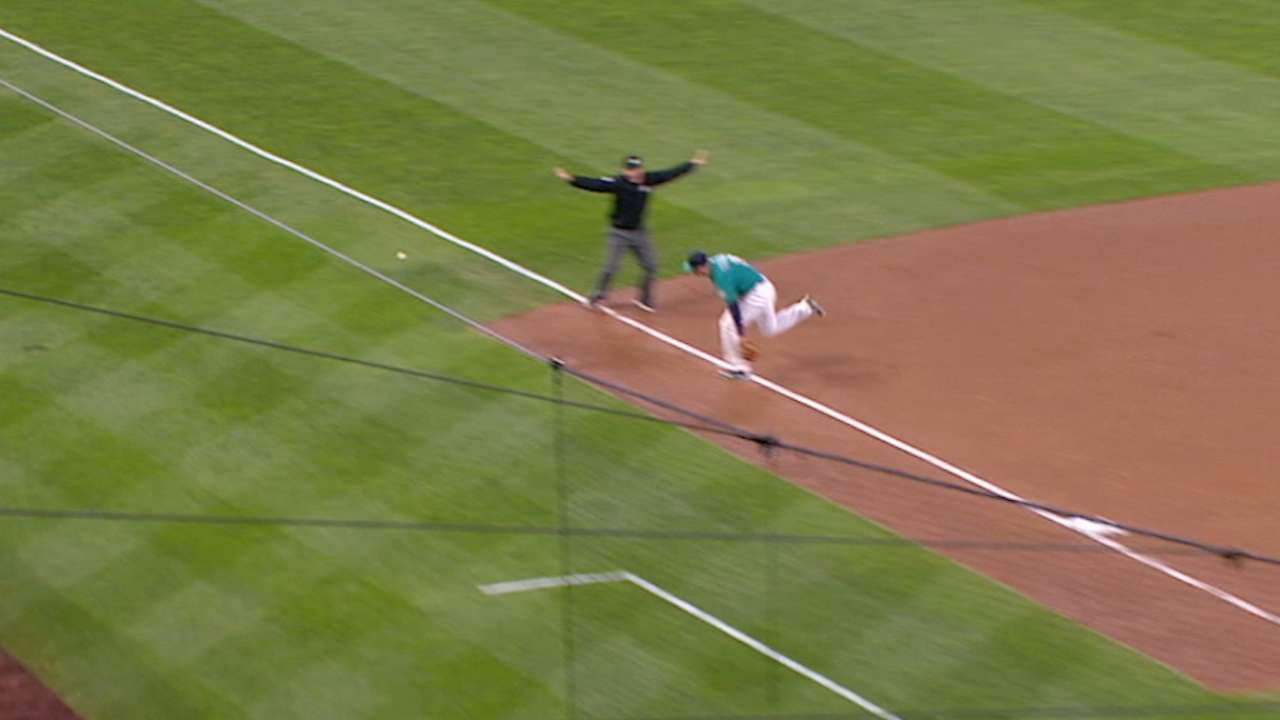 SEATTLE -- Baseball can sometimes be a game of inches, and the Royals found that out several times in a taut 1-0 loss to the Mariners on Friday night at Safeco Field, the defending World Series champions' fourth consecutive defeat on this road trip.
The biggest example: In the ninth inning, with Eric Hosmer on second base and two out, Salvador Perez hit a hard grounder down the third-base line. If fair, it would have been a game-tying hit, probably a double. But at the last possible second, the ball was called foul by third-base umpire Clint Fagan. Perez ended up flying out to the wall in center on a highlight-reel catch by Leonys Martin to end the game.
Afterwards, Royals manager Ned Yost and Hosmer both said the ball appeared fair on the replay.
"It is frustrating," Hosmer said. "There's no way around it. It's frustrating. You want the call to be right. Obviously looking back on it now, it's a lot easier to look back on it now and realize it was a fair ball.
"It could have been an easier call, but that's just the way the game goes. You've got to live with it, and we've got to come back tomorrow and figure out a way to get a W."
Section V, subsection C of the Major League Baseball Replay Review Regulations, reads, "balls that first land in front of the set positions of the first or third base Umpire shall not be subject to review. The Umpire shall determine whether a purported foul ball landed in front of his position and thus is not subject to review. Such a determination by the Umpire is not reviewable."
Since Perez's ball was a grounder and first touched the ground well in front of Fagan's positioning, it was not reviewable.
"I wish it were," Yost said.
But Yost had more wishes than one ball being called fair.
He would have liked to have seen Seth Smith not get as much of the barrel of the bat on the sixth-inning changeup by Royals starter Kris Medlen that barely cleared the wall and the outstretched glove of right fielder Jarrod Dyson by inches for what proved to be a decisive home run.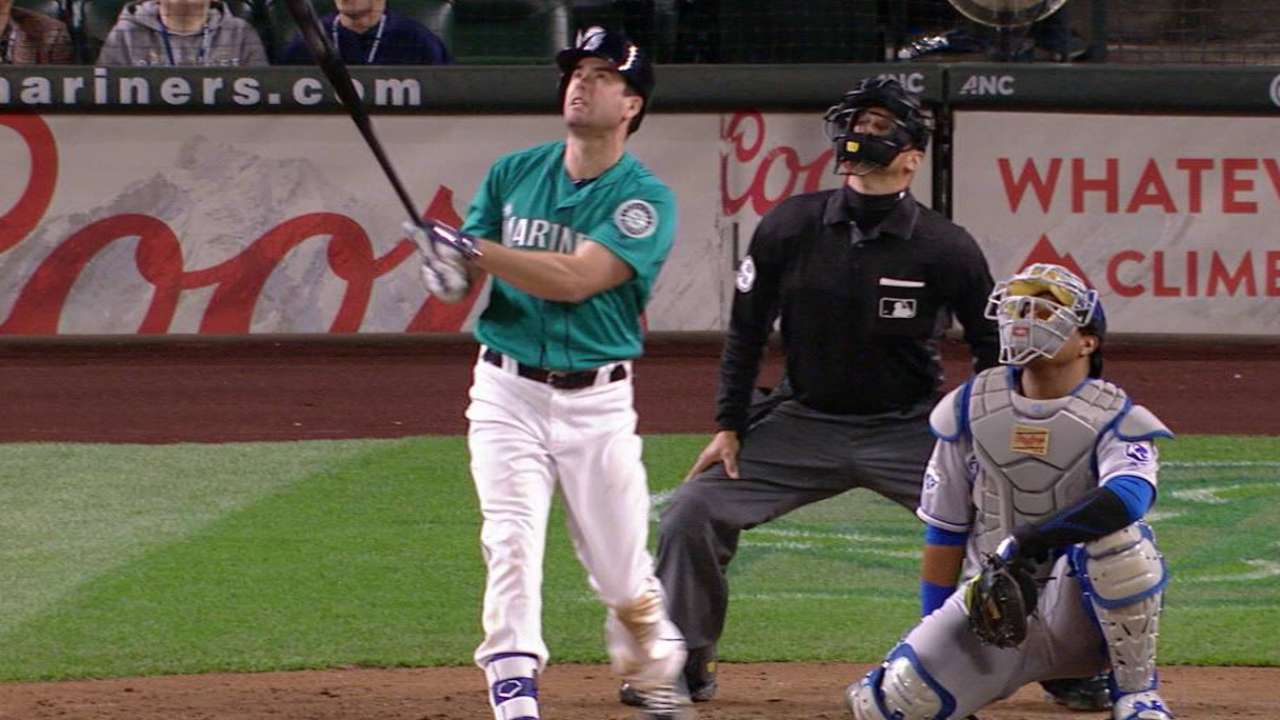 It was the only hit by the Mariners and also accounted for the only run.
"Overall, I threw OK," said Medlen, who had a no-hitter through five, but he also walked five batters and threw 103 pitches in 5 1/3 innings.
"I just threw one bad pitch that Seth hit out, and that's the difference in the game when you're going up somebody as good as [Mariners starter] Felix [Hernandez]. When you're going against Felix, you've got to be better."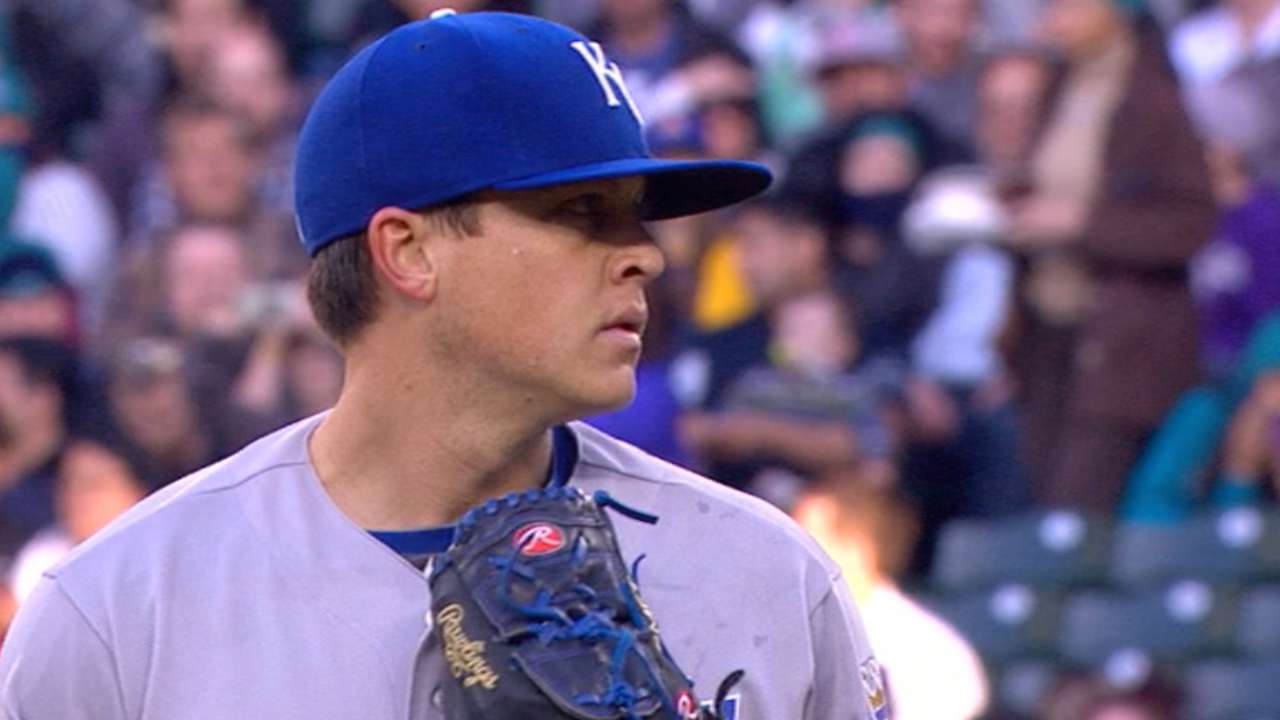 Yost also would have liked to have seen his offense break out of the current funk it's in. Last year, en route to their Fall Classic win over the Mets, the Royals were second in MLB in batting average with runners in scoring position at .281.
On Friday night, they were 0-for-11 with RISP in the game after going 0-for-7 in the same situations against the Angels on Wednesday. On this road trip, they're hitting .118 (4-for-34) with runners in scoring position.
"We just can't find a way to get a timely hit," Yost said, although Hosmer insisted that they actually did find one -- Perez's almost-double down the line -- and the umpire just didn't rule in their favor.
"Coming back and looking at the replay … it was definitely a fair ball," said Hosmer, who was quick to add that the game could have been won earlier if the Royals were getting the hits they're accustomed to getting in key situations.
"Any opportunities you get, you've got to make the most of it," he added. "It just didn't happen for us tonight."
Doug Miller is a reporter for MLB.com based in Seattle. Follow him on Twitter @DougMillerMLB. This story was not subject to the approval of Major League Baseball or its clubs.