Bassitt to DL with elbow strain; Hahn recalled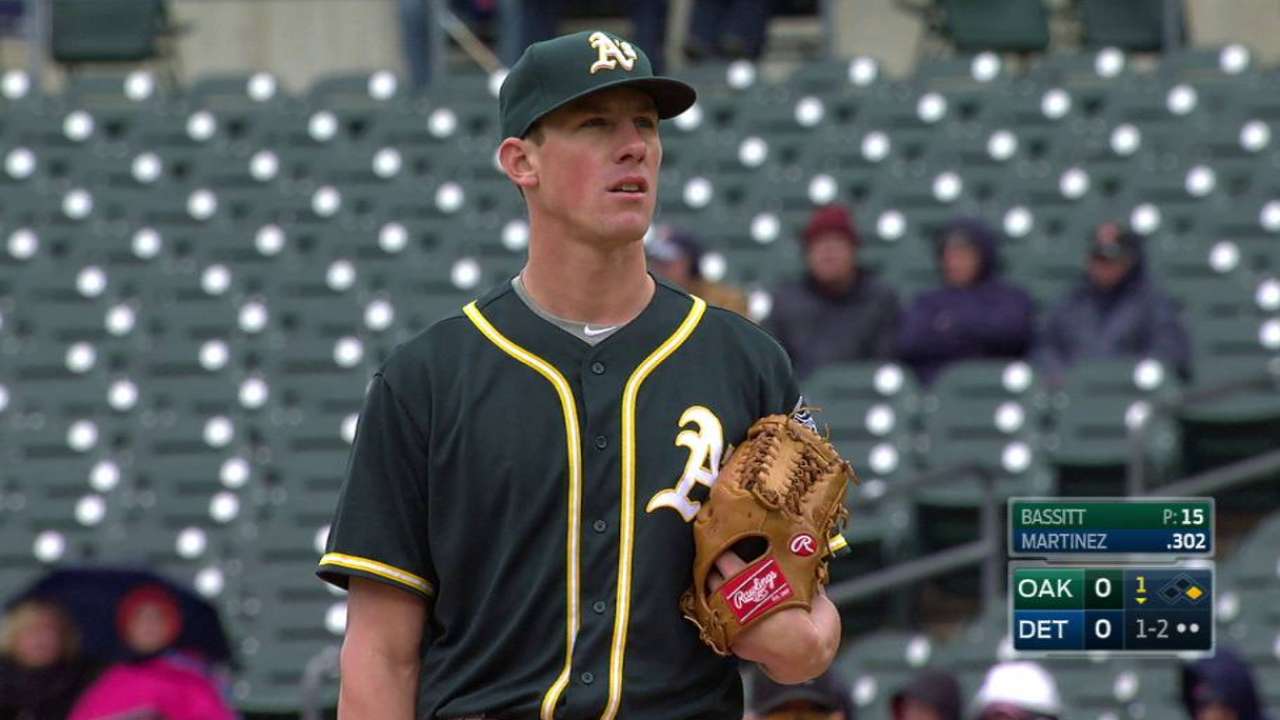 OAKLAND -- Not even the anticipation that accompanied the big league debut of A's top pitching prospect Sean Manaea on Friday could distract from the concern surrounding another member of Oakland's suddenly jumbled rotation.
Right-hander Chris Bassitt was placed on the disabled list earlier in the day with an elbow strain, leading the A's to recall righty Jesse Hahn from Triple-A Nashville and slot him into a Saturday start against the visiting Astros. Rich Hill will start Sunday's series finale, and Kendall Graveman will follow on seven days' rest against the Mariners on Monday, with Sonny Gray pitching on an extra day of rest Tuesday.
Right-handed pitcher Andrew Triggs was optioned to Nashville, the club announced on Saturday. He had been recalled for the second time on Friday, but did not pitch.
Bassitt, who was knocked around for seven runs and 10 hits in just 3 2/3 innings in Detroit on Thursday, said Friday he'd been pitching with pain all season, though to a much greater extent in his most recent outing, at which point he informed the medical staff. He underwent an MRI on Friday and will seek a second opinion, according to A's manager Bob Melvin, who said later in the night, "It's something that we have to look a little further into."
The right-hander initially believed the discomfort to be a non-issue and a common occurrence early in the season, as pitch counts steadily progress. But then Bassitt watched his velocity drop -- his fastball, which routinely reached 95 and 96 mph in his first start, sat in the low 90s Thursday -- "and that's obviously affected everything else," he said.
"I can't throw offspeed. I literally can't throw offspeed," Bassitt said. "My curveball was nothing, my slider was straight. My best pitch honestly out of every pitch I threw was my changeup.
"I was, to say the least, really upset after yesterday. Hopefully we caught it before it's anything significant, but I guess we'll find out."
Bassitt logged a 2.79 ERA over his first three starts and a 13.50 ERA in his last two.
"It's certainly disappointing for him and for us that he has to go through this, but he's a talented guy and hopefully we get him back sooner than later," Melvin said. "My guess is he thought it would go away, and it ended up getting a little worse and it got to a point yesterday where he needed to say something."
"I didn't want to say anything because I've worked harder than I ever have this offseason," Bassitt said. "I felt so excited and prepared going into this season, and for this to happen, it really sucks. The way I'm feeling right now, I can't throw right now."
Hahn returns to the A's after pitching to a 2.04 ERA in four starts with the Sounds following a disappointing spring in which he compiled an 11.15 ERA and .382 opponents average.
"Jesse did a great job for us last year, had a little bit of a tough spring and had to work his way back, but [he] has, and we're looking forward to seeing him," Melvin said.
"I was pretty motivated," said Hahn, who made 16 starts last year before suffering a season-ending forearm injury. "I just wanted to make it a short stay and do everything I needed to do to get back up here as quick as possible. So I went down there, continued working on things I needed to work on, and I'm here right now, hopefully for good."
Jane Lee has covered the A's for MLB.com since 2010. This story was not subject to the approval of Major League Baseball or its clubs.