Royals think extra rest should benefit Davis
Yost sticking with Esky in leadoff spot as KC opens set in Seattle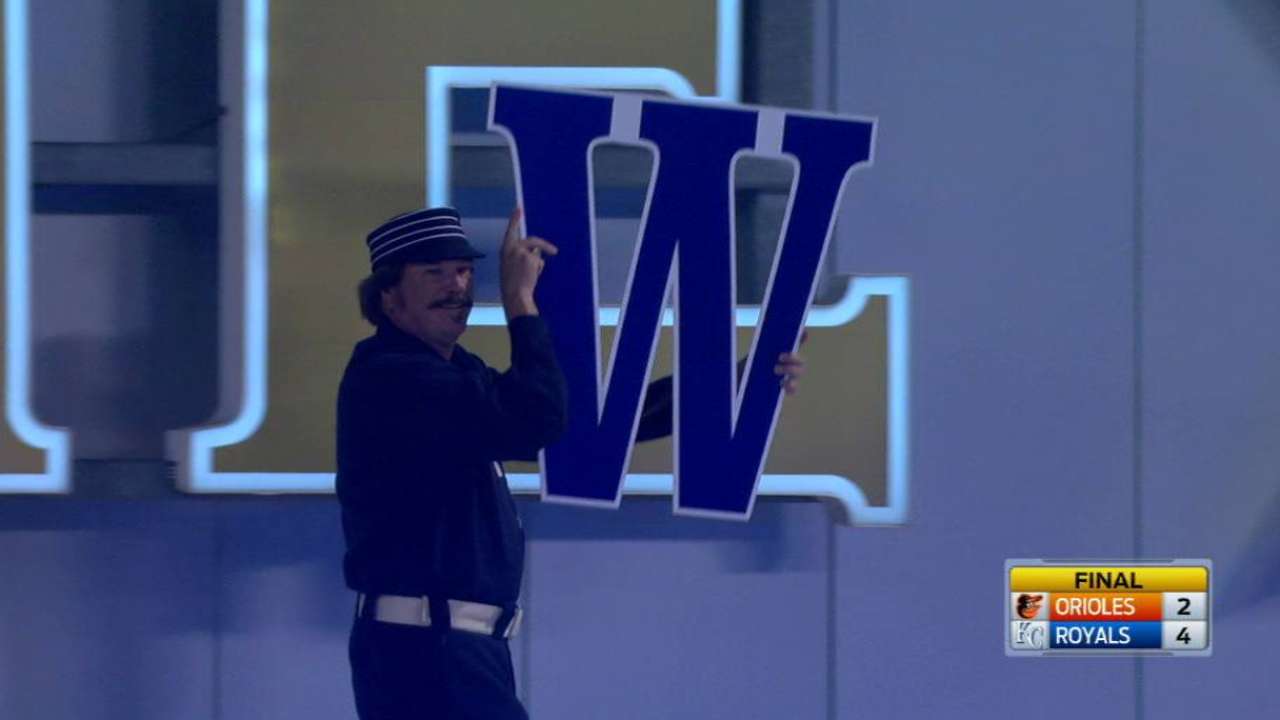 SEATTLE -- Royals closer Wade Davis is doing his usual Wade Davis things this year. He has pitched scoreless baseball on one hit through 7 2/3 innings, and while he has uncharacteristically issued five walks, he has struck out eight batters and has seven saves.
The problem is lately he hasn't been able to get in games. Davis entered Friday night's series opener against the Mariners at Safeco Field having sat in the bullpen since April 22, a span of six days. This, according to manager Ned Yost, is not a good thing for one simple reason.
"You don't have any save situations," Yost said. "It's the one thing that I've always found out [with] closers … it's either a flood or a drought. You need them in five out of seven days or you don't need them for seven days.
"It's not easy to do on the road, especially when you're playing close games. At home we would, definitely."
In those six Davis-less days since their closer got the save on April 22 in a 4-2 home win over the Orioles, the Royals played five games and lost four. The lone victory in that stretch, on April 24 against Baltimore at Kauffman Stadium, was setting up to be a save situation until the seventh inning, when the Royals erupted for four runs and made a 2-1 lead into a 6-1 final score.
Yost said it's tough to figure out when to use Davis because even a token inning in a blowout win or loss in the midst of a light period of work for his ninth-inning man can turn out to be risky.
"You don't know when [a run of needing Davis in] five out of seven's going to start," Yost said. "So you're pitching him in a blowout, and then you're going to need him two days from now and he can't pitch. So it's a Catch-22 you've got with closers. You can do it with the other guys."
Pitching coach Dave Eiland sees it as an unfortunate situation for what it means for the team in general, but he said there might be a bit of a silver lining.
"I think Wade appreciates the rest," Eiland said. "Because there's going to be times when he's pitching five days a week, so it's just one of those things. The way we come back in games a lot, it's hard to give him an inning on the road, like the eighth inning, because we might score two or three and tie the thing up and then what are we going to do?
"But Wade's really good. He knows how to monitor himself. He'll get some work in before the game off the mound, so a little bit of extra rest benefits him a little bit."
Yost sticking with lineup
Shortstop Alcides Escobar is not a typical leadoff man in the on-base percentage sense of things, but the Royals win with him leading off. This is an old narrative that has played out through two consecutive Octobers, the most recent of which ended with Kansas City winning the World Series.
So the fact that Escobar entered Friday slashing .220/.250/.275 did nothing to deter Yost from his usual lineup.
"It's proven to work," Yost said. "And who else are you going to hit there? Everybody else you look at [who] maybe could have the possibility … they're struggling, too. So it's nonsense right now to be thinking about stuff like that.
"I haven't even thought about it."
RISP woes not a concern
The Royals went 4-for-23 (.174) with runners in scoring position while getting swept by the Angels in Anaheim in their last three games, and they entered Friday hitting .214 overall in those situations, going 36-for-168. It's a stark contrast to last year, when Kansas City finished second in the Majors with a .281 RISP mark.
Yost said he's confident that number will climb.
"It's just part of it," Yost said. "We weren't so good all year [last year]. We had times where we struggled. You just work through it."
Doug Miller is a reporter for MLB.com. Follow him on Twitter @DougMillerMLB. This story was not subject to the approval of Major League Baseball or its clubs.