Sting of Queens: 12-run inning for Mets
Cespedes drives in 6 in record-setting frame vs. Giants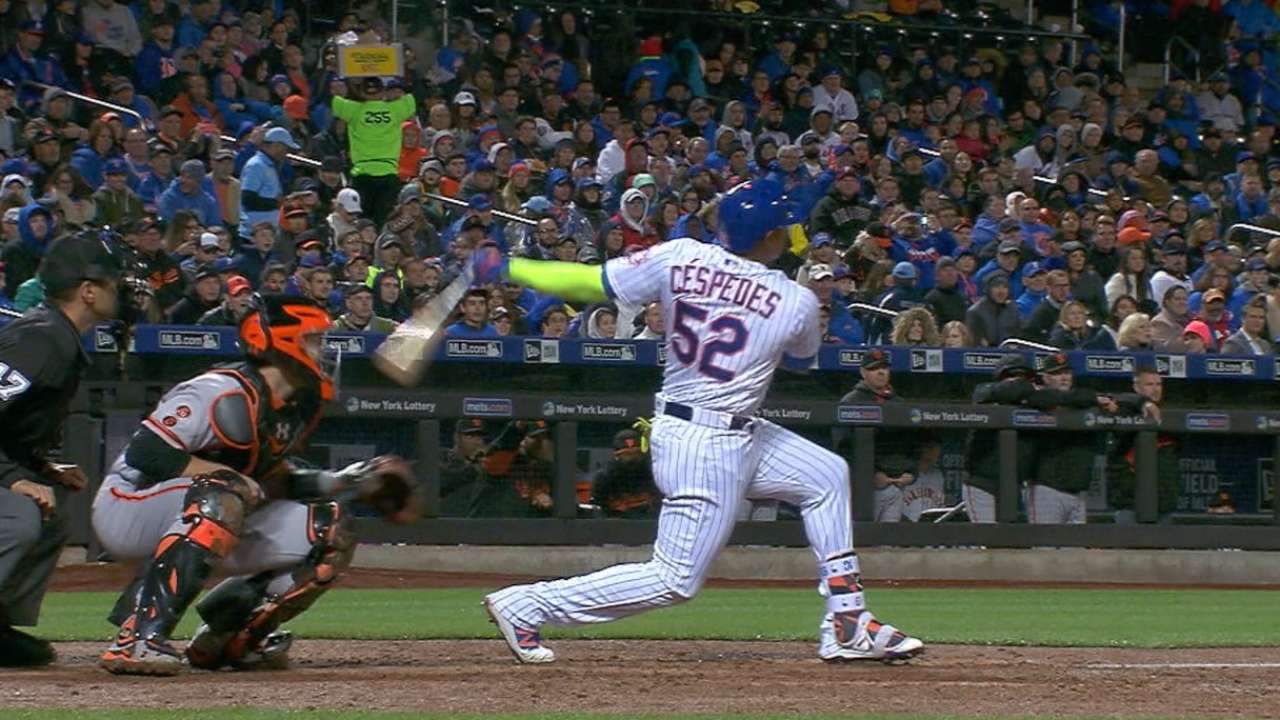 NEW YORK -- From his vantage point at the top step of the Mets' dugout, Terry Collins understood he was witnessing history. He may not have known the details -- no Mets team had ever scored 12 runs in an inning, no Met had ever clubbed an extra-base hit in nine consecutive games, nor amassed six RBIs in an inning, and so on and so forth -- but he recognized the implications.
The Mets' record-setting third inning Friday did not merely send them rocketing to a 13-1 win over the Giants, one of the National League's best teams. It also provided explicit evidence that this Mets offense is unrecognizable from the one Collins, on the same top step, watched night after night last April through July.
"This is a different team, for sure," Collins said. "You just go through those streaks sometimes where it doesn't matter what you do, you can't score. Tonight, we swung the bat and it seemed like everything we hit, it went into a gap somewhere."
• Cast your Esurance All-Star ballot for Cespedes and other #ASGWorthy players
Six of the Mets' eight hits in their record-setting third inning indeed settled onto patches of Citi Field grass. One glanced off right fielder Hunter Pence's glove. Another -- Yoenis Cespedes' third career grand slam, a liner to left field that evoked his game-tying pinch-hit shot three days earlier -- cleared the fence.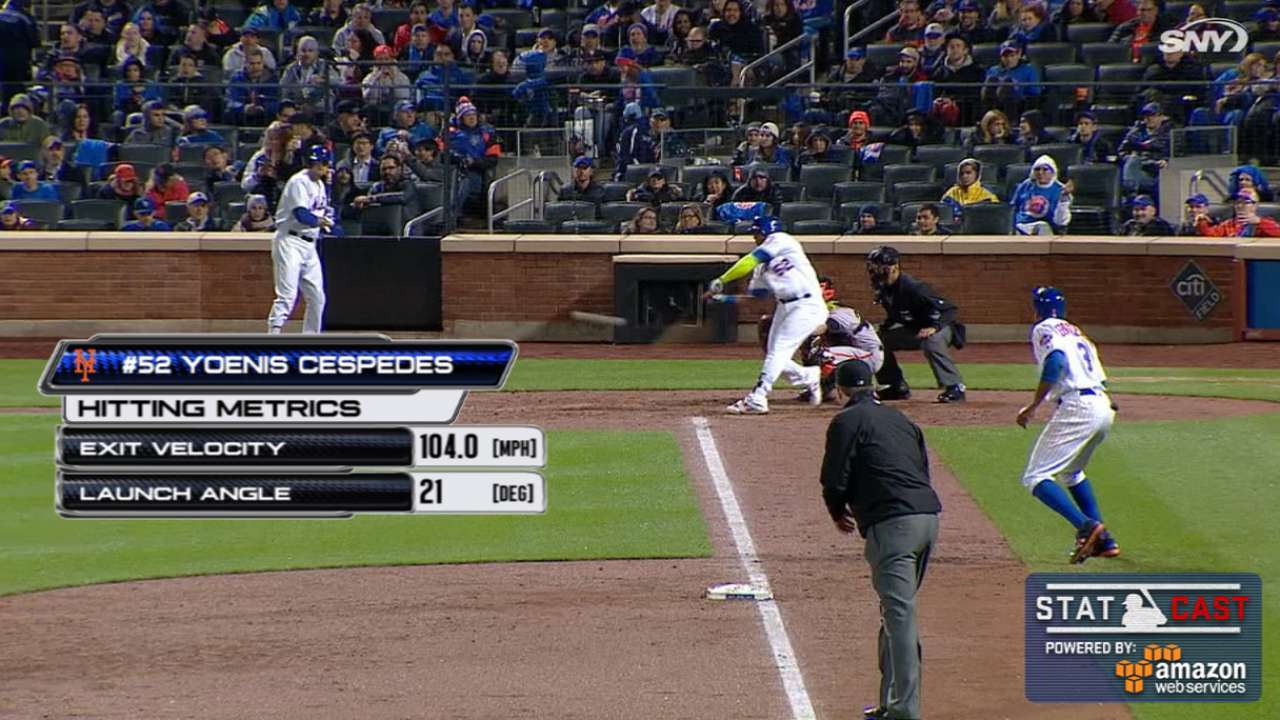 By the time the Mets were done, they had sent 15 men to the plate against Giants pitchers Jake Peavy and Mike Broadway, who combined to retire three of them. The other dozen crossed home in one of the most extravagant hit parades the National League has ever seen.
"Everybody hit a double," shortstop Asdrubal Cabrera said, grinning in the postgame clubhouse. "Double, double, double, double, double."
The exact sequence was only slightly more complex. It started, as so many rallies of this sort do, with a leadoff walk, then a second free pass from Peavy. The next batter, Michael Conforto, hit an RBI double, marking his fifth consecutive game with an extra-base hit.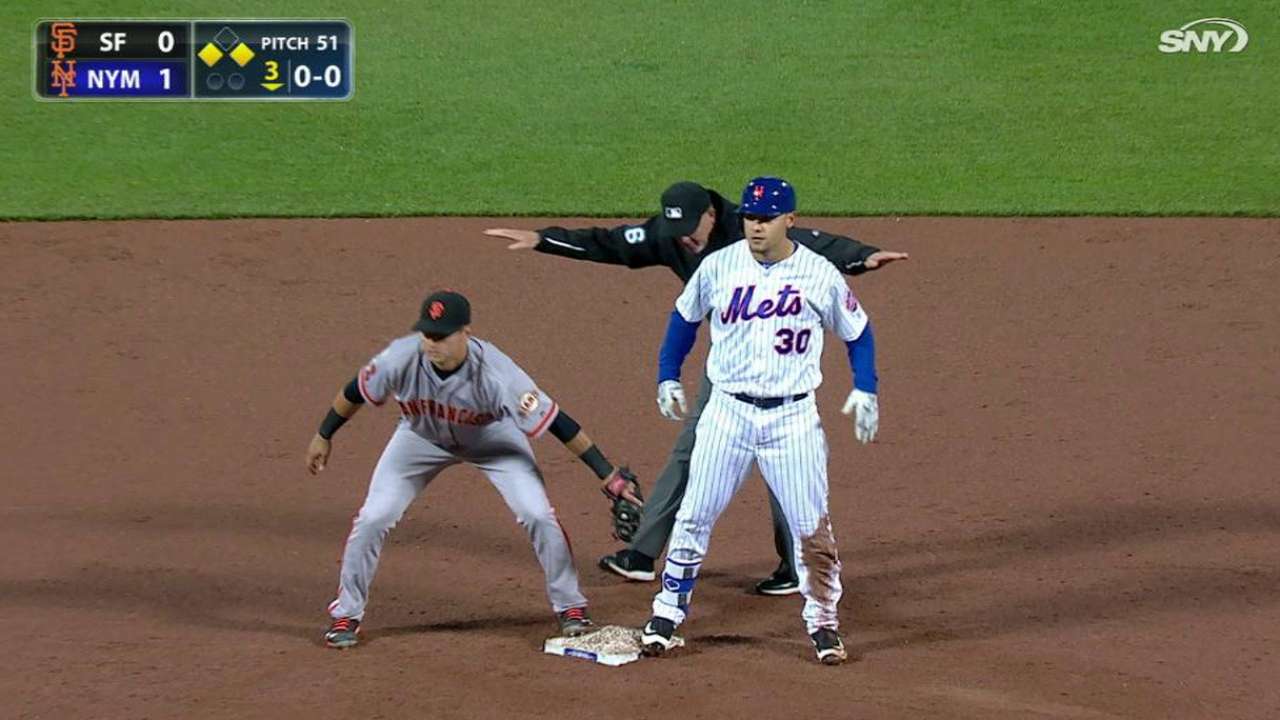 The only player in baseball with a longer such streak -- Cespedes, now nine games and counting -- batted next, singling home two. Then Lucas Duda walked and Neil Walker doubled in a run, chasing Peavy from the game.
Broadway did no better, allowing a two-run double to Cabrera, before a walk to Kevin Plawecki, Curtis Granderson's RBI single and a David Wright single to load the bases. Next up was Conforto, who singled home yet another run. Then came Cespedes, who strode to the plate with the bases full.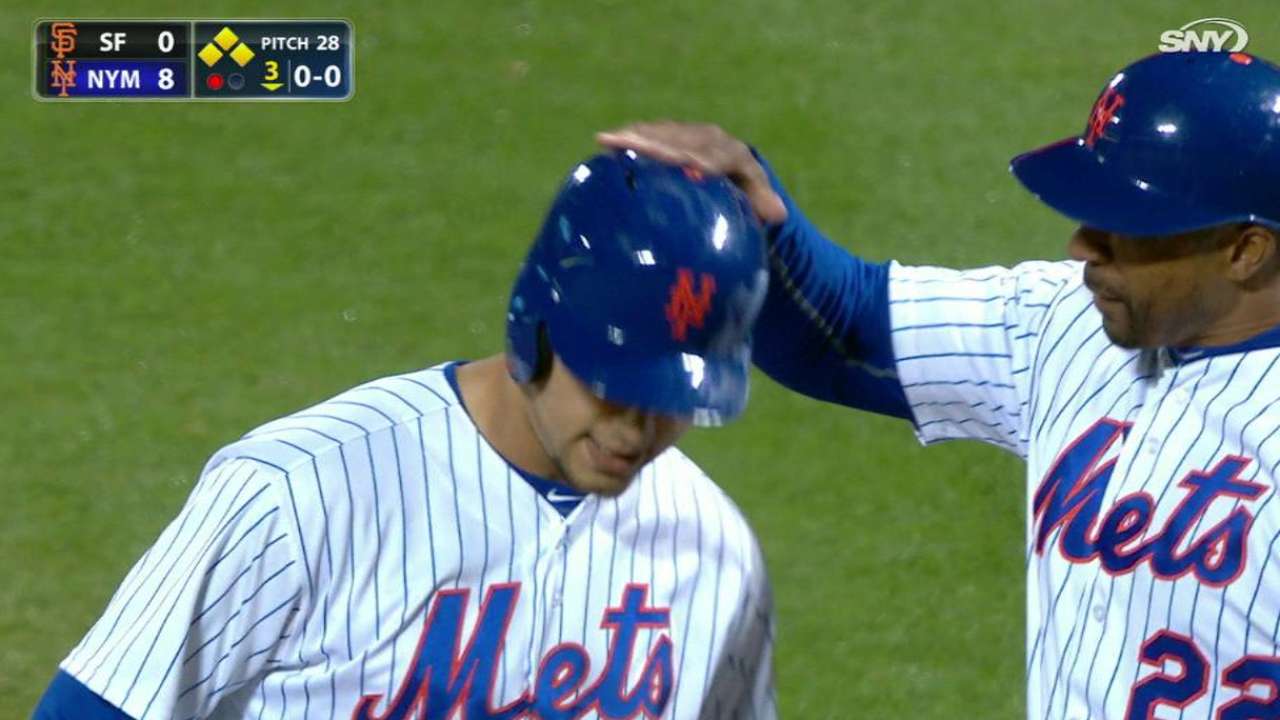 Afterward, Cespedes swore he was looking only to deliver a sacrifice fly. He wound up doing plenty more, launching a Broadway slider over the left-field fence for the Mets' record-setting ninth through 12th runs. Cespedes' six RBIs surpassed Butch Huskey's five in 1998 for the most in a single inning in Mets history.
"I'm very happy," Cespedes said, "honored to achieve this."
The context for what exactly the Mets achieved? The franchise's previous best inning was an 11-spot against the Cubs in 2006. They've scored 10 runs in an inning three other times: vs. the Reds in 1979, against the Braves in 2000 and last year vs. the Brewers. The National League record has stood for 133 years, since the day the Cubs -- back then the Chicago White Stockings -- hung 18 in an inning on the Detroit Wolverines. Major League Baseball's modern-day record belongs to the Red Sox, with a 17-run inning back in 1953.
It all made for a lovely night for the Mets fans who crammed into Citi Field, despite the rain and chill.
"But I'll tell you one thing," Collins cautioned. "It's over. We'll enjoy it for 30 minutes, but we've got to show up again tomorrow."
Anthony DiComo has covered the Mets for MLB.com since 2008. Follow him on Twitter @AnthonyDiComo and Facebook, and listen to his podcast. This story was not subject to the approval of Major League Baseball or its clubs.