Blackmon activated; Barnes optioned to Triple-A
Rockies outfielder was on the disabled list with turf toe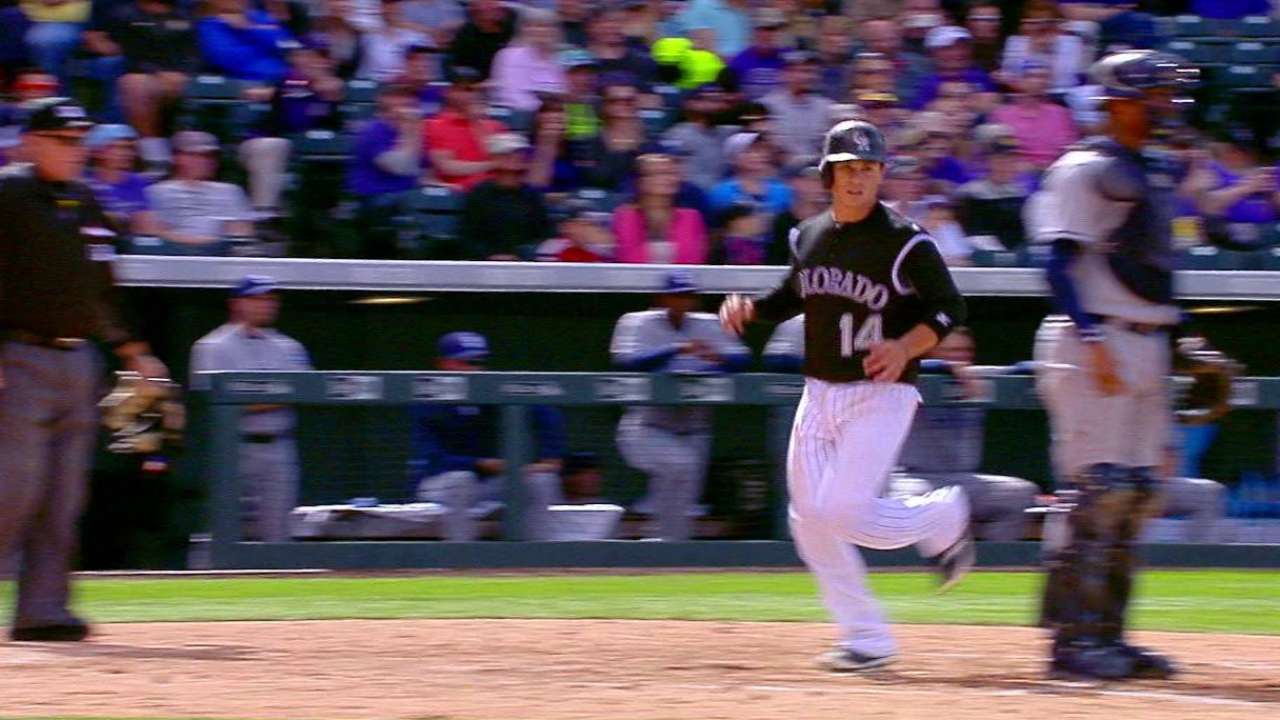 PHOENIX -- The Rockies reinstated outfielder Charlie Blackmon from the 15-day disabled list and optioned outfielder Brandon Barnes to Triple-A Albuquerque before Friday night's game against the D-backs.
Blackmon, who was placed on the 15-day disabled list April 14 because of turf toe in his left foot, was back in the lineup in the leadoff spot.
"This is something I dealt with years ago and I've done a really good job of making it go away and managing it," Blackmon said. "So to have it go away quickly and get to a point to where I don't think about it and I'm not worried about it is a relief."
Blackmon went 5-for-27 with six runs, two doubles, one triple, three RBIs, two walks and one stolen base in eight games with the Rockies this season. He went 1-for-8 with one run and one strikeout in two rehab assignment games with Class A Advanced Modesto.
The outfielder's unique sense of humor is also back. It surfaced during a playful banter with reporters when he was asked how he tested his toe.
"I played baseball games, which included hitting, running, playing defense, infield, ground balls, running down the line hard, diving back to bag on the base, all those baseball-related activities," Blackmon deadpanned.
Throwing?
"I threw the ball, yes," Blackmon said.
The outfielder was asked how his toe feels when it's sore.
"It feels like it really hurts," he answered. "You can't use your foot like you can normally use your foot, so you find ways around the pain, so when you're in a flareup, you are not going to be a good baseball player."
On a serious note, the Rockies' offense could use a lift. The club finished 1-5 on the six-game homestand and had lost five in a row leading into Friday's game. Blackmon was hitting .340 (72-for-212) in 54 career games against the D-backs, going into Friday.
"Charlie certainly adds to our club, especially offensively at the top of the order," Rockies manager Walt Weiss said. "He feels very much at home in that leadoff spot and he's done a nice job with it."
Barnes has six hits in 31 at-bats with one run, two doubles, one triple, and four RBIs in 17 games (six starts) for the Rockies. He stole one base and earned two walks.
"Barnesy has been everything we have asked him to be," Weiss said. "He's performed well. The statistics for him are deceiving, and they usually are for guys that are not everyday players. He's been a valuable piece for us."
Worth Noting:
• Carlos Gonzalez, who has hit safely in 17 of the team's first 21 games, did not start Friday. It was a scheduled day off.
"I targeted this day for him several days ago," Weiss said. "I think it helps that we had the [postponement Thursday], and now he gets two days. We are in the middle of a stretch of 20 straight games and we don't have the off-days like we had the first few weeks of the season, so I'll start to target certain days for certain guys that have been to the post every day."
• Right-handed pitcher Eddie Butler will make his first start of the season Tuesday in San Diego. Jon Gray will pitch the first game of the series against the Padres on Monday.
Jesse Sanchez is a national reporter for MLB.com based in Phoenix. Follow him on Twitter @JesseSanchezMLB and Facebook. This story was not subject to the approval of Major League Baseball or its clubs.