Servais plenty happy with big hits from Cano
Mariners skipper will take run production over high batting average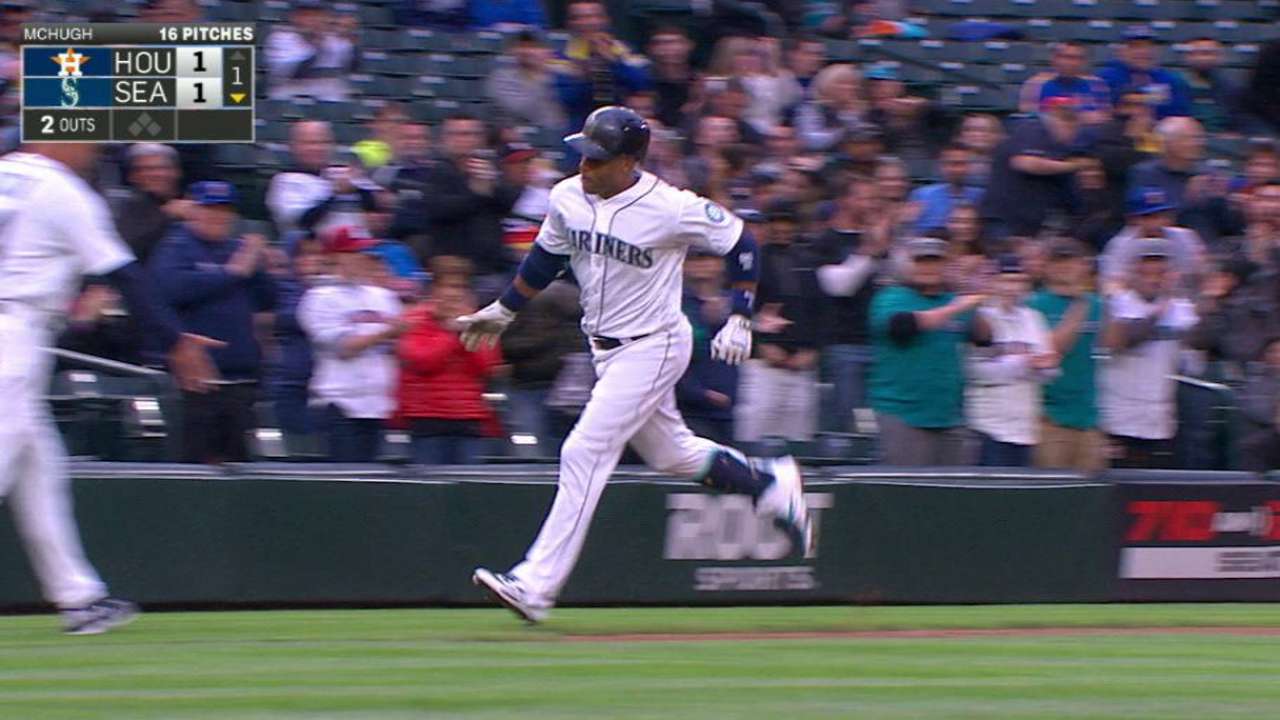 SEATTLE -- Mariners second baseman Robinson Cano hasn't hit for a high average in April, but manager Scott Servais is plenty happy with the production.
Cano entered Friday's series opener against the Royals leading the American League in RBIs (24) and home runs (eight), so Servais certainly isn't sweating the .247 average.
"It's when you get the hits, not getting the hits for me," Servais said. "He's had a great first month. I know he'd like to have a few more hits, but I think batting average -- I've said it all along -- is the one stat in my opinion that is overrated. It's about production and getting on base, driving runs in, and obviously he's had quite a few big hits and quite a few big home runs for us."
The Mariners have strongly pushed on-base percentage as the key statistic since Servais and general manager Jerry Dipoto took over this season. And while the club's OBP of .308 is just 11th among the AL's 15 teams so far, it's higher than its 13th-ranked batting average of .232.
Most importantly, Seattle is fourth in runs per game, thanks in part to being second in home runs and seventh in OPS at .708.
"We talk often times with players about how batting average can be the devil," Servais said. "I don't think batting average is a great friend to Kyle Seager (who is hitting .143) right now. You have to get over it every time you look up at the board and see your average. You can't get depressed, down about it. I stink, I'm a bad player. No, there's more to the game and being a good offensive player than just your batting average."
And yes, grinding out at-bats, forcing opposing pitchers to throw more pitches and getting deeper into counts are all factors, along with OBP.
"There's a lot of ways to go about it, but getting on base is ultimately what it's about," Servais said. "And in Robbie's case, getting hits when guys are on base is a big part of the game -- driving the ball and doing damage."
Worth noting
• Lefty reliever Charlie Furbush played catch at 150 feet on Friday and continues ramping up his throwing program as he attempts to return from the shoulder soreness that has sidelined him all spring. Furbush isn't close to coming off the 15-day disabled list, but he said things are progressing and he's starting to see a light at the end of the tunnel.
"Yeah, I'd like to think so," said Furbush, who hasn't pitched in a game since July 2015. "I'd like to think it's sooner than later. I'm feeling good, but you always just have to take it a day at a time and not get ahead of yourself. But it's just been good day after good days, so hopefully that streak will run a long, long time."
• Veteran right-hander Joaquin Benoit is just doing strengthening exercises for his sore right shoulder after going on the 15-day DL last week, but he could start throwing again in the next few days.
• Fans are reminded that Saturday's game against the Royals has been moved to 7:10 p.m. PT from its original 6:10 start to help accommodate traffic from an afternoon Sounders soccer game at CenturyLink Field as well as the fact the Highway 99 viaduct will be closed for the next two weeks.
Greg Johns has covered the Mariners since 1997, and for MLB.com since 2011. Follow him on Twitter @GregJohnsMLB and listen to his podcast. This story was not subject to the approval of Major League Baseball or its clubs.