Bedrosian recalled as Street lands on DL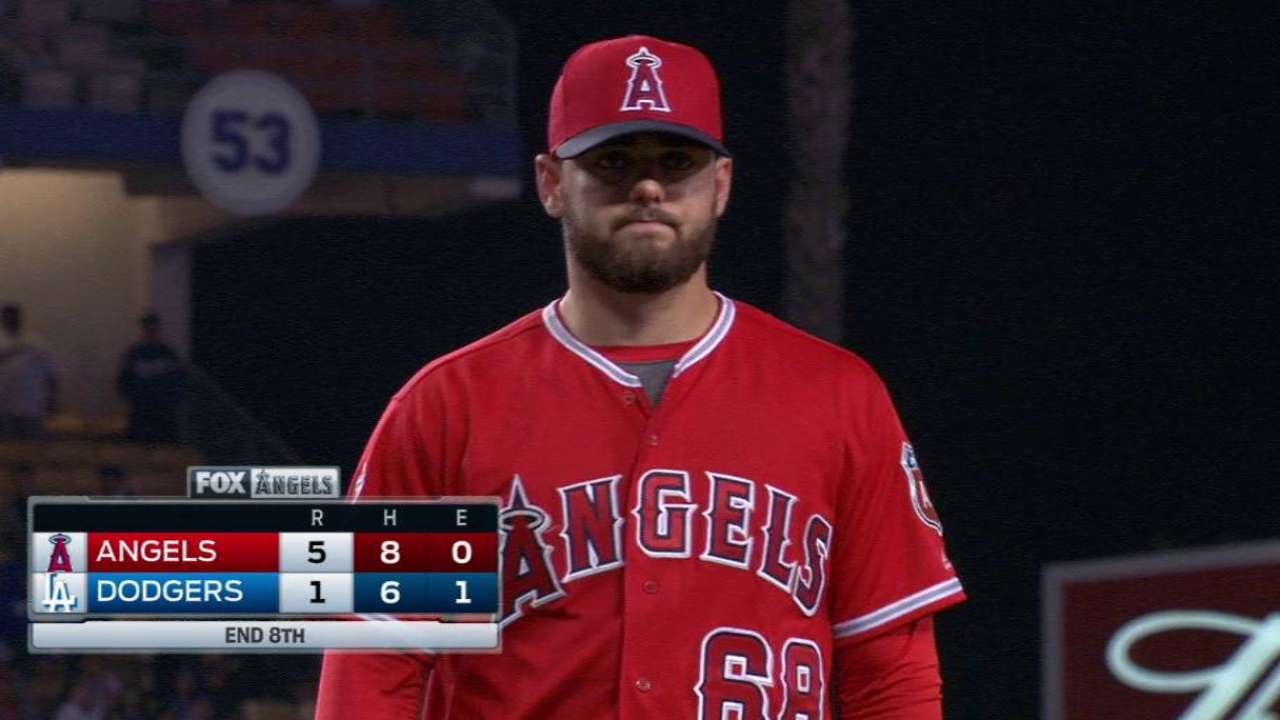 ARLINGTON -- The Angels added hard-throwing right-hander Cam Bedrosian to their bullpen on Friday, calling him up from Triple-A Salt Lake to take the roster spot of their injured closer, Huston Street.
Street, placed on the 15-day disabled list because of the left oblique strain he sustained while warming up prior to Wednesday's game, doesn't have a timeline for his return. His DL stint has been backdated to Sunday, which means he could be activated as soon as May 10.
"You have to give at least 72 hours to a week before you really, really have a clear-cut understanding of whether it's going to be just two weeks or if it's going to be three or four," Street said. "It's frustrating."
With Street out, the Angels will turn to their sidearm setup man, Joe Smith, to handle the ninth inning.
And with Bedrosian in the mix, the Angels' bullpen could have a much-needed strikeout component. The Angels didn't waste any time getting him in a game, as he got the final two outs of the sixth inning in Friday's 4-2 loss.
Angels relievers entered the weekend series against the Rangers at Globe Life Park with the lowest strikeout rate in the Majors, at 5.93 per nine innings. Their staff is made up mostly of relievers who aim to induce soft contact, with none of their prior pitchers throwing fastballs harder than 93 mph.
But Bedrosian consistently throws his fastball in the mid-90s and struck out 14 batters in 8 1/3 innings in the Pacific Coast League.
"The bottom line is to get outs," Angels manager Mike Scioscia said. "Strikeouts are always nice, it's always nice to have guys who come in and get strikeouts, but if you don't have that dimension, you just have to figure out a way to get it done. Cam has electric stuff. If he can be part of that mix, great. But he's up here because he's throwing the ball really well. That's more important than striking guys out."
Bedrosian cracked the Opening Day roster out of Spring Training, but was sent down in a numbers crunch, optioned to Salt Lake City on April 9 because the bullpen had just absorbed six innings and was in need of a fresh arm.
The 24-year-old right-hander struggled through a 5.81 ERA in 51 appearances in 2014 and '15, but posted a 1.09 WHIP in Spring Training, striking out 17 batters in 11 innings while showing more command of his breaking ball.
"I think confidence is a big thing," Bedrosian said. "Last year, at this time, I was still trying to figure out some stuff. I feel now that I'm pretty confident throwing the slider for a strike now, getting ahead of guys. It feels a lot better when you get ahead of guys."
Worth noting
• An intense storm hovered over Globe Life Park a couple of hours before first pitch, and Angels center fielder Mike Trout, a noted weather enthusiast, sat in the dugout as hard rain pelted the tarp. "Come on, hail!" he barked.
• Starter Andrew Heaney is with the club on its six-game road trip and is still seeking alternative opinions on his tight left forearm. Scioscia said there is still no clarity on his timeline. Heaney hasn't thrown in nearly two weeks.
• First-base coach Gary DiSarcina returned home to Massachusetts this weekend to deal with a family emergency. Infield coach Alfredo Griffin will take his place against the Rangers. DiSarcina may return by Monday in Milwaukee.
Alden Gonzalez has covered the Angels for MLB.com since 2012. Follow him on Twitter @Alden_Gonzalez and Facebook , and listen to his podcast. This story was not subject to the approval of Major League Baseball or its clubs.