Darvish set to head out for rehab stint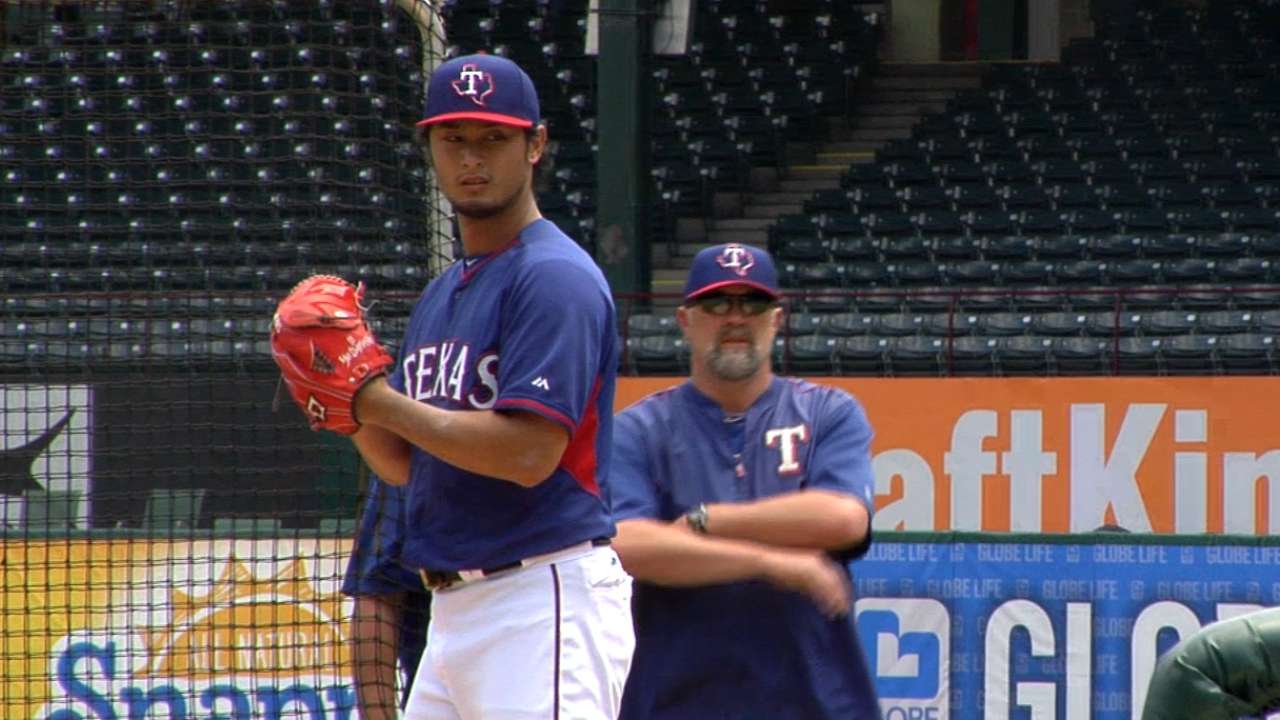 ARLINGTON -- Rangers pitcher Yu Darvish threw 20 pitches in the bullpen on Friday, his last session before beginning a medical rehabilitation assignment on Sunday in Frisco.
Darvish is scheduled to throw two innings and 30 pitches in his first rehab start for Double-A Frisco against Corpus Christi. Darvish, who underwent Tommy John elbow reconstruction surgery on March 17, 2015, would likely get 4-5 starts on his rehab assignment, building up to 90 pitches, before he is an option at the big league level.
"Like the steps I've been making through the rehab process, this is the next step I am making," Darvish said. It's hard to describe but I feel like I'm ready to go. My first outing, I'm just trying to get the first guy out. Every time you are making the first outing of the season, whether you have surgery or not, you're worried if you can get the first guy out. That's about it."
Darvish's return may be less than a month away but the Rangers rotation went into its three-game series with the Angels with a combined record of 10-4 with a 3.25 ERA. Rangers starters have pitched at least five innings in all 21 games and recorded quality starts in 16 of them.
A.J. Griffin entered the season as the fifth starter but he is 3-0 with a 2.52 ERA after four starts. The Rangers don't have a weak link between Griffin, Cole Hamels, Colby Lewis, Martin Perez and Derek Holland.
Manager Jeff Banister has even toyed with the idea of a six-man rotation, especially between May 27 and July 10 when the Rangers play 43 games in 45 days.
Banister pointed out that Darvish, Griffin and Perez each had Tommy John within the past three years, Holland missed most of the past two seasons because of injuries and Lewis has a significant recent medical history. Hamels also was skipped in his last start with a strained left hamstring. Darvish and Lewis had success in that type of rotation in Japan.
"There are a lot of different pros and cons," Banister said. "There are a lot of land mines between now and then."
Banister confident in DeShields:
Outfielder Delino DeShields was not in the lineup on Friday against the Angels, even with a left-hander on the mound. Banister went with Ryan Rua, who was 3-for-8 off Angels starter Hector Santiago while DeShields was 1-for-11.
DeShields was also in a 1-for-26 slump, which dropped his average from .319 to .219. But Banister is still encouraged that DeShields is still finding ways to get on base. He went into Friday tied for second on the club in walks.
"His strength is in controlling the strike zone, which allows him to get on base," Banister said. "When he is aggressive, he is aggressive in the zone. Your sophomore year is probably the most challenging for every player.
"With there being so much information, what bounce back do you have, what punch back do you have when the pitcher knows you? You're not just another guy, you are a marked man. You have a skill-set that helps a team win and they are trying to prevent that. Now you have to make your move."
Worth noting:
• The Blue Jays are expects to go with R.A. Dickey, Marco Estrada, Aaron Sanchez and J.A. Happ in their four-game series with the Rangers that starts on Monday in Toronto. The Tigers rotation for next weekend's three-game series lines up with Jordan Zimmermann, Mike Pelfrey and Justin Verlander pitching.
• Outfielder Shin-Soo Choo underwent an MRI on his strained right calf on Friday. Choo is hoping to get clearance to ramp up his baseball activities. Right now he is doing his running on a treadmill and swinging only against soft-toss pitching.
• Field coordinator Jayce Tingler had all the outfielders out early for extra defensive work on Friday.
T.R. Sullivan has covered the Rangers since 1989, and for MLB.com since 2006. Follow him on Twitter @Sullivan_Ranger and listen to his podcast. This story was not subject to the approval of Major League Baseball or its clubs.