Szczur's slam punctuates Cubs' comeback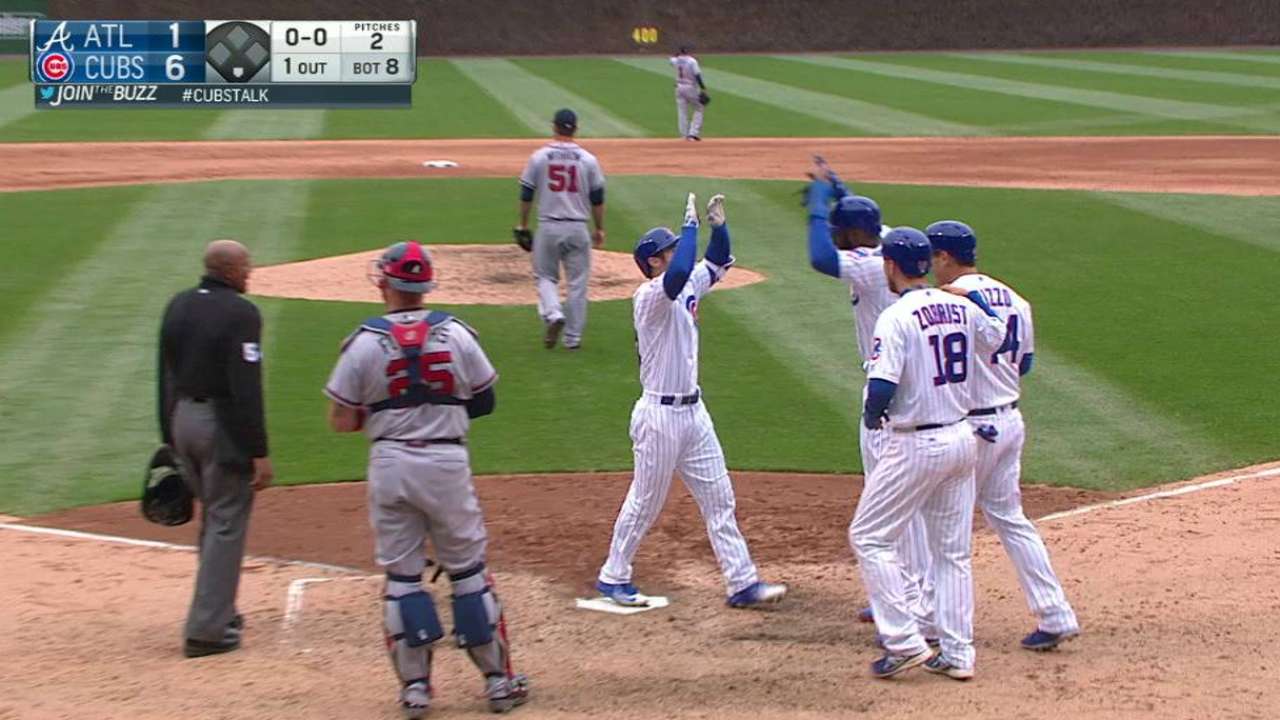 CHICAGO -- Matt Szczur has a rock on a shelf in his locker that he touches every day. It's a reminder of a parable called "The Story of the Stone Cutter" the Rev. Rob Hagan, an associate athletic director at Villanova, taught Szczur during his days there. The message is to keep grinding, and good things will happen. And as he's done every day, starting in Spring Training, Szczur touched the rock on Friday. And good things happened.
Szczur provided the highlight in an eighth-inning rally when he smacked his first career grand slam to power the Cubs to a 6-1 victory over the Braves. It was a victory for the bench players.
The game was tied at 1 when pinch-hitter Tommy La Stella doubled to lead off the frame before being forced at third on Dexter Fowler's fielder's choice. Jason Heyward walked and Ben Zobrist singled to load the bases for Anthony Rizzo. The Braves brought in lefty Eric O'Flaherty, but Rizzo slapped a single to center to put the Cubs ahead, 2-1. He now has 24 RBIs, the most he's totaled in one month in his career.
• Grand slams mean 40% off pizza
Right-hander Chris Withrow replaced O'Flaherty, and in his first at-bat of the game, Szczur launched a 92-mph fastball into the second row of the left-field bleachers. It was his second home run this season, and resulted in his first curtain call. After an exuberant run around the bases, he stepped out of the dugout to acknowledge the 34,007 fans at Wrigley Field.
"I can't explain the feelings I have," Szczur said. "I was super excited. I want to contribute to the team and make an impact, and it's great to do so in that manner."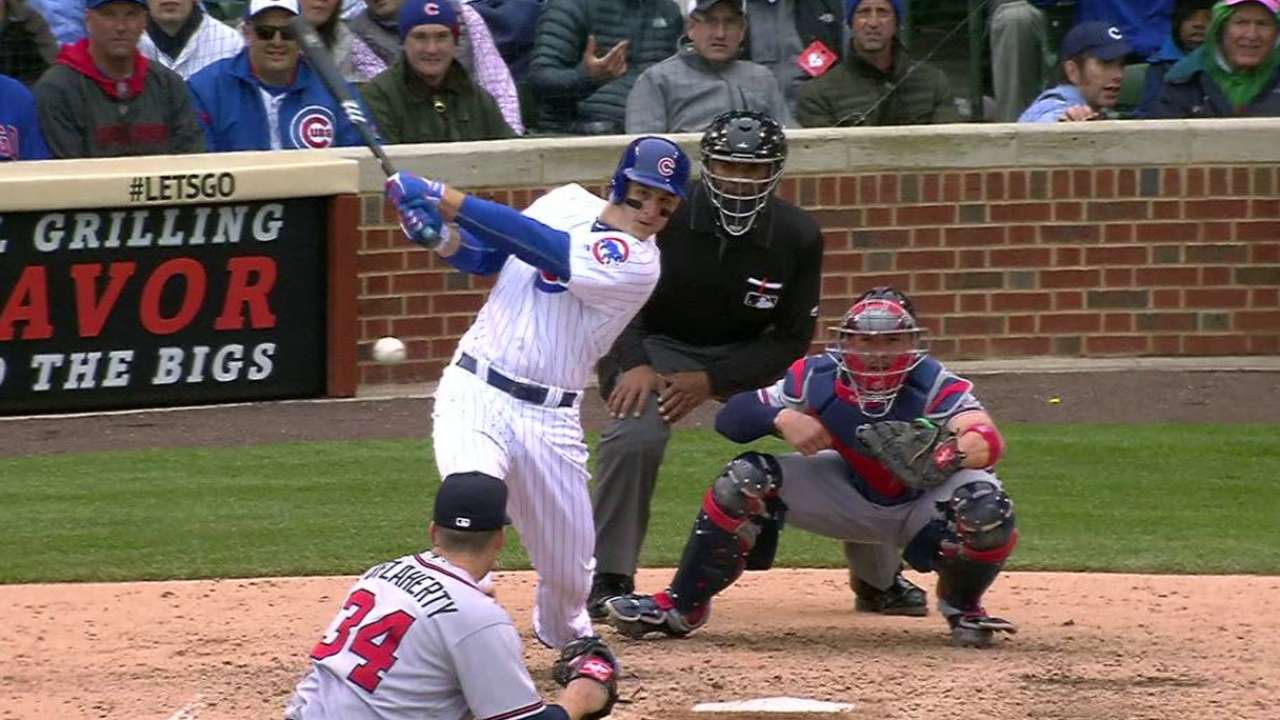 Cubs catcher David Ross wasn't surprised by the late-inning heroics.
"I don't see us ever cash it in," Ross said. "We expect guys to go out there and have good [at-bats]."
Last season, Szczur spent more time shuttling between the Cubs and the Triple-A Iowa team than he did on the big league roster.
"He's kind of a manager's, a coach's dream player," manager Joe Maddon said. "He stays ready, he's very versatile. There's so many good things about him. The last step for him was for him to realize he belongs in the Major Leagues and he could do this. You could hear it conversationally. He talks differently. He's more confident. ... Once you know it, you can do well here."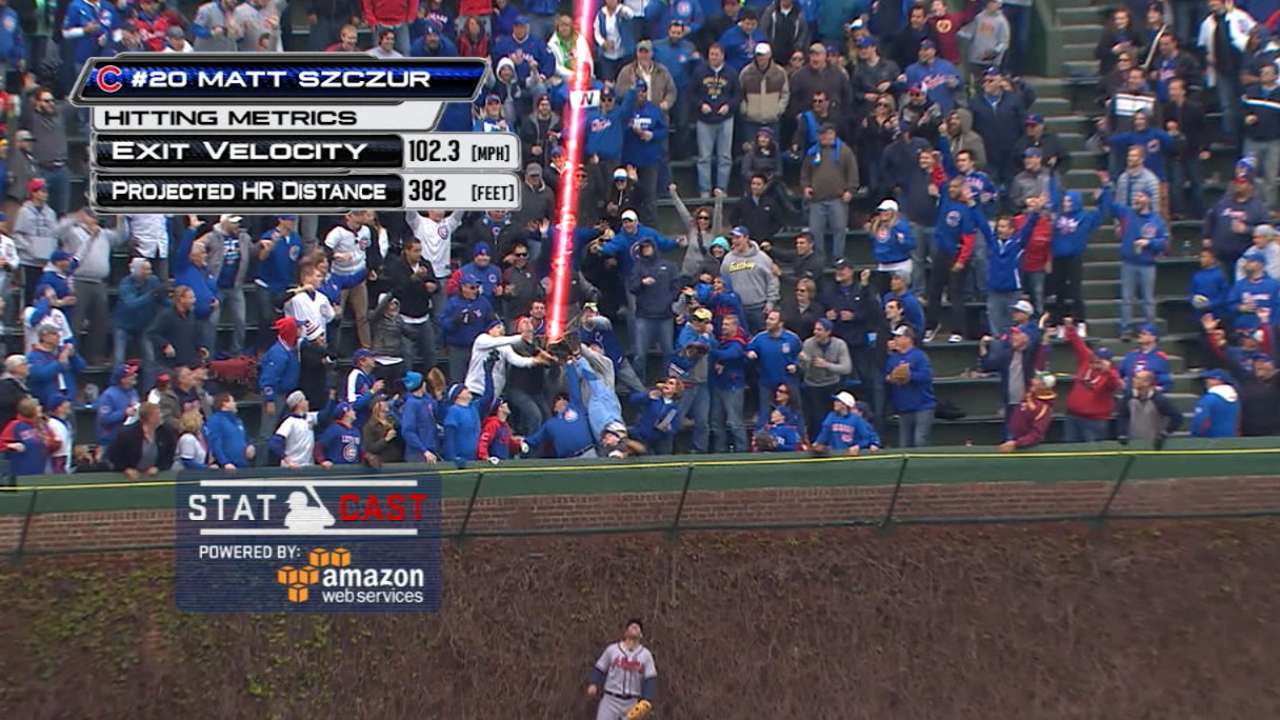 Which brings us back to the rock. There was a stone on campus at Villanova that Father Rob has the athletic teams touch as a reminder. The one on Szczur's shelf is from a restaurant his family had in New Jersey that was demolished to make room for a road. Szczur's father saved the rock for him. This is the first year he's had it in the clubhouse. It was in Spring Training, but Szczur hid it in his shoe.
"That's my little reminder every day, just keep grinding," he said.
Maddon tries to put players in positions where they can succeed. Javier Baez seems to be thriving. He started at third in place of Kris Bryant, and doubled and scored a run in the fifth, plus drew a walk in the eighth. La Stella is 3-for-5 as a pinch-hitter.
Szczur's goal?
"I want to be the best guy off the bench," Szczur said. "I feel it's the same thing for everybody else on the team. We just want to make an impact."
Carrie Muskat has covered the Cubs since 1987, and for MLB.com since 2001. She writes a blog, Muskat Ramblings. You can follow her on Twitter @CarrieMuskat and listen to her podcast. This story was not subject to the approval of Major League Baseball or its clubs.