Freeman silencing wrist concerns with surge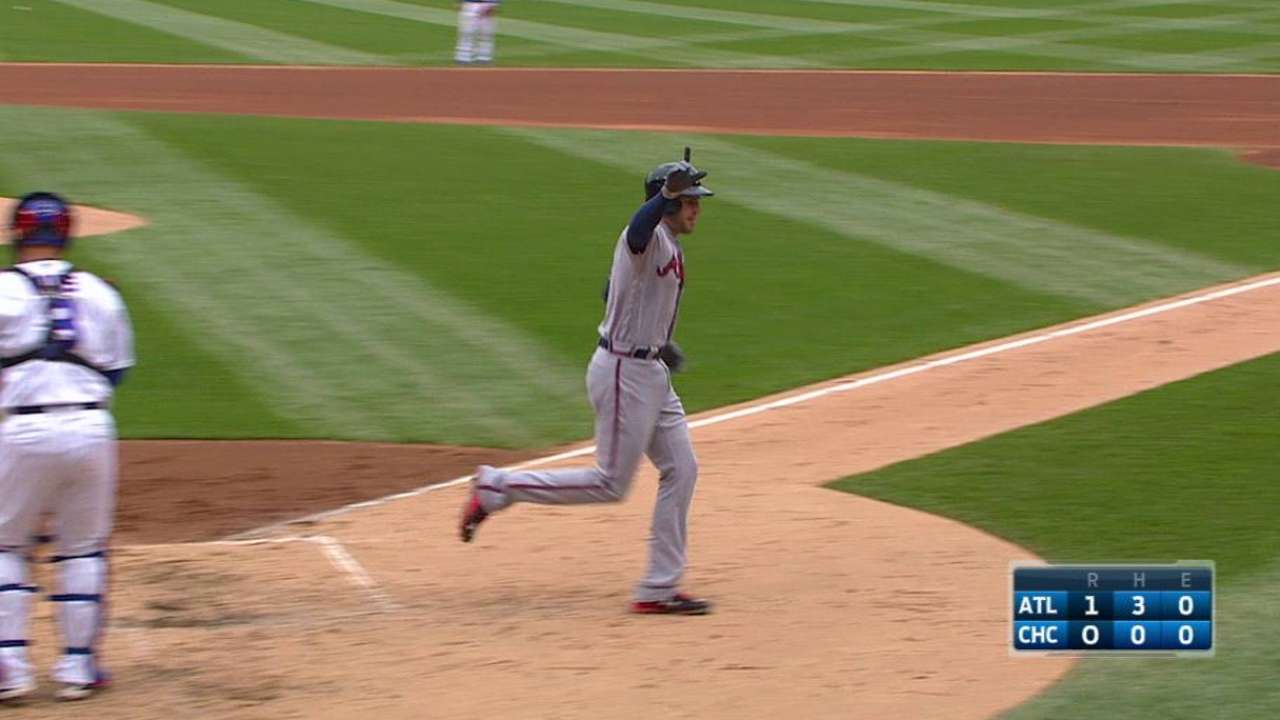 CHICAGO -- As his frustrations mounted during this season's first few weeks, Freddie Freeman had trouble convincing nearly everyone, including his own father, that his previously injured right wrist was healthy. But those who have watched Freeman take swings over the course of the past week certainly haven't had any reason to be concerned about the wrist.
Now that he has seemingly escaped the most frustrating slump of his young career, Freeman admits that from a mental perspective, he was likely affected by the wrist ailment that hampered him during last season's final four months. But all seemed right in the Braves first baseman's world as he homered for the second time in three days during Friday's 6-1 loss to the Cubs at Wrigley Field.
"You never want to talk about the wrist going into a season, but it's always in the back of your mind," Freeman said.
Though Freeman wasn't feeling any pain, he believes he subconsciously protected his wrist and consequently altered the mechanics of his swing as he progressed through Spring Training. These mechanical flaws proved problematic as the former All-Star went 2-for-25 through Atlanta's first nine games.
Freeman began feeling more comfortable about his swing two weeks ago during a road series against the Marlins, but he did not begin generating consistent results until this week. He snapped a homerless drought that had reached 85 plate appearances on Wednesday and then went deep again on Friday with a fourth-inning solo shot to right that dented Jon Lester's ERA and impressed Cubs manager Joe Maddon.
"Freeman's ball was not impacted by any hurricane force," Maddon said. "That ball was crushed."
Given the physical pain that he felt most of last season and the mental grind he has endured during this season's early weeks, Freeman certainly can appreciate that he's once again drawing such compliments from opponents.
Freeman has produced multihit performances in four of his past five games. During this five-day stretch, he has seen his batting average rise from .177 to an easier-to-look-at .259.
Still, while it's nice to once again generate results, Freeman is most encouraged by the fact that his wrist has indeed remained healthy throughout this season's first month.
"When you play through an April where it's cold and your wrist keeps holding up with no problems and you're starting to get the swing going and everything is starting to feel good, I think it's finally just a two-ton boulder off your shoulder where you can focus on getting ready for the game and not focusing on, 'Is it going to hurt today?'" Freeman said.
Mark Bowman has covered the Braves for MLB.com since 2001. This story was not subject to the approval of Major League Baseball or its clubs.