Cespedes has grand return to Mets' lineup
Outfielder tallies 6 RBIs, including slam, in club's record-setting inning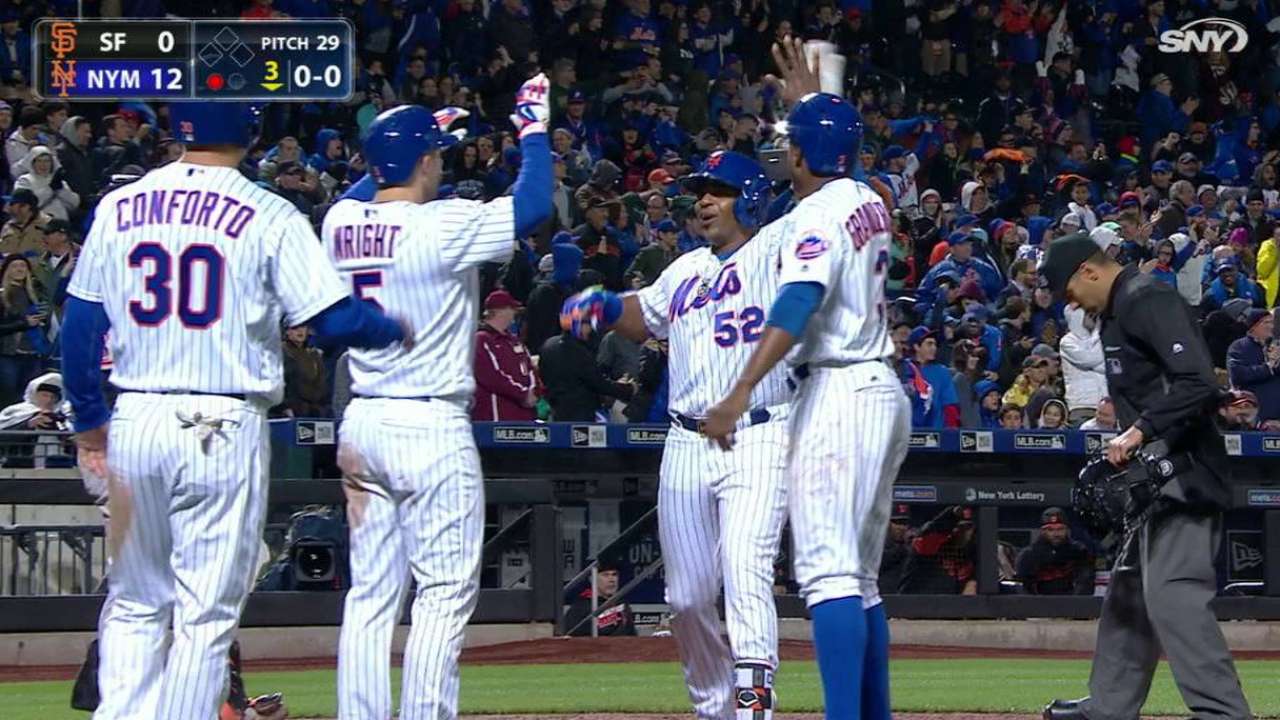 NEW YORK -- Yoenis Cespedes' six-game absence from the Mets' starting lineup ended in record-setting fashion Friday, when he and his bruised right leg played center field for the first time since April 22. Cespedes had appeared in just one game over that stretch, walloping a pinch-hit, game-tying home run Tuesday against the Reds on the only pitch he saw.
He evoked memories of that in a 13-1 win Friday against the Giants, clubbing a grand slam to nearly the same spot to cap a Mets-record 12-run third inning. That gave Cespedes nine straight games with an extra-base hit and six RBIs in a single inning, both franchise records.
"I'd like to say it was surprising," Mets catcher Kevin Plawecki said, "but it really wasn't."
• Grand slams mean 40% off pizza
Little Cespedes does these days surprises the Mets, so it was hardly unexpected when he singled home two runs off Jake Peavy early in the third. More than a half hour later, Cespedes sauntered to the plate again, eight runs already home.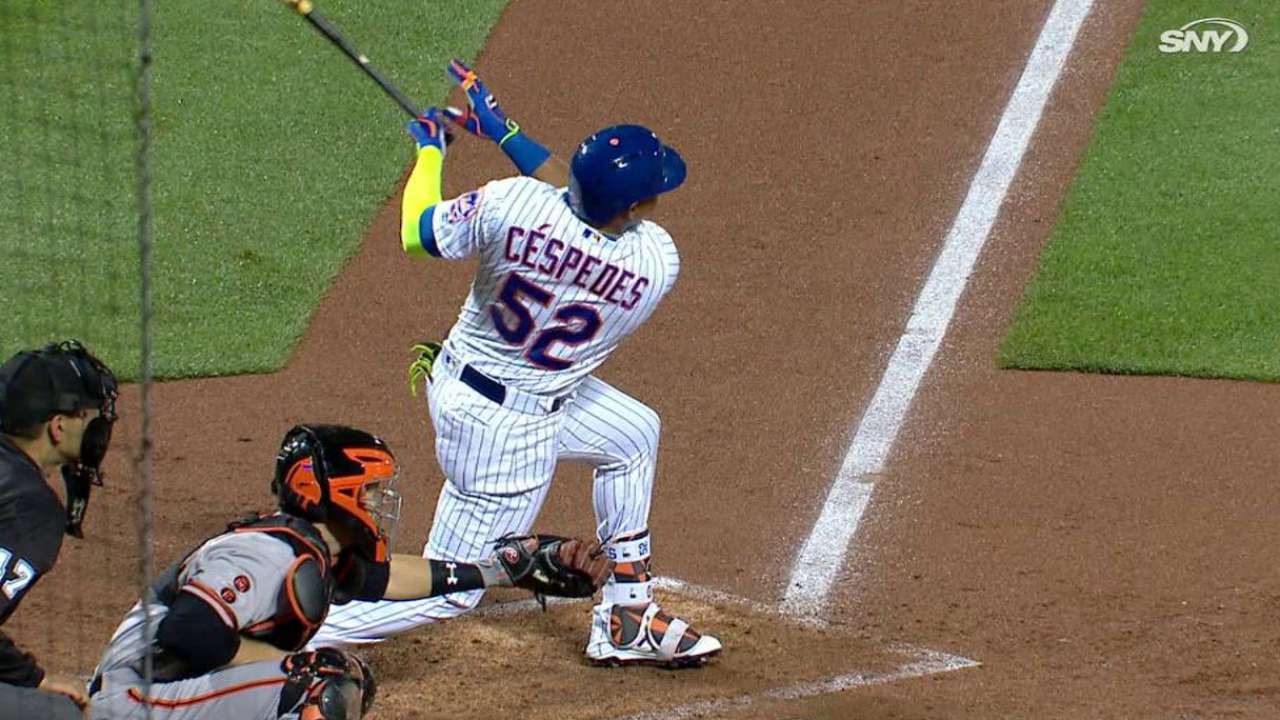 Much like Tuesday, Cespedes pounced on the first pitch, this time an 85 mph Mike Broadway slider. Much like Tuesday, the resulting homer sent Citi Field into hysterics.
"I said it during Spring Training, a lot of fans are expecting me to do what I did last year," Cespedes said through an interpreter. "But my focus is just on doing my job and continuing to help the team."
• Cast your Esurance All-Star ballot for Cespedes and other #ASGWorthy players
Through 21 games, Cespedes certainly is. That does not, however, mean he is back to full strength. A bruise still exists on his leg in the area where he had fluid drained Monday, even if the discomfort mostly does not. The Mets do not want Cespedes, who admitted he would have been hesitant running the bases earlier this week, to slide unless it's absolutely necessary.
"I don't know how we're going to monitor it, because when the game goes on, you've got to just react," Mets manager Terry Collins said before the game. "But we've got to be careful of him sliding too much. Any time you try to do something different, it could cause some problems. I just told him ... take it easy. Because I don't need him back in that training room."
Cespedes originally injured his leg diving into the Citi Field stands in pursuit of a foul ball April 13, but started each of the Mets' next seven games, recording at least one extra-base hit in all of them. Tuesday's homer extended that streak to a Major League-best eight, and Friday's grand slam upped it to a franchise-record nine. Cespedes' six RBIs in the third inning also surpassed the Mets' previous record, five from Butch Huskey in 1998.
Overall this season, Cespedes is batting .313 with seven home runs and 23 RBIs, one shy of the National League lead.
Anthony DiComo has covered the Mets for MLB.com since 2008. Follow him on Twitter @AnthonyDiComo and Facebook, and listen to his podcast. This story was not subject to the approval of Major League Baseball or its clubs.