Forsythe comfortable in leadoff spot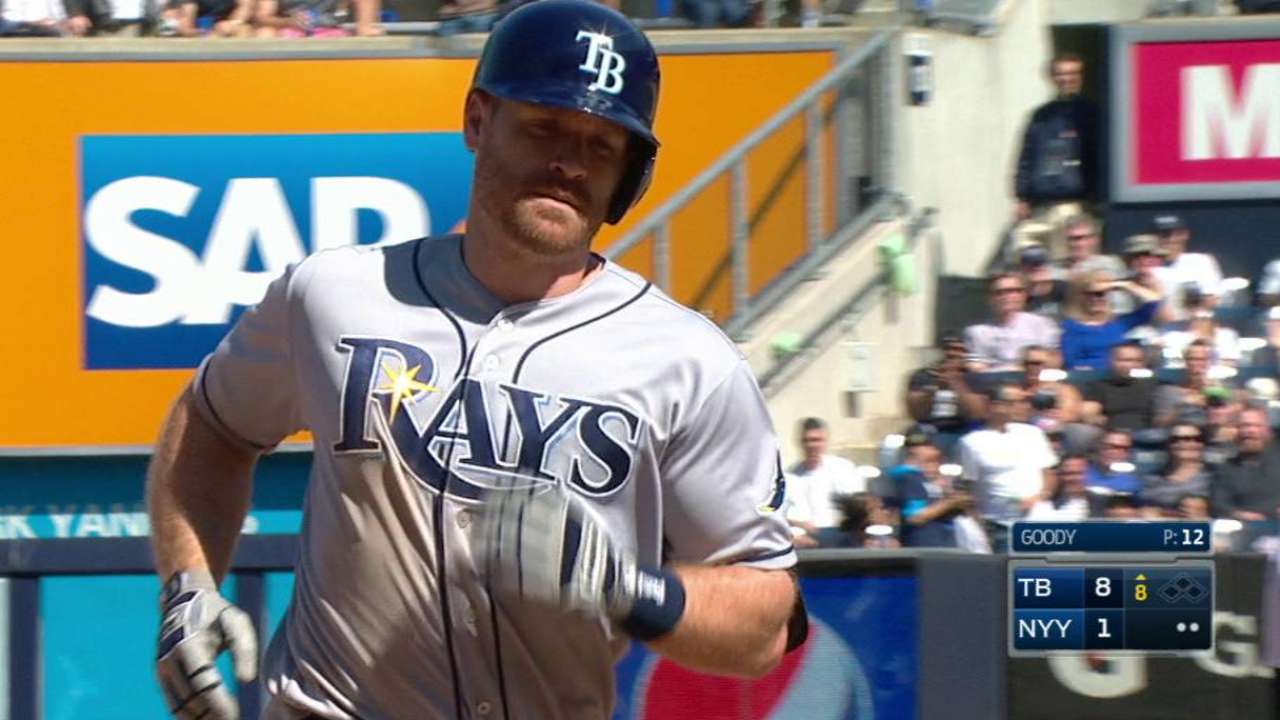 ST. PETERSBURG -- Early in Spring Training, Kevin Cash began giving serious consideration to Logan Forsythe serving as the team's leadoff man.
"More at-bats, more opportunities to help the club," said Forsythe, when asked about the role he has undertaken this season. "I think that was kind of a goal for Cash, to kind of get that top of the lineup more solidified. ... We're not worried about the matchups up top as much as we are down low. I think it's going well right now. Just hope it continues."
The Rays' manager now says of the decision that carried over into the regular season: "He's been outstanding [at the leadoff spot]."
Before Friday's 6-1 loss to the Blue Jays, Forsythe was batting .307 with a .388 on-base percentage and .935 OPS with seven doubles, one triple, three homers and eight RBIs in 85 plate appearances as the leadoff hitter. He went 2-for-4 with a walk on Friday.
"Maybe I haven't talked enough about him," Cash said. "We asked a guy who had a really good year to change up and go into that leadoff spot. Part of the reason why is we thought No. 1, it would get him more at-bats, but it was going to make us a better lineup. … He bought in, which kind of shows what he's about, and the teammate he is. Then he goes and he just continues to knock the cover off the ball."
Forsythe said he feels comfortable hitting leadoff.
"I've kind of gotten used to hitting in that spot, starting the game off," Forsythe said. "After [the first at-bat], it's just kind of another at-bat. Depends how the game plays out."
Getting into a routine has been the biggest challenge for Forsythe.
"I've been able to shorten it up, make sure my body's ready," Forsythe said. "Get in a couple of more swings before I step in for that first at-bat of the game. I mean, it's going well right now. I want to continue to grow on it."
Critiquing his performance, Forsythe said he wants to be better prepared to hit early in the count during his first at-bat.
"I've fouled off a couple of balls that maybe I should have hit," said Forsythe, who added that he hasn't forced himself into having to see a lot of pitches in his first at-bat. "... I think some guys kind of fall into that passive approach at the plate. ... It has come into my mind. But I've been able to kind of -- as I'm walking up to the plate -- we're not going to do that. We're going to stay with what we've been working on. We're just going to stay consistent and stay with that."
Bill Chastain has covered the Rays for MLB.com since 2005. This story was not subject to the approval of Major League Baseball or its clubs.