Patience at plate paying dividends for Cubs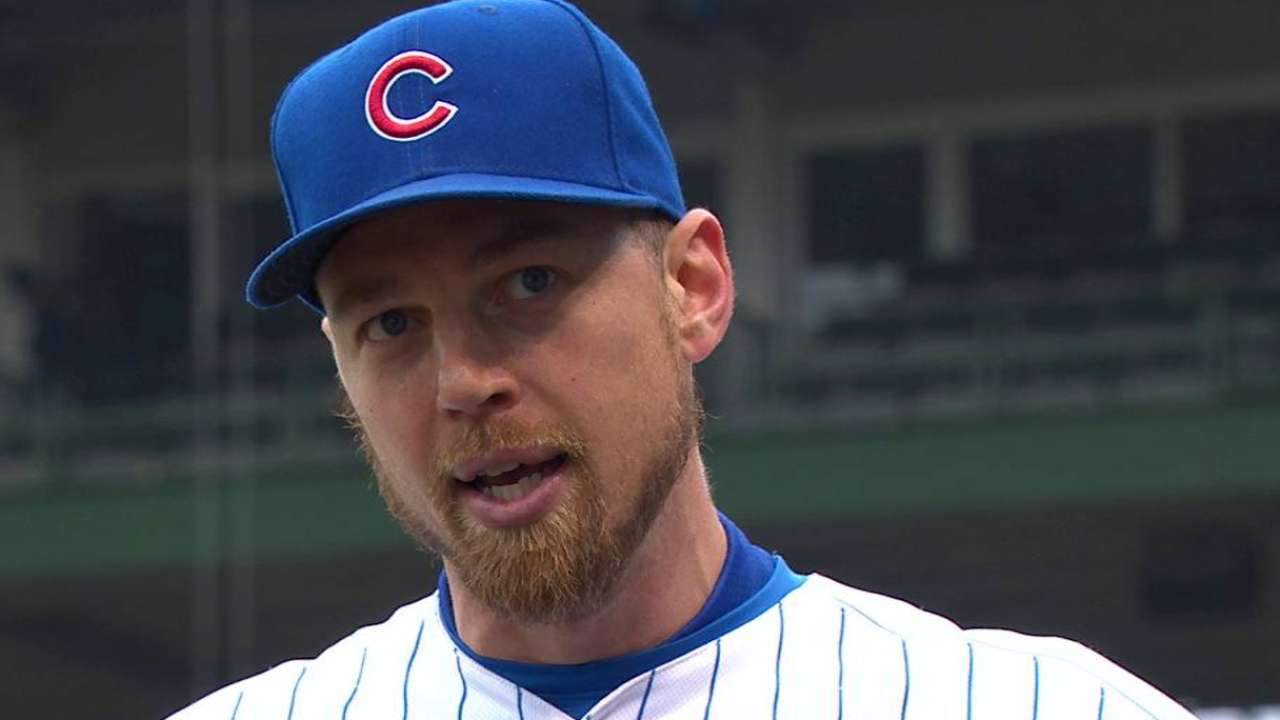 CHICAGO -- When the Cubs' coaching staff talked about having a better approach at the plate this spring, the players listened. And it's paying off. Chicago already has three games of at least 10 walks, and it leads the Majors in free passes. How different is that from years past? From 2010-15, the Cubs had a total of three 10-walk games.
"What you're seeing early in the season is a lot of these young guys growing up and maturing as hitters when they're able to not only take some good hacks but hold back a little bit from that and make sure they're getting the ball right where they want it," Ben Zobrist said Friday. "They're maturing as hitters. Everybody goes through periods when you're better at that or worse at that. Early in the season, compared to what some of these guys did last year, they've been exceptional and made great leaps and bounds as far as their patience at the plate."
It also helps that the Cubs are patient because they've been able to find ways to score despite the cold weather at home.
"What we're dealing with weather wise, you're not going to hit a bunch of three-run home runs," Zobrist said. "These guys are thinking through the game and understanding that, and it makes for great at-bats."
Said manager Joe Maddon: "When you make a pitcher throw many pitches per at-bat, I think the hitters chances improve."
• Tim Federowicz, called up from Triple-A Iowa after catcher Miguel Montero was placed on the disabled list, will start on Saturday. The backstop has played at Wrigley Field before, appearing in two games in 2013 while with the Dodgers. He also caught all of the starting pitchers this spring at least once.
"These guys are professional pitchers and they know what they're going to do," Federowicz said Friday. "It doesn't matter who's back there. It's going to be pretty seamless."
• The Cubs are off to their best start in 109 years, which Maddon said is necessary considering that the Cardinals and Pirates are not going away in the National League Central.
"When you get behind two teams, it's really difficult to overtake them, season in progress," Maddon said. "You expend a lot of energy mentally and physically to get back to that point. This year, with the hoopla surrounding us coming into it and the other good teams in our division, I thought to get off to a good start would help get us into the frame of mind to sustain it. I think we've done that to this point. I like our approach to the day right now, and I think it's something we can sustain."
• The Cubs raised more than $1.65 million at the sixth annual Bricks and Ivy Ball, held Thursday night at Navy Pier's Grand Ballroom. The money supports Cubs Charities. The event featured Cubs players, owners, alumni and executives who mingled with the more than 800 guests in attendance.
Carrie Muskat has covered the Cubs since 1987, and for MLB.com since 2001. She writes a blog, Muskat Ramblings. You can follow her on Twitter @CarrieMuskat and listen to her podcast. This story was not subject to the approval of Major League Baseball or its clubs.