After dominating, Tanaka stumbles in seventh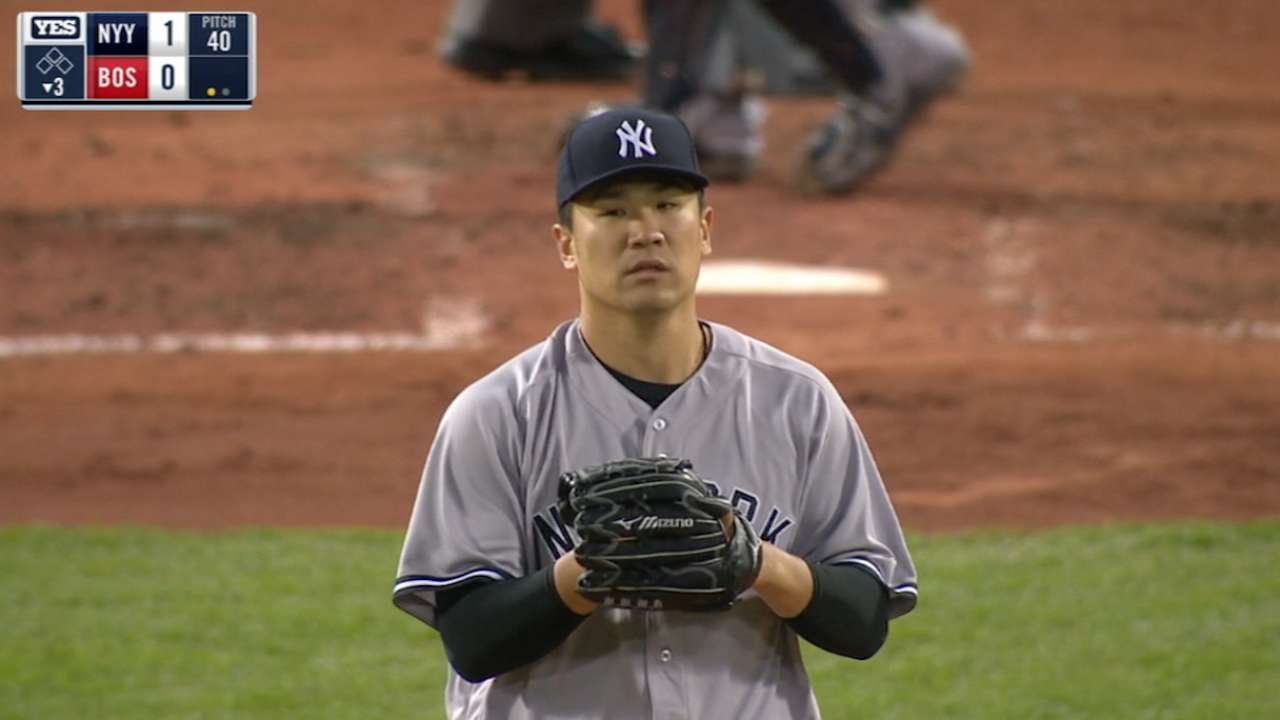 BOSTON -- Masahiro Tanaka was the man that the Yankees wanted on the mound for this one, calling upon their stopper to halt a skid that had seen them lose 10 of their last 14 games. Their trust was rewarded with six zeros spread across the Green Monster, and perhaps it extended one pitch too far.
Manager Joe Girardi opted to stick with Tanaka in the seventh inning of Friday's 4-2 loss to the Red Sox, envisioning a handoff to Dellin Betances and Andrew Miller that never materialized. Jackie Bradley Jr. had other plans, slugging Tanaka's 99th pitch off the wall for a game-tying, two-run double.
"He had done a good job," Girardi said. "He's done a good job throughout on Bradley. His split had been really good tonight. He threw a split there that didn't do much and he hit it off the wall."
Girardi had left-hander Chasen Shreve warming in the bullpen for Bradley, along with the right-hander Betances, who entered and recorded the final out of the seventh but surrendered a deciding two-run homer to David Ortiz in the eighth.
Tanaka settled for a no-decision, hurling 6 2/3 innings of six-hit ball and carrying the evening through another night of sluggish performance from New York's lineup. Backed by Alex Rodriguez's second-inning homer and Brett Gardner's fifth-inning RBI single, Tanaka had a slim margin for error.
"My job is to go out there and get as many outs as possible, and stay in the game as long as possible," Tanaka said. "So I really don't think about how many [runs] we've got. I try to go out there and try to nail the opponent down. That's my job."
Tanaka walked none and struck out five, having appeared in total control until the seventh, when Travis Shaw and Brock Holt made good contact for one-out opposite-field singles. Tanaka recovered to strike out Ryan Hanigan for the third time, but Bradley wasn't fooled.
"Maybe a little bit of unluckiness there, but at the end of the day, I missed some of my spots," Tanaka said through an interpreter. "That's how I got hurt, I think."
Tanaka has allowed two earned runs in each of his five starts this season, sporting a 2.87 ERA.
"It's obviously tough," Tanaka said. "I thought I pitched really well tonight. Balls were coming out of the hand really good, but it was that last out that I needed to get. That's on me."
Bryan Hoch has covered the Yankees for MLB.com since 2007. This story was not subject to the approval of Major League Baseball or its clubs.