Papi goes oppy: Monster HR tops Yanks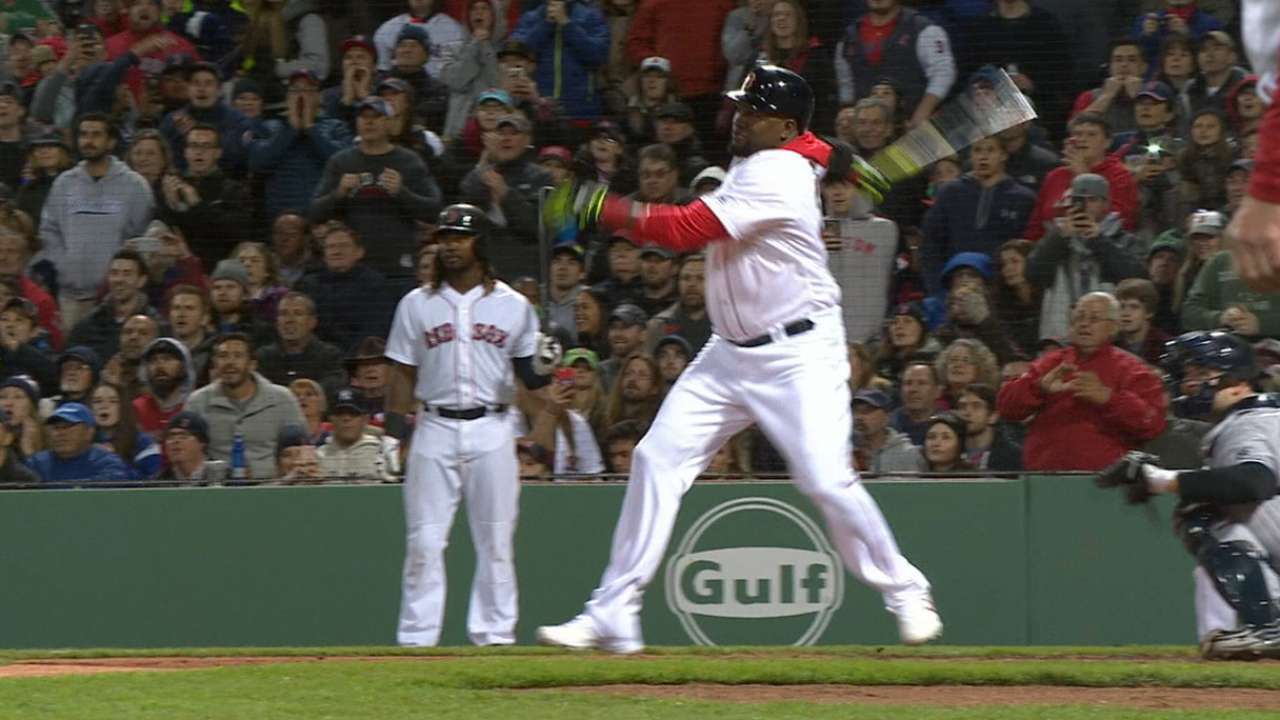 BOSTON -- David Ortiz's torment of the Yankees only seems like it will go on forever. In reality, the slugger is set to retire at the end of this season.
But that didn't make the Yankees feel any better on Friday night after they fell victim to the man known as Big Papi yet again in the Red Sox's 4-2 victory.
• Cast your Esurance All-Star ballot for Ortiz and other #ASGWorthy players
Ortiz went up to the plate against Dellin Betances in the eighth inning looking curveball and he got it, obliterating the first pitch over the Green Monster in left-center to snap a 2-2 tie. According to Statcast™, the two-run shot whistled off Ortiz's bat at 105 mph and was projected to land 402 feet away from home plate.
Prior to that at-bat, Ortiz had been 0-for-7 lifetime against Betances with four strikeouts. But the slugger has a way of changing such narratives in dramatic fashion.
"It's not a secret for anyone that Betances' breaking ball is a secret weapon besides the 100 that he throws," said Ortiz. "Betances is the type of pitcher, if you go looking for everything he's got, you're done."
Instead, it was the Yankees who were done.
Before Ortiz came to Boston, the rivalry had been titled heavily in New York's favor since Babe Ruth was sold from the Red Sox to the Yankees.
Ortiz changed the landscape, as Boston came back from an 0-3 deficit against New York in the 2004 American League Championship Series. His heroics against the Yankees have been steady and dramatic through the years.
Of the 48 home runs Ortiz has belted against the Yankees, 14 have given the Red Sox the lead.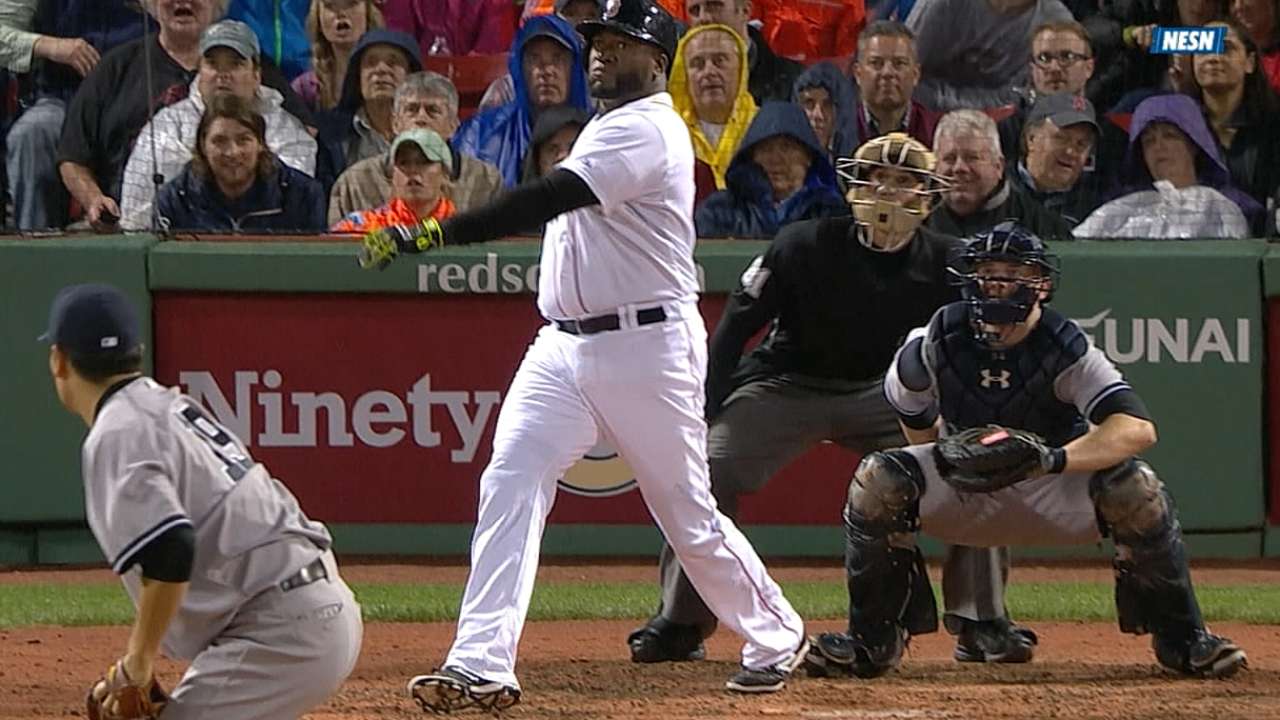 "That's why they don't pitch to me late in the game much," said Ortiz. "Hey, man, it's home. When you're playing at home, the adrenaline is flying all over the place when you're playing against the Yankees. It's something, whenever something like this happens, you enjoy it, you know?"
Forgive the Yankees if they will enjoy Ortiz's retirement more than the 28 other opponents the Red Sox face.
"Yeah, I mean, for him to hit that ball the way he did, he's been great his whole career," said Betances. "All I can do is tip my cap to him. It kind of [stinks] we lost. My breaking ball was a little flat today, but on that pitch, I think that's what I usually do. He just got it."
For as much credit Ortiz gets for how good a hitter he is, he probably doesn't get enough credit for how smart he is in the box.
"I felt like I've done that to a lot of lefties where I'm going for a first-pitch strike, trying to use that outside corner," Betances said. "He just had a great at-bat. There's nothing I could really do differently there unless I'm not trying to throw it for a strike, bury it and hope he swings over it. But I've faced him a lot and a lot of times he's taken it, but this time he had a good approach."
That's because Ortiz was studying intently when Betances was facing Mookie Betts with two outs in the seventh inning.
"I was pretty much watching the whole thing and making up my mind and saw him throw a lot of breaking balls to Mookie," Ortiz said. "He's got a great breaking ball. The one that I hit stayed up a little longer than usual. He's a tough guy to hit and finally I got a good hit."
The fact that Ortiz is still doing this type of thing at 40 doesn't seem to surprise anyone.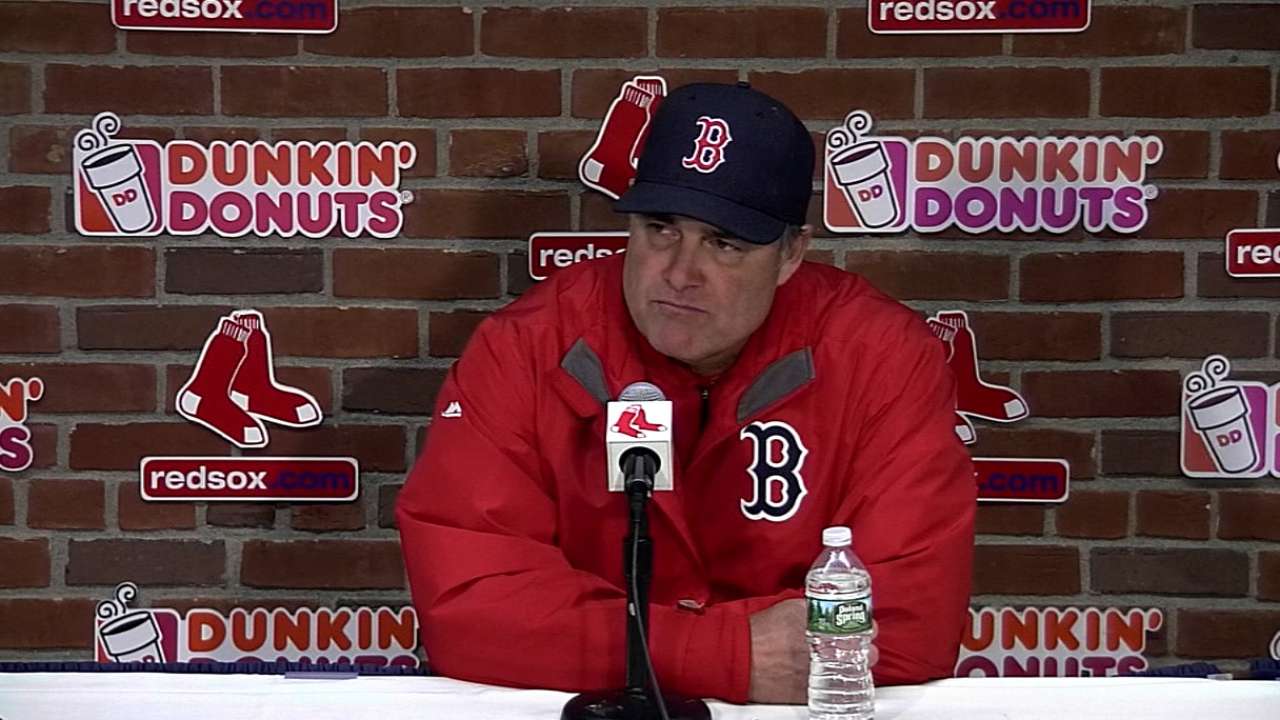 "I don't know that you ever want to put a limit on what David is capable of," said Red Sox manager John Farrell. "I've said many times there's no sign of him slowing down, and tonight is a prime example of it. Key moment, big hit when we need it. He's done it so many times against that team. There's a long resume there and it's continuing to build."
But it's going to end soon, right?
"It's going to happen," Ortiz said. "I'm going to plan to enjoy my retirement. If I get bored, I'll just call the Red Sox and ask them to activate me again."
Ortiz sounded as if he was joking, but it probably wasn't the type of humor the Yankees were in the mood for.
Ian Browne has covered the Red Sox for MLB.com since 2002. Read his blog, Brownie Points, and follow him on Twitter @IanMBrowne. This story was not subject to the approval of Major League Baseball or its clubs.