MLB.com Columnist
Richard Justice
Mach-ado about Manny's 5-RBI night
O's third baseman showing why he's among MLB's elite players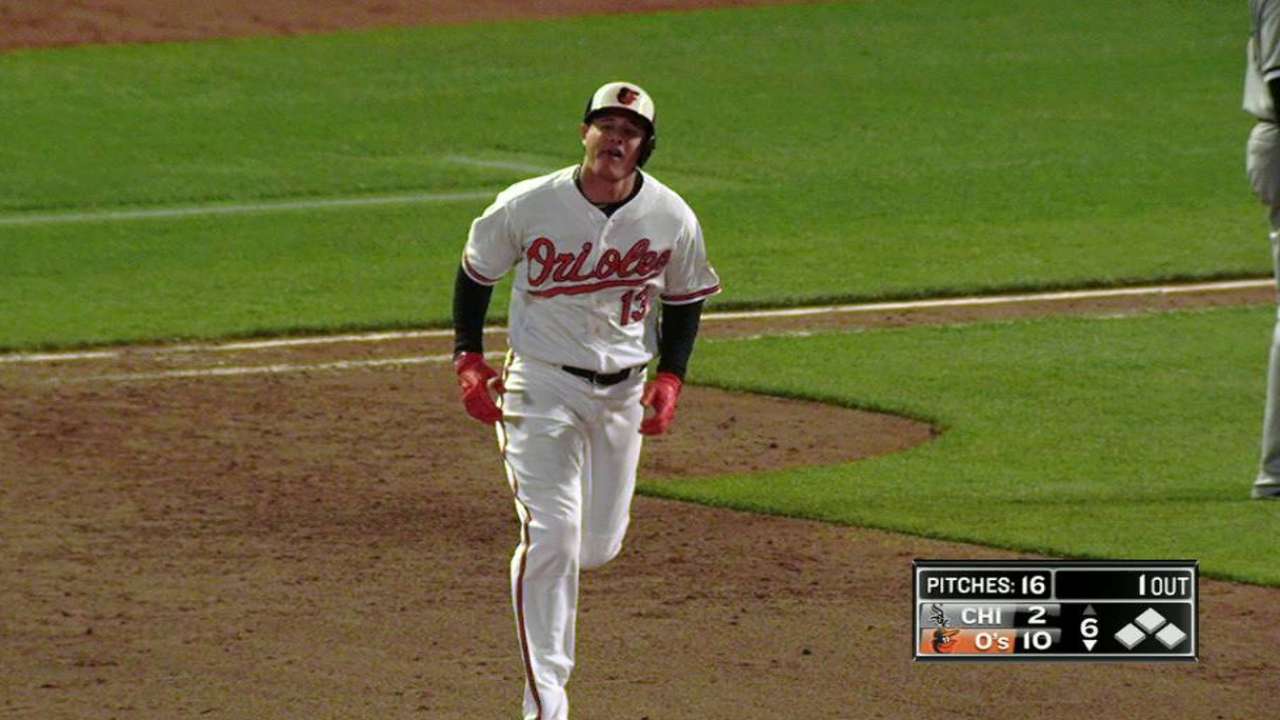 At times, Baltimore Orioles third baseman Manny Machado makes the game look ridiculously easy, and maybe that's why we've been so slow to recognize his greatness.
Let's cut to the chase. This is one of the 10 best baseball players on the planet, and that's not even a stretch. One of the things this fast start by the Orioles (13-8) has done is turn a spotlight on Machado.
• Grand slams mean 40% off pizza
About time, right? We've focused so intently on the Bryce Harper vs. Mike Trout debate or Kris Bryant, Carlos Correa and the waves of new talent that it has been easy to overlook Machado.
• Cast your Esurance All-Star ballot for Machado and other #ASGWorthy players
That's virtually impossible to do these days as Machado continues to emerge across the board as a polished, dominant player. If there's a downside to his game, it's that he's so smooth and so poised that he makes even the most difficult parts of the game seem way more routine than they should be.
Machado does everything well, and he showed it again on Thursday night in getting two hits and driving in five runs, including four on his second career grand slam, in a 10-2 victory over the White Sox at Camden Yards.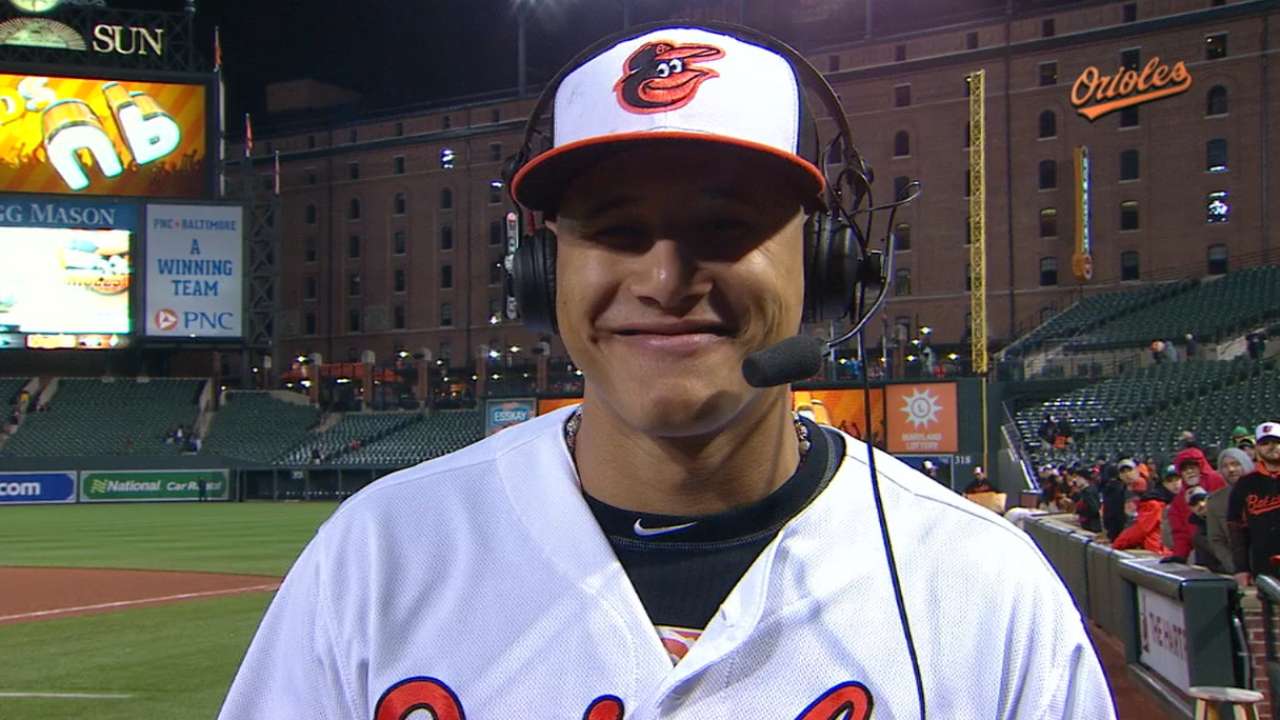 Machado is hitting .333 with nine doubles and seven home runs in 21 games. His OPS is 1.068, and his name is dotted up and down the Major League leaderboards. Machado began Thursday with a 1.4 Wins Above Replacement value, the fourth best in the Majors, according to fangraphs.com, trailing only Dexter Fowler (2.0), Jose Altuve (1.6) and Gregory Polanco (1.5).
Sure, numbers can be spun this way or that. Machado is approaching his 500th career game despite being just 23 years old. He has 75 career home runs, and in O's history, only Boog Powell and Eddie Murray hit more homers before their 24th birthdays.
"He'll have a chance to do some of the things that those guys did," manager Buck Showalter said. "And I know more than anything, he wants to emulate some of the championships those guys won."
In some ways, Machado's consistency has worked against him. One moment, he's diving toward the foul line and making a laser of a throw from his knees. Another, Machado is running in to barehand a grounder and make a perfect toss across the diamond.
Machado does these things so often, so methodically, that they begin to have the feel of being normal. Which they are for him.
When Baltimore moved Machado from shortstop to third base at the beginning of his big league career in 2012, he studied hours of video of Adrian Beltre playing third.
Machado preferred to stay at short, where his boyhood hero, Alex Rodriguez, started out. But if he was going to play third, Machado was going to learn from one of the all-time greats. He won two Amercian League Gold Glove Awards before his 23rd birthday.
Machado had just celebrated his 20th birthday when the Orioles called him up on Aug. 9, 2012. He'd flown through the Minor Leagues, skipping Triple-A and getting thrown into the middle of a pennant race.
The O's would make their first postseason appearance in 15 years that season, and Machado never once looked overmatched. He made the AL All-Star team the next year in his first full season.
That season ended in the 156th game when he injured his left knee cap. Machado played only 82 games the following season. From that time away came a fanatical work ethic that paid off with a 2015 season in which he had 35 home runs and 20 steals, made his second All-Star appearance and finished fourth in the AL Most Valuable Player Award voting.
In the past two seasons, Machado has established his greatness once and for all. He's among baseball's top 10 in home runs (42), hits, runs, total bases, etc. Defensively, Machado is right there with Beltre and Josh Donaldson.
Machado has also improved his plate discipline and has been able to better exploit favorable counts. That's what he did on Thursday when he stepped to the plate with the bases loaded and the Orioles leading, 6-2.
White Sox reliever Jake Petricka had just walked Joey Rickard on four pitches. When Petricka opened the at-bat by trying to get ahead in the count with a changeup, Machado hit a towering shot over the wall in left-center.
"He left a pitch up, and I took advantage of it," Machado said. "Just being myself."
Machado made it sound like the most routine thing in the world, and for him, it just might be.
Richard Justice is a columnist for MLB.com. Read his blog, Justice4U. This story was not subject to the approval of Major League Baseball or its clubs.