Markakis makes mark with 4-hit game
Right fielder jumps on Boston's Buchholz to drive in 3 runs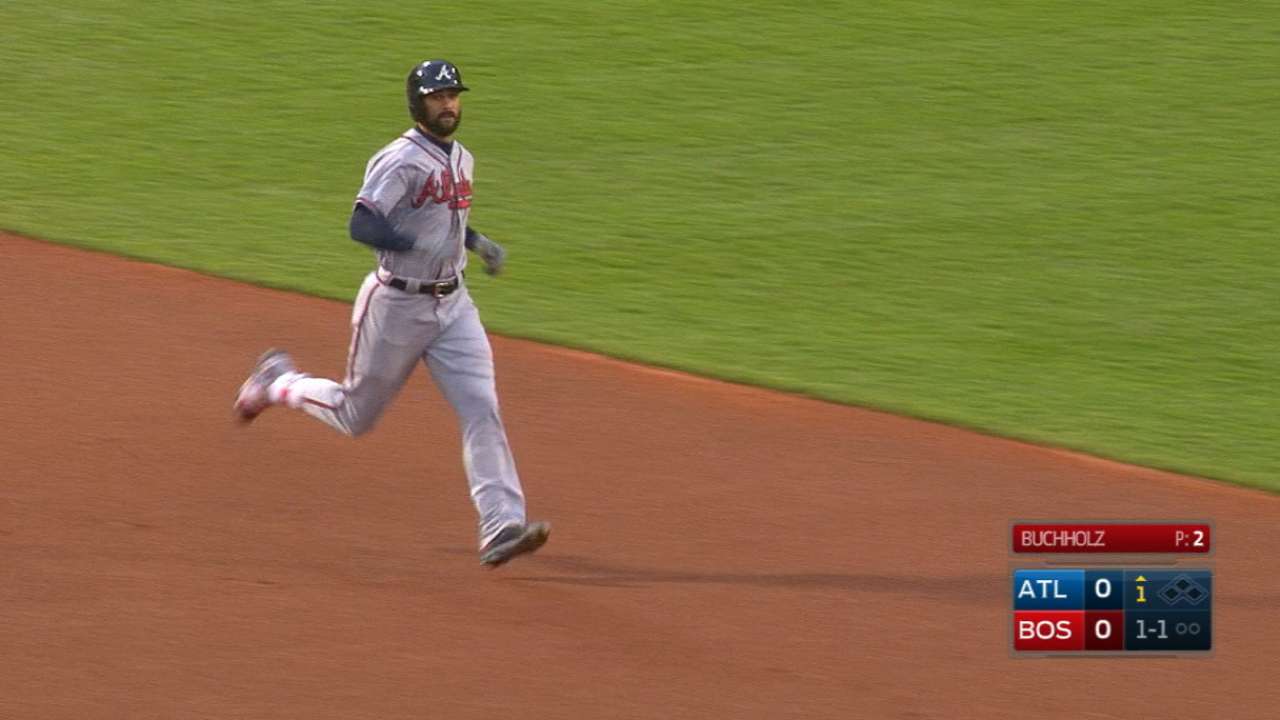 BOSTON -- Nick Markakis entered Thursday's season-series finale against the Red Sox at Fenway Park with just one hit in the first three games of the four-game, home-and-home series, hitting .273 for the season.
While he had seen Red Sox starter Clay Buchholz plenty in his nine seasons in the American League East with the Orioles, Markakis had little to show for it. He was just 6-for-41 (.146) with three RBIs, seven walks and six strikeouts against the right-hander before the Braves' 5-3 win over Boston on Thursday.
• Cast your Esurance All-Star ballot for Markakis and other #ASGWorthy players
But Markakis went 4-for-5 Thursday night -- a season high in hits and one shy of his career high -- with three RBIs, raising his batting average 32 points to .305.
His four hits are the most he's recorded since going 4-for-4 with three runs scored and a walk at Toronto on April 17, 2015. He did most of his damage against Buchholz, going 3-for-4 with all his RBIs coming against the Red Sox's right-hander.
"Just seeing the ball," Markakis said. "If you look at my track record against him in the past, it's not very good. I just went up there with the approach to try to hit his mistakes. He left a couple balls out over the plate for me. I put a good swing on them, and they ended up finding some grass.
"He was pretty much the same guy he always is. The biggest thing was just hitting his mistakes. I wasn't very successful at it in the past, but tonight, I put a little bit of extra emphasis on that -- try not to miss his mistakes -- and got a couple of good pitches out over the plate and put good swings on them."
Markakis led off the game with a double off the wall in left-center. That tied a Braves record with his 11th double in April, matching Hank Aaron in 1969 and Marcus Giles in 2003. It also raised his career average in game-opening plate appearances to .356 (103-for-289), the highest such mark since 1974 (with a minimum of 200 plate appearances).
"He is about as steady as a baseball player that you can see," manager Fredi Gonzalez said. "He gives you good at-bats, never gives one away. It doesn't matter if it's lefty or righty. He's not your prototypical leadoff guy. He's not a guy to steal bases. But he gets hits, he gets on base, and when the lineup comes back around, he's got a knack to drive in some runs."
With the Braves trailing by a run, Markakis drove in two in a three-run second inning with a one-out single to center, scoring Erick Aybar and Mallex Smith to give Atlanta a 3-1 lead.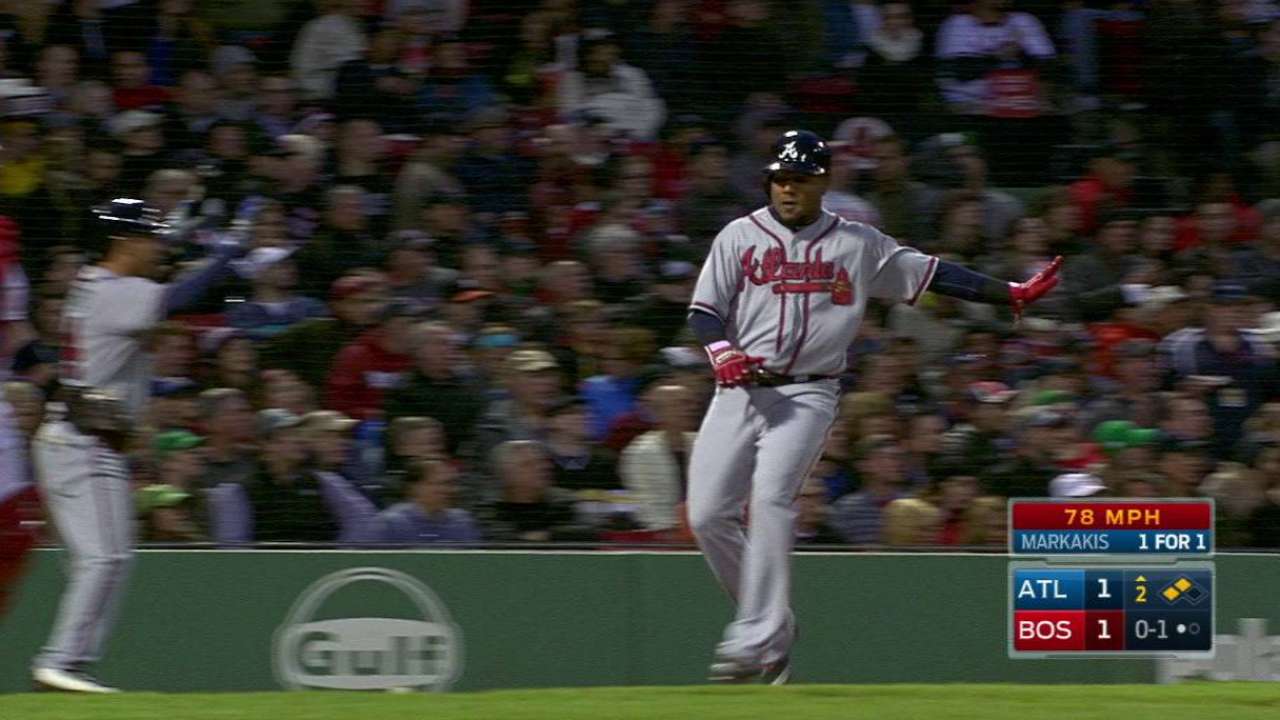 His two-out single in the fourth scored Aybar for the Braves' fourth run of the game.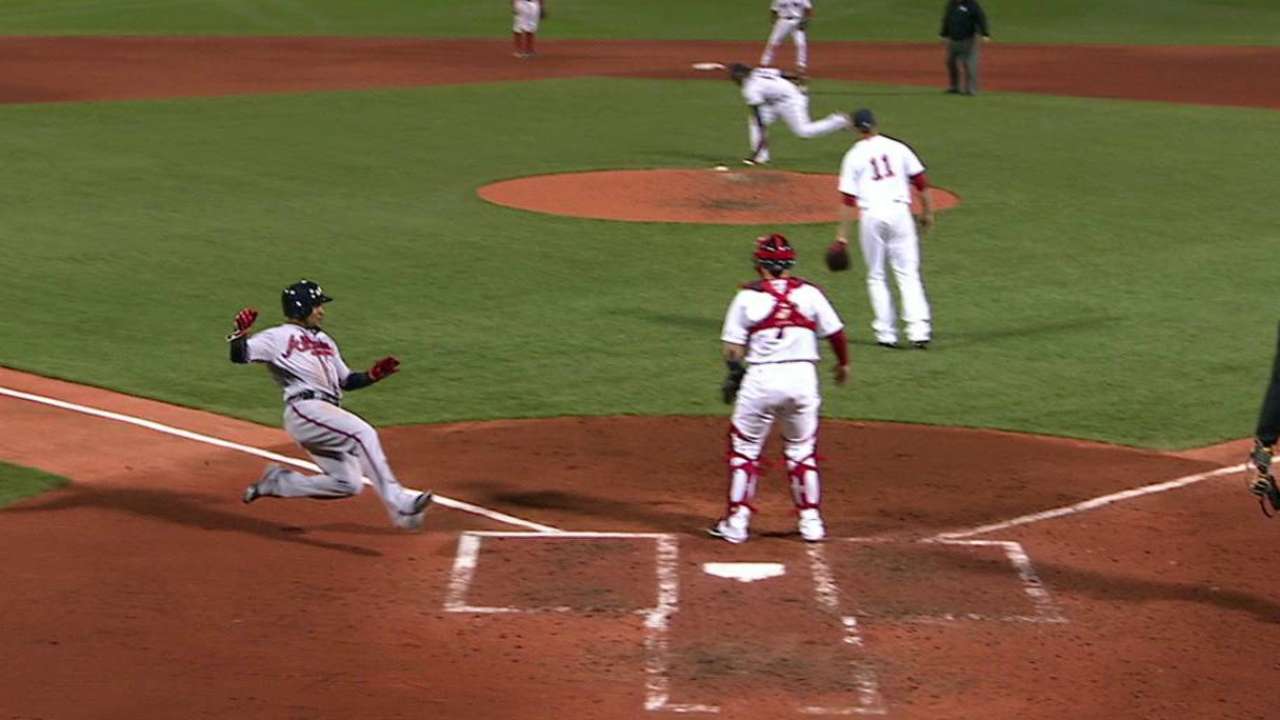 Markakis has reached base safely in his past 26 road games, the second-longest active streak in the Majors. In that stretch, he has hit .347, going 35-for-101. He leads the team with 25 hits, 13 walks, 11 doubles and 19 RBIs.
Markakis is a career .285 hitter at Fenway, going 89-for-312 with 35 RBIs in 79 games. His 27 doubles at Fenway trail only the 151 he hit at Camden Yards, his former home park while with the Orioles.
"I've played a lot of games here," Markakis said. "It's a good place to hit, especially for lefties. I grew up a Red Sox fan, so it's always special playing here. Just go out there and have fun."
Maureen Mullen is a contributor to MLB.com based in Boston. This story was not subject to the approval of Major League Baseball or its clubs.