First Yankees-Sox battle of 2016 leads MLB.TV slate
Lester, Strasburg, King Felix all pitching; prospects Fulmer, Manaea set for debuts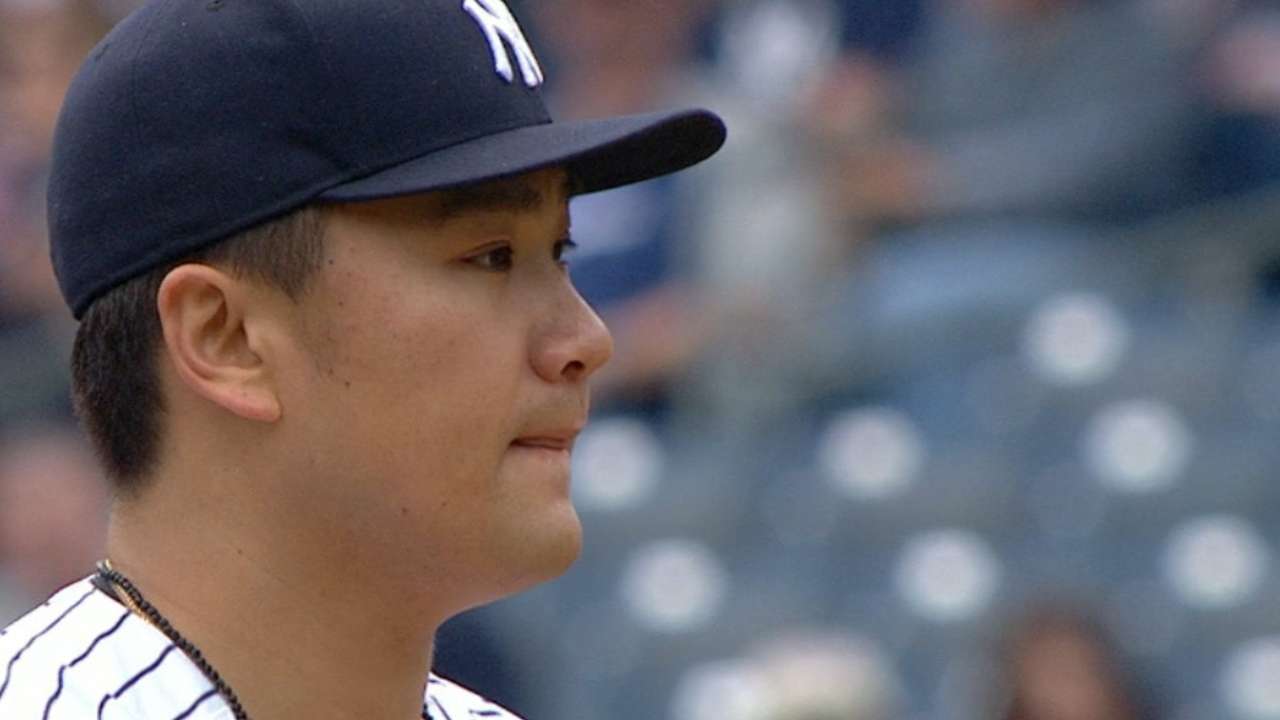 One of the most high-profile rivalries in sports begins its next chapter tonight.
When the Red Sox and Yankees open a three-game series at Fenway Park at 7:10 p.m. ET, it will be the teams' first meeting of the season. Masahiro Tanaka will take the ball for New York, which won 11 of 19 from Boston last season, including seven of nine at Fenway.
That matchup -- which will air on MLB Network and will serve as the debut of MLB Plus -- also will be part of a full schedule available on MLB.TV today. The Indians' Corey Kluber, the Nationals' Stephen Strasburg and the Mariners' Felix Hernandez all will be on the mound, while a pair of exciting prospects (the Tigers' Michael Fulmer and the A's Sean Manaea) will be making their Major League debuts
MLB.TV Premium returns with the same features as last year, but at $109.99, it is a full 20 bucks cheaper than the 2015 cost. This package has the best value and provides access to more than 400 devices and a free subscription to the MLB.com At Bat Premium app (a $19.99 value). It offers the best picture quality ever -- a new 60 frames per second -- for supported devices. Monthly signups for MLB.TV Premium are now underway as well for $24.99.
The new MLB.TV Single Team package is also now available as an $84.99 yearly subscription. You can watch a single team's live out-of-market games in full HD.
Here is a look at what to watch for today in the Majors (all times ET):
Rivalry renewed: NYY@BOS, 7:10 p.m.
The Yankees arrive in Boston 1-2 on their current nine-game road trip and 4-10 since a 4-2 start to the season. They will hope for another strong outing from Tanaka, who has allowed two earned runs over seven innings in back-to-back starts and owns a 23-to-6 strikeout-to-walk ratio in 24 2/3 innings this season.
"It seems like he's getting better every start. He's giving us more distance every start, which is important," Yankees manager Joe Girardi said.
Tanaka, with a 6.46 ERA in three career starts at Fenway, will pitch opposite Red Sox lefty Henry Owens. The 23-year-old allowed three runs and nine baserunners over 3 1/3 innings in his season debut, which was his 12th Major League start. Boston enters today looking to get back on track after its four-game win streak ended against Atlanta on Thursday night.
Stat that matters: Once Tanaka gets to two strikes, opponents are 3-for-43 (.070) this season. That was the second-lowest average among qualified pitchers as of Thursday.
Premium prospects: DET@MIN, 8:10 p.m.; HOU@OAK, 10:05 p.m.
When the Twins' Jose Berrios made his first Major League start on Wednesday against Cleveland, it was only the beginning of the week's hyped prospect debuts. Today brings two more, as Fulmer (baseball's No. 50 overall prospect) starts at Minnesota and Manaea (No. 65) goes against the Astros in Oakland. Fulmer, a 23-year-old righty, came to Detroit last year in the Yoenis Cespedes trade. He posted a 2.24 ERA over 22 starts last year, mostly at Double-A, and had a 20-to-5 strikeout-to-walk ratio in 15 1/3 Triple-A innings this year.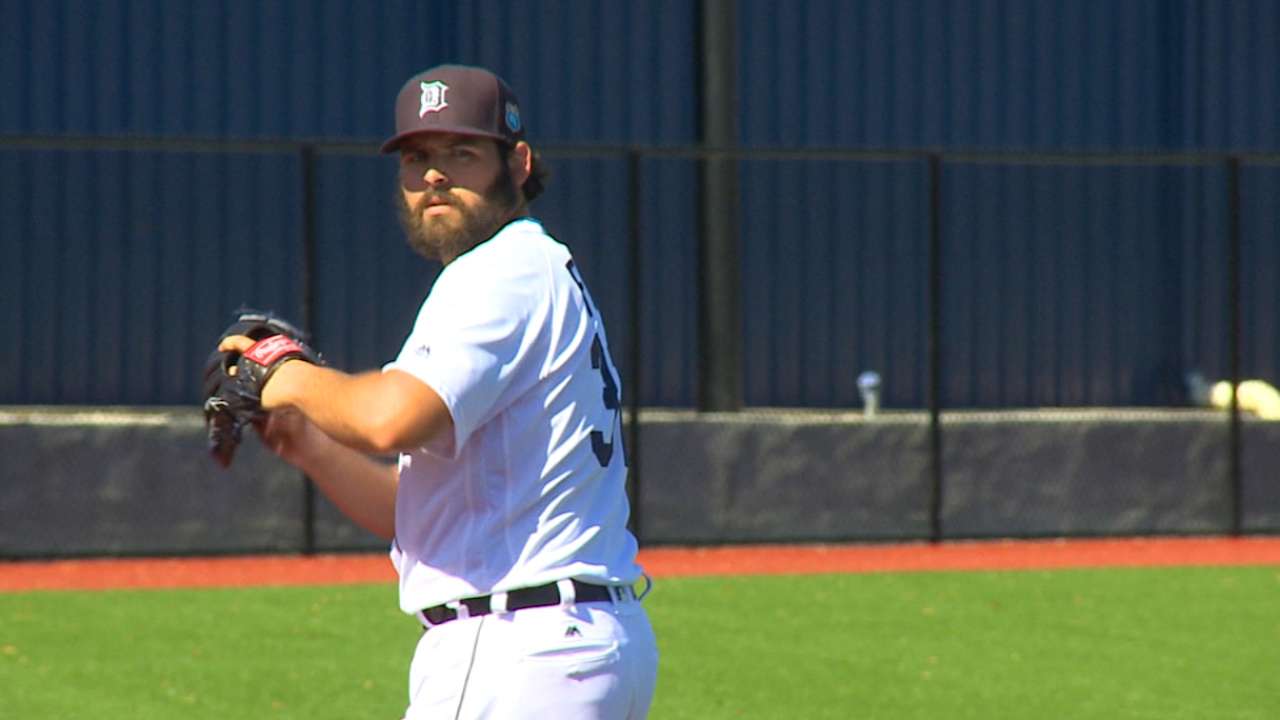 "He's got stuff, for sure," Tigers manager Brad Ausmus said. "He throws 95 [mph] with a wipeout-type slider. But the big leagues is a little different. These guys have seen stuff like that before. So you do have to locate your pitches. But it certainly doesn't hurt to have that type of stuff in your arsenal."
• Relaxing on hill key to Fulmer's success
Manaea, a 24-year-old lefty, also was involved in a trade last year, moving from Kansas City to Oakland in the Ben Zobrist deal. In 18 innings at Triple-A this season, he had a 1.50 ERA and 21-to-4 strikeout-to-walk ratio.
Stat that matters: The Twins' Phil Hughes, who gets the start against the Tigers, has the second-highest first-pitch strike percentage among qualifiers.
Stras in St. Louis: WAS@STL, 8:15 p.m.
The bad news for the Nationals is they are coming off a three-game home sweep at the hands of the Phillies and are riding a 22-inning scoreless streak. The good news is the club remains atop the National League East at 14-7 and hands the ball to Strasburg to begin a tough 10-game road trip during which they face the Cardinals, Royals and Cubs. Strasburg owns a 2.17 ERA through four starts, racking up 31 strikeouts over 29 innings. The Cardinals counter with Mike Leake, who has allowed at least four runs in each of his first four starts with his new team.
Stat that matters: The Cardinals have won 15 of 19 meetings against the Nationals since the start of the 2013 season, including four of six last year. And that doesn't count St. Louis' dramatic five-game victory over Washington in the 2012 NL Division Series.
Royals face a King: KC@SEA, 10:10 p.m.
Hernandez is making a lot of Mariners history these days. In his last start, the right-hander passed Randy Johnson as the franchise's all-time strikeout leader. If he beats the Royals in the opener of a three-game series tonight, he will tie another lefty, Jamie Moyer, for first on Seattle's all-time wins list (145). Hernandez has posted a 1.80 ERA through four starts, permitting a .156 average, although he has walked 15 batters over 25 innings. The Mariners will be facing Kris Medlen for the first time as the Royals righty tries to bounce back from a rough outing against Baltimore (3 2/3 innings, seven earned runs).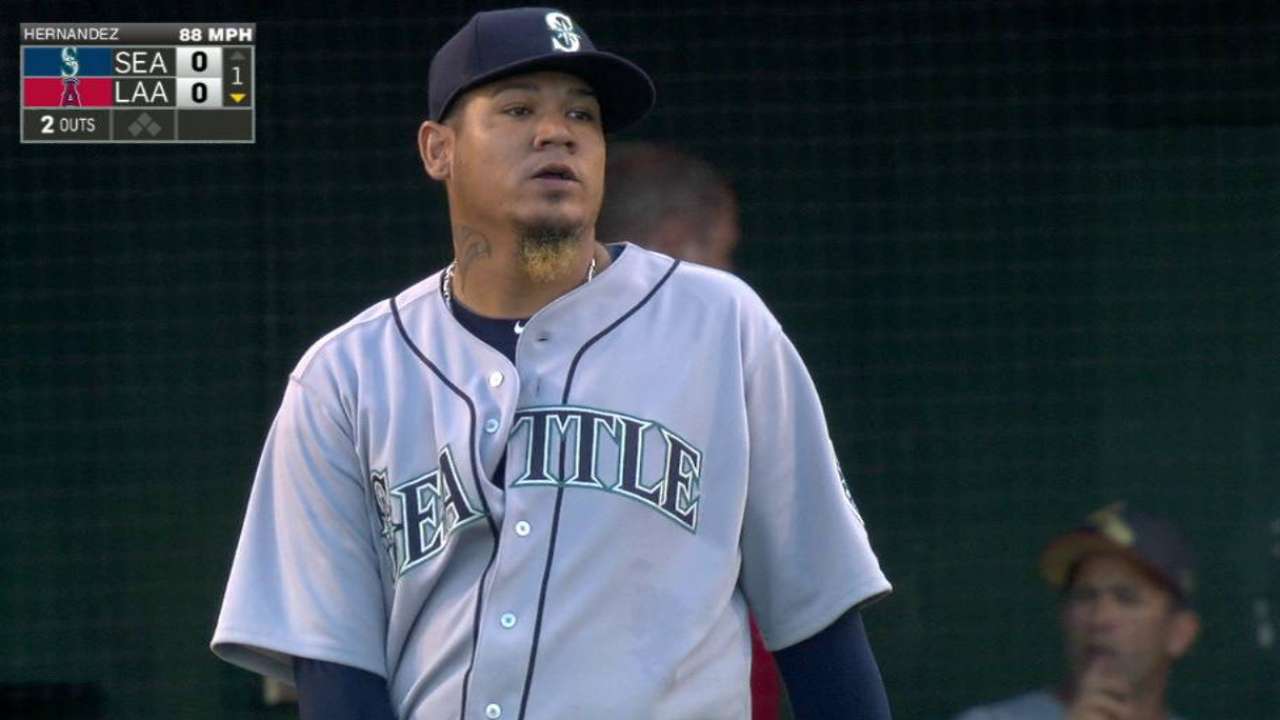 Stat that matters: Right-handed batters are 4-for-40 (.100) with 10 strikeouts against Hernandez, and 21 of their 30 balls in play have been grounders.
MLB.TV Premium subscribers get the Mosaic View -- split screen or quad, available on PC or Mac only. That always comes in handy, especially when scoreboard-watching looms. MLB.TV Premium and MLB.TV Single Team subscribers both enjoy HD and both will get real-time highlights and player stats automatically loaded moments after they occur (only for the game you are watching with MLB.TV Single Team, and for all games with MLB.TV Premium).
Andrew Simon is a reporter for MLB.com. Follow him on Twitter @AndrewSimonMLB. This story was not subject to the approval of Major League Baseball or its clubs.