MLB.com Columnist
Barry M. Bloom
Nola's curve gives him confidence to top Nats
Right-hander threw seven shutout innings, striking out seven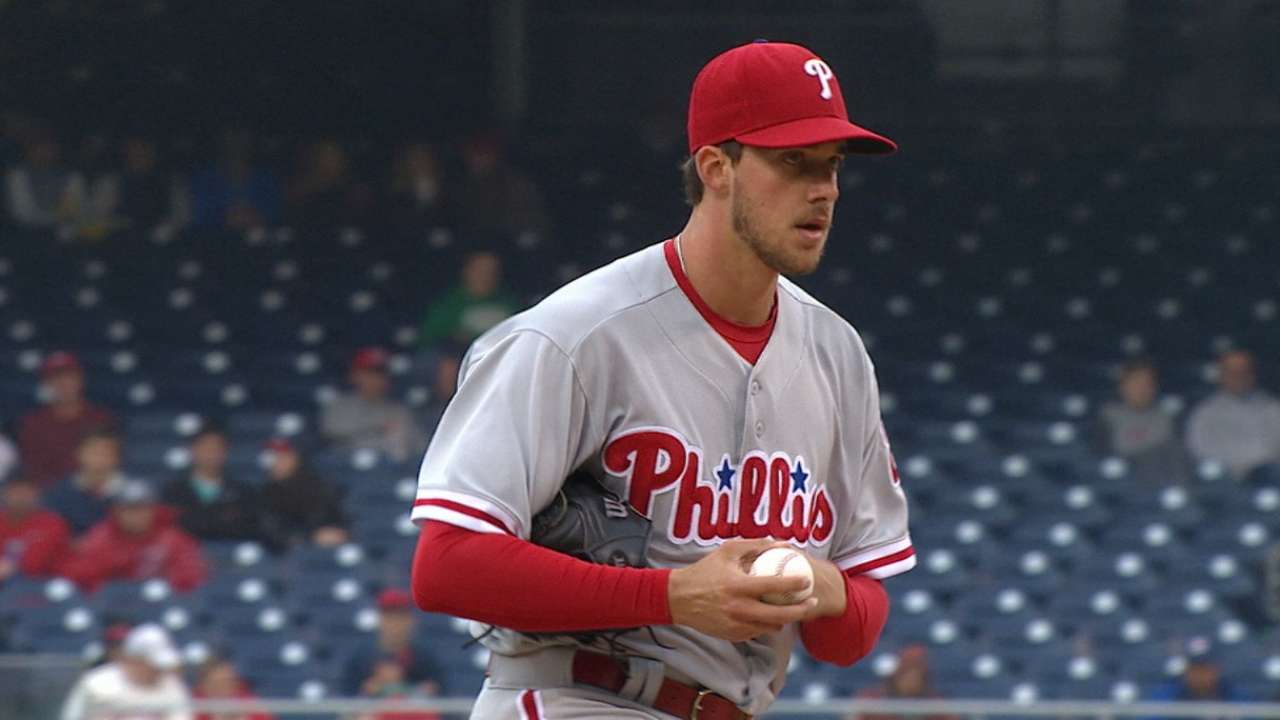 WASHINGTON -- Phillies starter Aaron Nola was on a mission to find himself on Thursday against the Nationals. And what he found at Nationals Park was the right combination of a split-finger fastball with a devastating curve.
"I felt better about that pitch," Nola said, when asked about the curve. "I felt like I had a much better feel for it than the last few games."
It was certainly enough for him to stymie the Nationals, as he allowed just two hits during seven scoreless innings in a 3-0 win. The win gave the Phillies their first sweep at Nationals Park since May 2009.
It was also enough for Nola to match Nationals starter Tanner Roark, who also worked seven innings of two-hit, shutout ball. Neither pitcher was around when the Phillies scored three times in the ninth inning to end their road trip 5-1.
"Nola was pretty darn good today," Phillies manager Pete Mackanin said. "He had a low pitch count. I even thought about letting him go back out for the eighth inning and not hitting for him. But we had to try to score some runs."
Mackanin saw a pitcher who has now made a pair of stellar starts since allowing seven runs on seven hits in the first five innings of an 8-1 loss to the Nationals at home on April 16. Nola threw seven innings of one-run, four-hit ball in a 5-2 win over the Brewers in Milwaukee on April 22 and followed it up on Thursday with this gem.
The Phillies' manager had so much confidence in Nola that he let him pitch to Nationals slugger Bryce Harper with a runner on third and two out in the sixth inning. In the previous two games, Mackanin had walked Harper five times, twice intentionally.
Not this time, though.
"Why not? We can't walk the guy every time," Mackanin said. "Somebody has to get him out. Eighth inning I might have done it. But not in that situation. I'm not going to do it."
Harper bounced the ball to the right of second baseman Cesar Hernandez, who made a fine play by just beating Harper to first base with an impressive throw. Harper, 2-for-8 in the series with no extra-base hits or RBIs, slammed his helmet to the turf in frustration.
"I felt like I could get him out right there," Nola said. "I knew he was going to be aggressive with guys on. All I needed to do was execute a pitch. I did it and got a ground ball out of it."
It was a learning experience, too, for the 22-year old right-hander, Mackanin said. The manager wanted to show that he believes in Nola.
"I like that," Nola said. "I like that he does have the confidence in me."
Barry M. Bloom is a national reporter for MLB.com and writes an MLBlog, Boomskie on Baseball. Follow @boomskie on Twitter. This story was not subject to the approval of Major League Baseball or its clubs.