MLB.com Columnist
Jonathan Mayo
Relaxing on hill key to Fulmer's success
Tigers' top prospect scheduled for spot start on Friday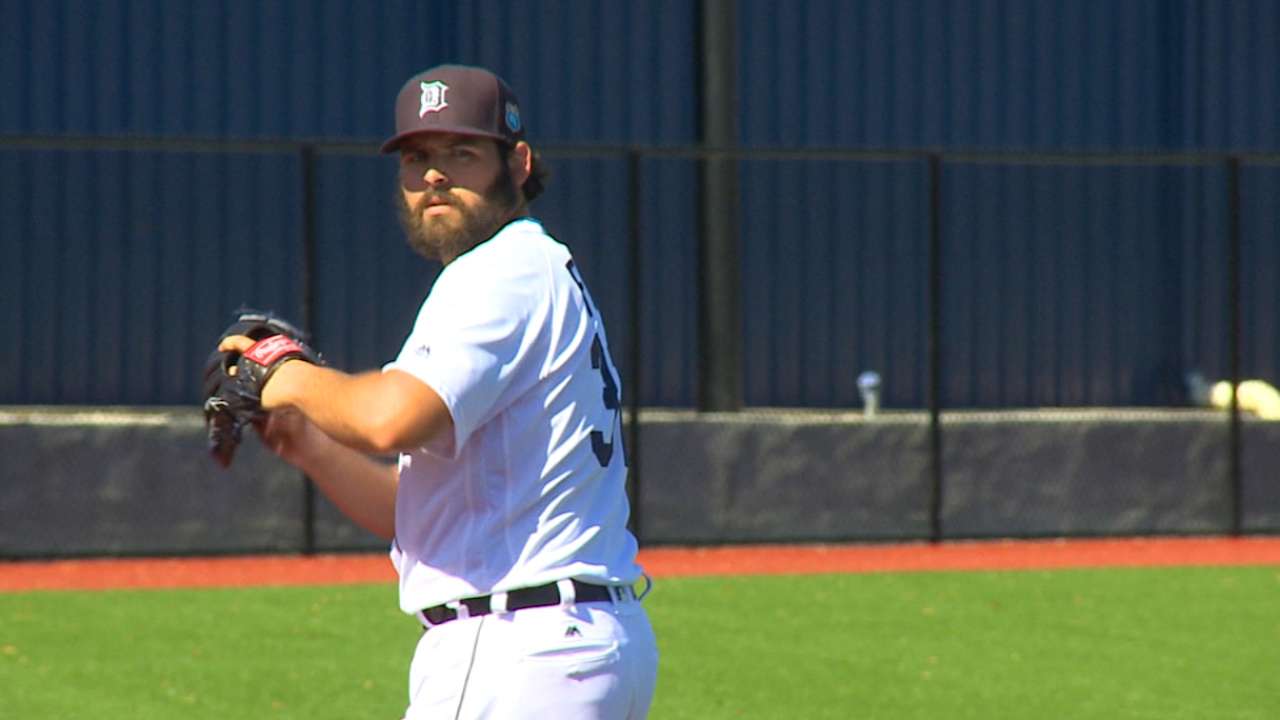 It might be just a spot start this time, but Tigers fans will get a glimpse of their top prospect Michael Fulmer on the mound on Friday. The right-hander, ranked No. 50 on MLBPipeline.com's Top 100 Prospects list, will be making his Major League debut filling in for Shane Greene, who is out temporarily with a broken blister.
Perhaps it's a one-start audition for the right-hander that the Tigers obtained from the Mets in July's Yoenis Cespedes deal, but it's not like anyone in the rotation not named Zimmermann is setting the world on fire so far. A good impression on Friday could lead to a more extended stay later in the season.
• Verlander excited for protege Fulmer's debut
In order for Fulmer to do that, he'll have to avoid what might have occurred when he was competing for a potential rotation spot during Spring Training: He tried to do too much. In 2015, Fulmer took a big step forward in terms of commanding his four-pitch mix. Once upon a time, there was thought he might be best coming out of a bullpen, but if he stays within himself, he has everything he needs to stay in a rotation.
One of the keys for Fulmer is to keep the ball down in the zone. He throws his fastball with heavy sink, and when he's on his game, he generates a ton of ground-ball outs. When he overthrows, he's up, in and out of the strike zone. And when he falls behind, he can't put hitters away with his plus-slider or mix in his Major League-average curveball or even his fringy changeup in an effective way.
If Fulmer commands the baseball well, he will have success. If he's on his game, he'll miss bats and get hitters to beat the ball into the ground. Longterm, there's no reason to believe he won't be able to do just that. His walk rate has steadily improved since he began his pro career. He's struck out an average of 8.7 per-nine-innings, while walking 2.9.
It would be a mistake to read too much into anything Fulmer does in this first start, so Tigers fans shouldn't despair if he's a bit too amped up and struggles as a result. But there's every chance he'll take what he learned from his Spring Training experience and try not to make the big league rotation full-time in one start. Knowing that this is a short-term engagement could very well help Fulmer relax, and when he brings that confidence back to Triple-A Toledo with him, expect him to force the Tigers' hand into bringing him up for a longer look sooner rather than later.
Jonathan Mayo is a reporter for MLBPipeline.com. Follow him on Twitter @JonathanMayo and Facebook, and listen to him on the weekly Pipeline Podcast. This story was not subject to the approval of Major League Baseball or its clubs.