Sanchez tinkers, takes step in right direction
Right-hander fans nine, but walks seven over 5 2/3 IP vs. A's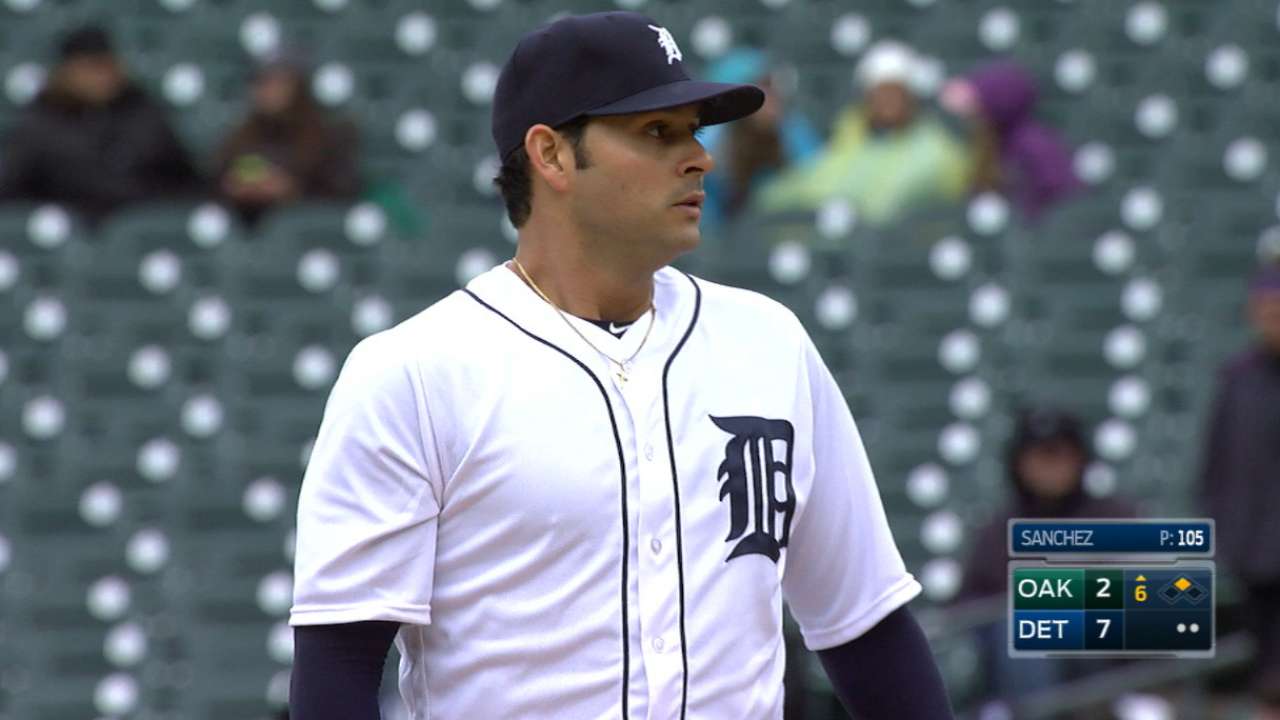 DETROIT -- Maybe the hip turn in Anibal Sanchez's delivery serves a purpose after all. What exactly that is might never get explained.
The Tigers tried since Spring Training to get rid of it, calling it an unnecessary motion. Sanchez worked to remove it from his delivery for two months, from an injury-shortened Spring Training through four turbulent starts. In the end, he never grew comfortable without it.
He didn't have the full turn back in Thursday's 7-3 win over the A's, more of a hybrid. His seven walks Thursday weren't comfortable, but the nine strikeouts to go with it against just three hits allowed looked more familiar.
"At times he looked like the guy that struck out [17 against] Atlanta a few years ago, before I was here," Tigers manager Brad Ausmus said, referring to the Tigers' single-game strikeout record Sanchez set on a Sunday night in 2013. "And at times, he had trouble with his command. But overall, he did a good job and gave us a chance to win."
It wasn't the finished product, but it was a step in the right direction.
"My mechanics that I was working with earlier in the season is something that I don't feel comfortable with," Sanchez said. "I feel comfortable the way that I threw today. I know it's a lot of balls. But it's the first time [throwing with the turn] since last year."
The old way wasn't working. He looked dominant for five innings in his first two starts before tiring in the sixth, but never recovered from long first innings in his next two starts. His first inning Thursday was the only one in which he retired the A's in order, but it was his first such opening inning all season.
Sanchez retired his first four batters before walking Stephen Vogt. From then until a Marcus Semien walk on Sanchez's 114th and final pitch, he faced 23 batters, walking seven, fanning eight, allowing three hits and recording five outs on balls in play.
His pitches were hard to control, but they moved enough to draw the swings and misses Sanchez lacked last start -- 10 for the game, seven over his final three innings.
"I thought his pitches had better finish," Ausmus said. "His fastball had better finish. His slider looked good today."
Said Sanchez: "If I'm able to throw a little more softly, and my arm can carry, I think the hitters are going to start swinging at the pitch in the dirt. If I'm not able to throw my fastball on the corners and keep it down, it's easy for the hitters to take that pitch. That happened late in the game today."
No Tiger had walked seven or more and fanned nine or more with three or fewer hits since Bill Laxton walked seven and struck out nine over 7 1/3 innings of one-hit relief on May 21, 1976. Sanchez is just the second Major Leaguer to do it in the last 10 years, joining Oakland's Sonny Gray.
He'll take this for now. So, especially, will the Tigers.
"It was a good first step," Ausmus said, "but I'd like to see him take another step or two over the next few outings."
Jason Beck has covered the Tigers for MLB.com since 2002. Read Beck's Blog, follow him on Twitter @beckjason and listen to his podcast. This story was not subject to the approval of Major League Baseball or its clubs.