New teammates by his side, Yunel proves drive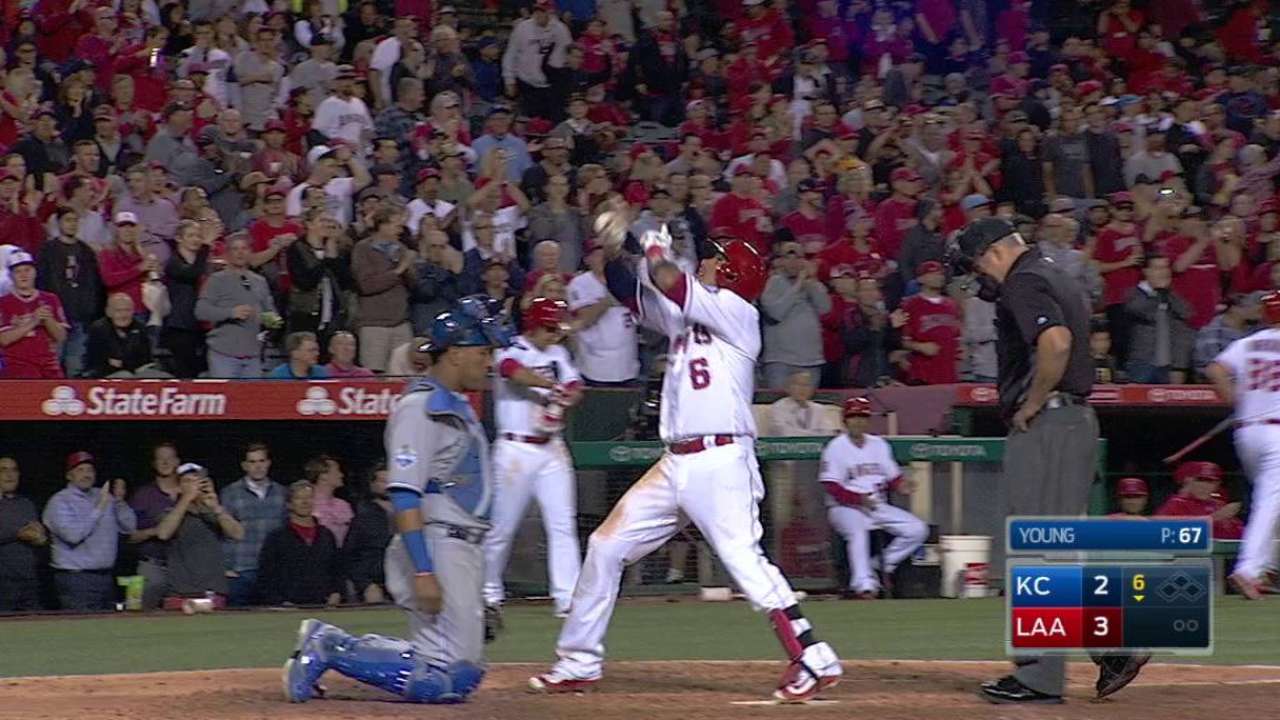 ANAHEIM -- After every drill in Spring Training, new Angels third baseman Yunel Escobar approached Gary DiSarcina, the first-base coach who quickly became Escobar's personal ground-ball hitter, and thanked him. When the season began and Escobar started making impressive defensive plays that actually counted, he would retreat to the dugout and locate DiSarcina.
"That's for you," Escobar would tell him, in whatever English he could muster. "You did that."
DiSarcina would shake his head and point his index finger at Escobar, who quickly deflected the praise.
"No, that's you," Escobar would say. "You keep working hard for me."
Even before the Angels acquired Escobar from the Nationals over the winter, DiSarcina, a former infielder known for his grit and tenacity, heard whispers about Escobar's reputation as being immature or occasionally losing focus.
But then Spring Training began, and DiSarcina noticed someone who was upbeat, who wanted to work and who strived to be great. He wondered if it was all an act that would eventually wear off, but it didn't.
It hasn't.
"Since Day 1, he's been great," DiSarcina said of Escobar, the 33-year-old former shortstop who is on his fifth team. "He's been one of our hardest workers. What I like about him is he has fun doing it. As he's working on stuff, he has fun doing it. He is appreciative. He's nothing like you heard about in terms of being moody, or not a good worker, or inconsistent with his habits. He's been great."
Escobar came over in exchange for young, hard-throwing reliever Trevor Gott, and he has been everything the Angels could've hoped for thus far.
Escobar's on-base ability and power have fit nicely at the leadoff spot, where he is batting .281/.347/.449 with six doubles, three home runs and eight walks in 98 plate appearances. And though Escobar has committed four errors, the Angels have been impressed with his range and ability at third base, a position he's still getting acclimated to at the Major League level.
Escobar is making $7 million this season and has a $7 million club option for 2017, so he's also very affordable.
"He's a good guy," Angels first baseman Albert Pujols said, in Spanish, of Escobar, whom he first met about 10 years ago. "He can be a little out there at times, so you have to stay on top of him, keep him positive. But he's a tremendous ballplayer. Tremendous ballplayer."
Pujols believes a lot of the negative perception that surrounded Escobar was a product of his not knowing English and being "very quiet, very closed off." Pujols compared Escobar to one of his former teammates with the Cardinals, Juan Encarnacion.
"Sometimes," Pujols said, "when you don't speak much English, you get a bad reputation. He's not a bad teammate, man."
Moments after the Angels acquired Escobar on Dec. 10, Pujols got a call from the club's new general manager, Billy Eppler. Eppler passed along Escobar's phone number, hoping that Pujols would help guide Escobar through his first season with the Angels. So the two hit together throughout Spring Training, got lockers next to one another at Angel Stadium and have basically become inseparable.
DiSarcina was asked if he was initially worried about Escobar joining the Angels.
He smiled.
"Not at all," DiSarcina said, "because I knew we had Albert."
"We just felt comfortable about bringing him into this environment," Eppler added. "I think there was more of a narrative that maybe spun and kind of took on its own life [rather] than what I felt the reality was from the information we were getting.
Eppler reached out to several coaches and players who knew Escobar and said, "All of the returns and all of the feedback was this guy loves to play the game. He'll play every single day. This guy cares about being great. Those are very big elements to being a championship-caliber player, and he's got some core ingredients to be that type of player. We're seeing it right now."
The Angels' longtime manager, Mike Scioscia, did the same, and said, "Everybody spoke accolades about his talent, about him being a great influence as a teammate."
Escobar's mannerisms during his early years with the Braves reportedly rubbed some coaches and players the wrong way, though others also believe he's a lot more mature now. He then caught some heat while with the Blue Jays in 2012, playing with a homophobic slur on his eye black, prompting a three-game suspension.
But Joe Maddon, now the Cubs' skipper, managed Escobar with the Rays in 2013 and '14 and raved to Angels coaches about the infielder's attitude. Scioscia praised Escobar's work ethic and brought up all of the adjustments he was willing to make, suddenly moving to third base with the Nationals last spring and embracing the leadoff spot with the Angels this season.
Said Scioscia: "I don't think people realize as much as he put on his plate the last couple of years."
The Angels have made it a point to let Escobar be himself.
Escobar is constantly whistling when he plays the field. It's a habit, a mechanism to keep him relaxed and engaged. And the Angels, unlike some of Escobar's other clubs, have encouraged it. Their new catcher, Geovany Soto, will occasionally whistle back, and if Escobar goes quiet for a few innings, DiSarcina will find him in the dugout.
"Why aren't you whistling?" he'll ask.
"Yeah, yeah, yeah," Escobar will say, and the whistling will resume.
"He's one of those kids, man, that if you try to change him, if you try to conform him to what you want, I think you're going to have a problem," DiSarcina said. "Just let him be. Let him be. As long as he's performing, and doing the right things on the field, let him be himself."
Alden Gonzalez has covered the Angels for MLB.com since 2012. Follow him on Twitter @Alden_Gonzalez and Facebook , and listen to his podcast. This story was not subject to the approval of Major League Baseball or its clubs.