MLB.com Columnist
Barry M. Bloom
Phils making other Nats, not Harper, beat them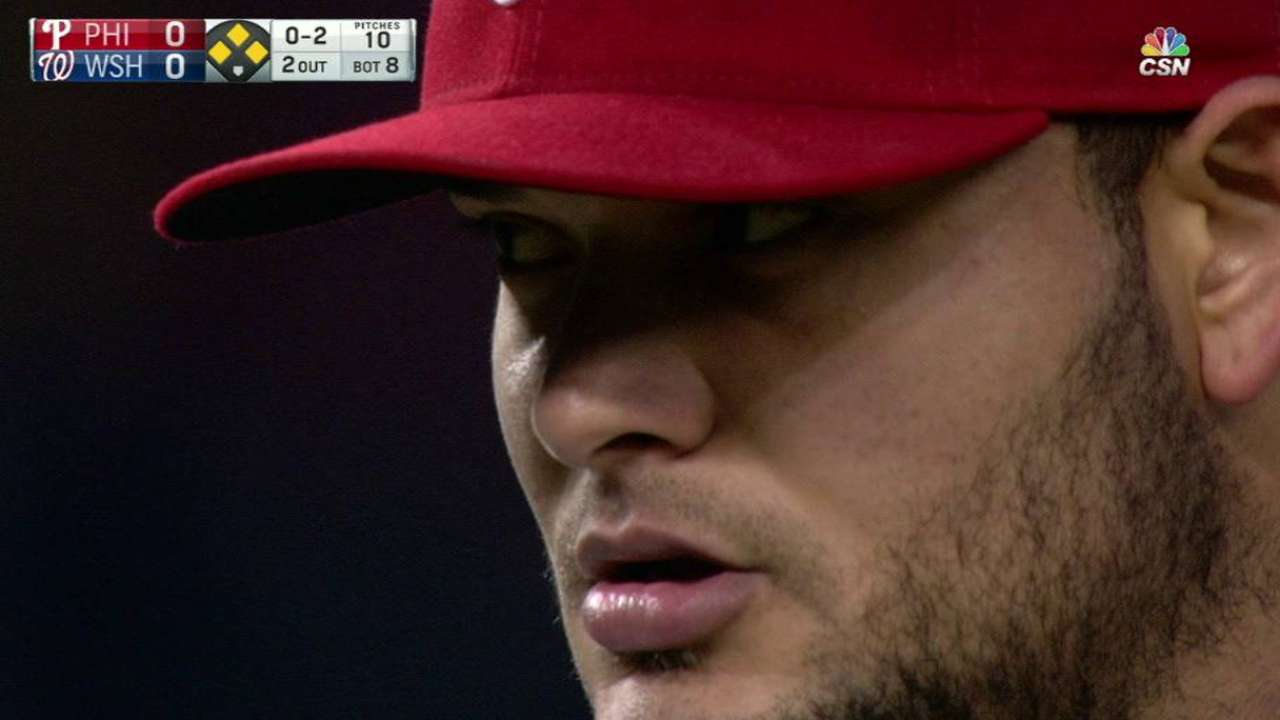 WASHINGTON -- When the Phillies faced the Nationals at Citizens Bank Park earlier this month, Bryce Harper pummeled Philadelphia pitching.
So prior to this week's three-game sweep that ended on Thursday with a 3-0 win at Nationals Park, the Phillies' baseball brain trust decided on a different strategy: pitch around the left-handed power hitter, who is again tearing up the National League to the tune of a .314 batting average, nine homers and 24 RBIs.
"When [the Nationals] were at our place, he was hitting everything. I don't care if the pitch was a foot off the ground or over his head, he crushed it," Phils bench coach Larry Bowa said of Harper, who was 7-for-11 in that series, with three homers, six RBIs, 16 total bases and one walk. "I mean he wore us out."
Harper's OPS of 1.252 entering Thursday's game is impressive, and it compares favorably to the all-time leaders for a single season in that category. Barry Bonds holds three of the top four and has the best ever of 1.422 in 2004.
A guy name Babe Ruth has the third best and three of the top six.
Now, the Phillies are giving Harper the Ruth and Bonds treatment. They walked Harper five times in the first two games of the series -- both Philadelphia victories -- including two intentionally.
And then suddenly on Thursday, they didn't. Mackanin allowed 22-year-old starter Aaron Nola to go right at Harper in the sixth inning with two out and a runner on third. Harper grounded out to second.
Why did the manager decide to deviate from the plan?
"Why not? We can't walk the guy every time," Mackanin said. "Somebody has to get him out. Eighth inning, I might have done it. But not in that situation. I'm not going to do it."
In the eighth inning, Mackanin didn't have any choice. The bases were loaded when Harper came up to face young left-hander Elvis Araujo. He whiffed on three pitches, swinging at strike three toward the inner part of the plate.
It's a game of constant adjustment, as other great players before Harper have found.
Bonds walked 2,558 times in 22 years, 688 of them intentionally, both of them all-time records. Ruth is third with 2,062 walks.
Harper has only 294 (27 intentional) during the first four-plus years of his career. But other teams are just getting started.
"Let somebody else beat you," Bowa said. "They've got a good club over there, but [Ryan] Zimmerman is not swinging too well right now. Obviously, when he starts swinging, you've got to think a little bit. But when they left our place, Harper just kept hitting.
"We'll have to pitch to him eventually, but if you have a base open or something right now, you'd be dumb not to walk him."
To Bowa's point, Zimmerman -- the cleanup hitter behind Harper -- is 6-for-29 with no homers and four RBIs in his past six games, which gave the Phils the option of pitching around the reigning NL MVP Award winner. It worked. Harper was 2-for-8 in the series, and despite the five walks, he didn't score once.
Zimmerman hasn't hit a homer since April 19 and hasn't had an extra-base hit since April 20. Consequently, Harper has scored only five times during that period. And the Nats' once five-game NL East lead over the defending league champion Mets has shrunk to a half-game.
"Yeah, they're going to walk him," said Dusty Baker, Harper's third manager in his short career. "He's learning a lot in the process. He's learning about patience. He's taking his walks. It's just a matter of whether they can play on his emotions and patience, so he loses his concentration and stays in the strike zone.
"Zimm has a track record where he can handle it, I think. It's just a matter of him not taking it personal, either. I batted behind Hank Aaron. I was a good hitter, but, dang, I was 23 years old. His advice to me was not to try to do too much."
Harper seemingly has been part of baseball's fabric for so long, one can forget he's just 23 years old. He was brought up from Triple-A Syracuse exactly four years ago Thursday at the tender young age of 19.
Harper has had transgressions like most young players, but from the Phillies' point of view, they're not worried about getting inside either Harper or Zimmerman's head. They're just trying to keep the MVP off base.
Bowa said he, Mackanin and pitching coach Bob McClure sit on the bench and discuss strategy when Harper comes up.
"I mean, we talk about it, but Pete has to implement it," Bowa said. "McClure, he'll sit there and he may say, 'Hey, I don't want to pitch to him right here.' Pete asks, but he has to make the decision. Before a series, we go over the team, and if there's one guy where we say, 'We don't want him to beat us,' we try not to let that happen."
In this series, that guy was Harper, and thus far what the Phils are doing has altered the game more than a bit. Advance scouts from other teams are watching, and that's the way trends emerge.
Barry M. Bloom is a national reporter for MLB.com and writes an MLBlog, Boomskie on Baseball. Follow @boomskie on Twitter. This story was not subject to the approval of Major League Baseball or its clubs.