Inbox: Is it too early to worry about Buxton?
Beat reporter Rhett Bollinger answers Twins' fans questions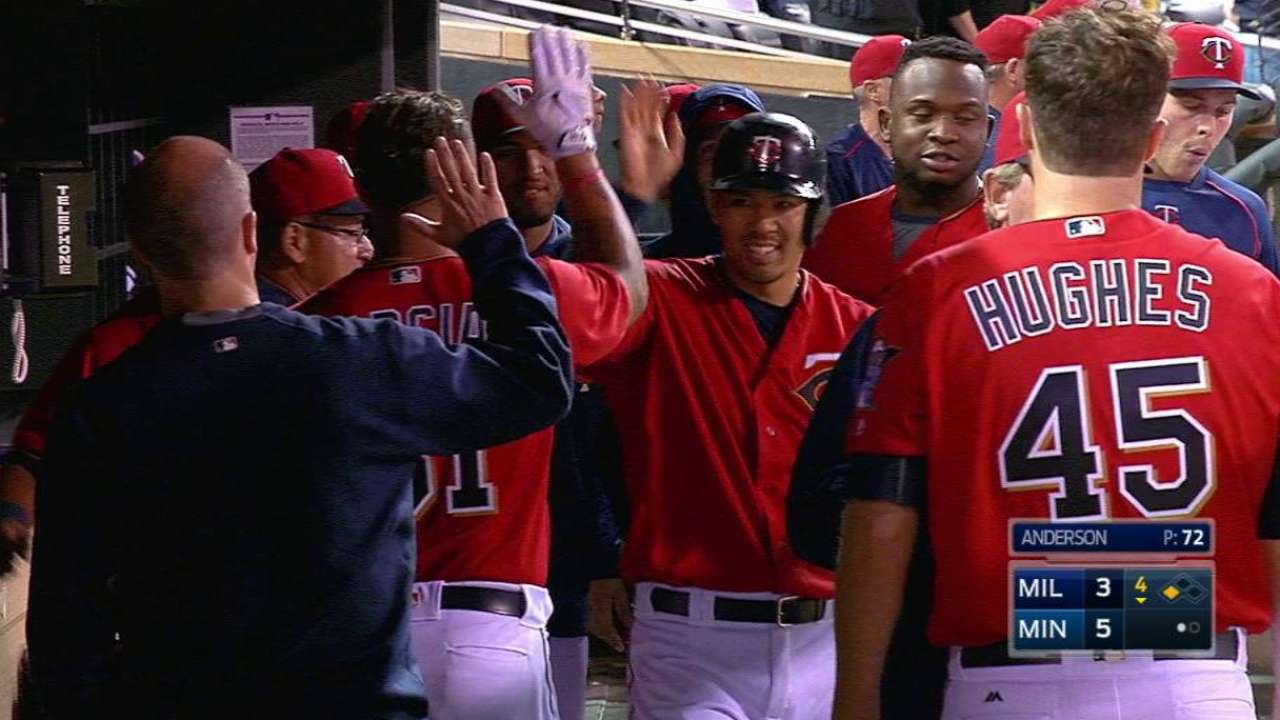 MINNEAPOLIS -- The Twins are off to another slow start this season, opening up 7-15 through their first 22 games.
Manager Paul Molitor said Wednesday they know they have a lot of ground to make up the rest of the year, and he addressed his team about its situation before the series opener vs. the Indians on Monday. He still believes it's too early to panic, but it's clear there are plenty of questions about this team. And that leads us to the first Twins Inbox of the regular season.
Is it still too early to worry about Byron Buxton? This was the year he was supposed to break out.
-- Nathan G., Minneapolis
Considering Buxton is 22 years old and has only 174 career at-bats in the Majors, it is too early to panic, but his strikeout rate before being optioned to Triple-A Rochester on Monday is concerning. He struck out in 24 of his 49 plate appearances, including going 1-for-28 with 24 strikeouts when the count reached two strikes.
• Submit a question to the Twins Inbox
So that's what Buxton will have to work on in Triple-A, as he didn't show any improvement in that regard from last season. He's still swinging at only 59.6 percent of pitches in the zone, so he needs to be more aggressive. The league average is roughly 66.1 percent. Buxton's overall contact rate was also 68.5 percent, which is roughly 10 percent worse than average.
Buxton has elite speed, so putting the ball in play is important for him, and a stint at Triple-A should help his development, as he's played 15 games at that level. The Twins admit he was rushed to the Majors last year due to need, and they were hoping he didn't need more Minor League seasoning, but clearly he does.
How surprised are you by Ricky Nolasco's success this season, and can he keep it up?
-- Jack L., Coon Rapids, Minn.
After the way the past two seasons went for Nolasco (a combined 5.64 ERA), it's hard not to be a bit surprised by his start to the season. He's been Minnesota's best starter in the early going, with a 3.25 ERA and a 0.90 WHIP that ranks as the fourth-best mark in the American League.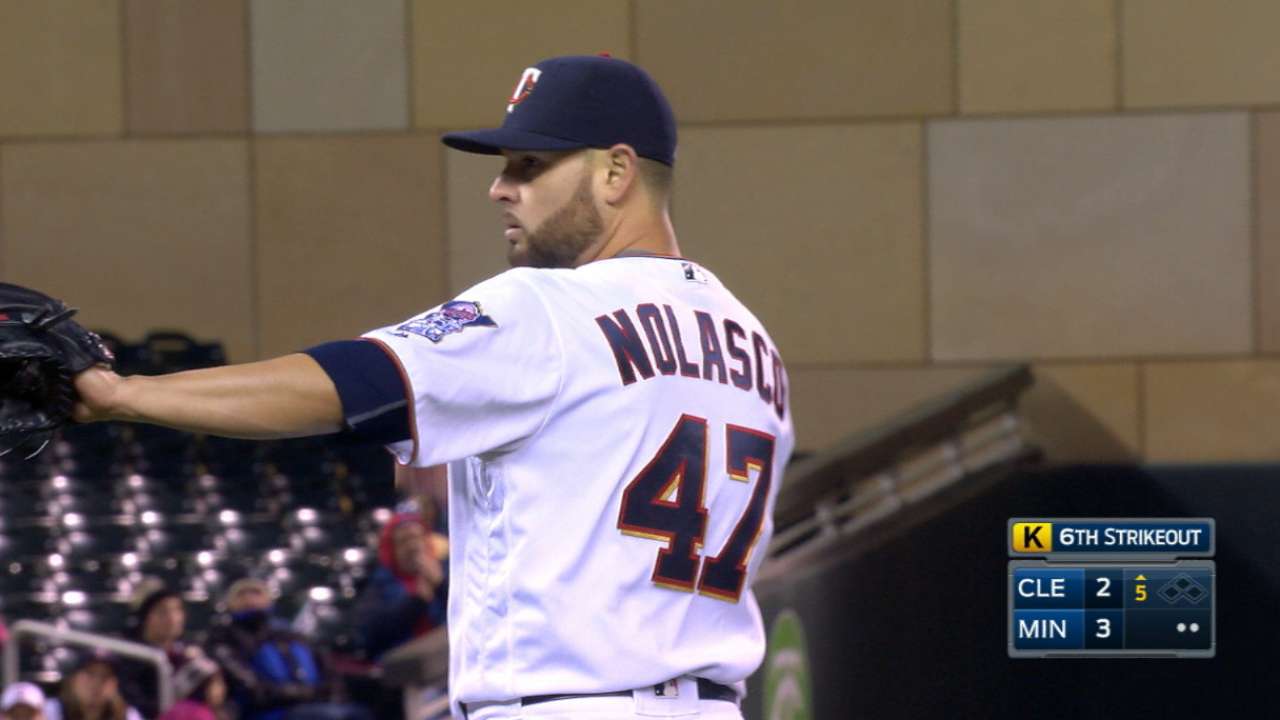 This is the version of Nolasco the Twins hoped they were getting when they signed him to a four-year, $49 million deal before the 2014 season. He's leaned on his slider so far, throwing it a career-high 32.8 percent of the time, which is much higher than his career average of 21.5 percent. Nolasco is also pounding the strike zone much more than in recent years, throwing more pitches in the zone than he has since 2010. So it's a good indication he has better command now that he's healthy.
It's too early to know if Nolasco's hot streak is sustainable, but the indicators such as his strikeout rate, walk rate and home run rate are all promising.
Is Tommy Milone in danger of losing his spot in the rotation? Or will he get another chance with Ervin Santana and Kyle Gibson on the 15-day disabled list?
-- Heather B., Rochester, Minn.
It is interesting the Twins don't have a starter listed for Sunday's game against the Tigers, and Milone's last start came on Monday so it would be his turn in the rotation after right-hander Tyler Duffey on Saturday.
Minnesota is debating whether that start will go to right-hander Alex Meyer, who was brought up from Triple-A as a long reliever on Monday, but has yet to see action. Meyer is stretched out enough to start on Sunday, and he fared well at Rochester, posting a 1.04 ERA with 19 strikeouts and four walks in 17 1/3 innings. His last start came on April 20, so it would be more than 10 days between outings, but he is an option to replace Milone. Nothing is set in stone, though, as the Twins are weighing their options.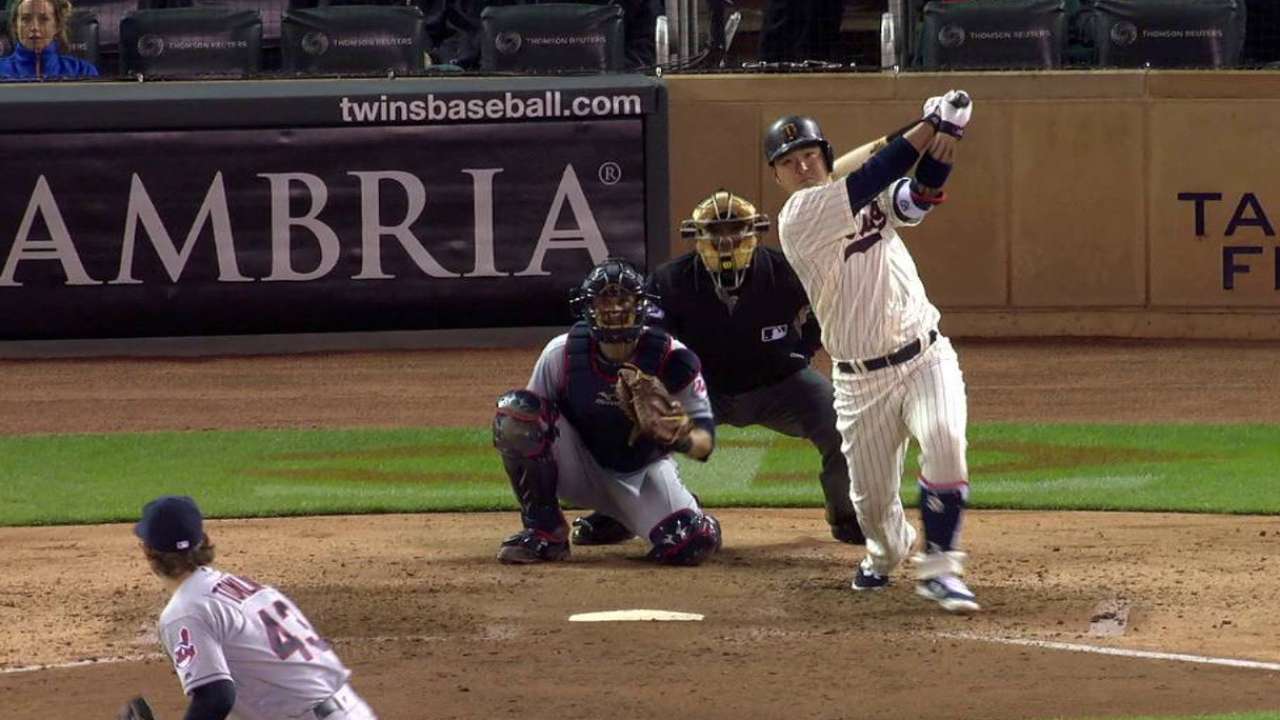 What have been the early impressions of Byung Ho Park? Is this what the Twins expected from him?
-- Kim L., Eagan, Minn.
Park started off a bit slow, but he's picked it up recently and leads the team with five homers, so he's adjusted to the Majors as well as Minnesota could've hoped. He is hitting .241 and can be strikeout prone at times, but his power is legit and translating so far. Park homered again on Wednesday, and Statcast™ projected it at 441 feet to center, which isn't even his longest one of the year, as he hit one 451 feet on April 16 that was the eighth-longest homer hit this season.
Park has also been better than anticipated defensively at first base, which the Twins are happy to see, because it allows Joe Mauer to serve as designated hitter here and there without the club having to worry about a major drop-off defensively at first.
Rhett Bollinger has covered the Twins for MLB.com since 2011. Read his blog, Bollinger Beat, follow him on Twitter @RhettBollinger and listen to his podcast. This story was not subject to the approval of Major League Baseball or its clubs.