Pagan fighting off age, one workout at a time
Year removed from nagging knee pain, Giants veteran looks strong as ever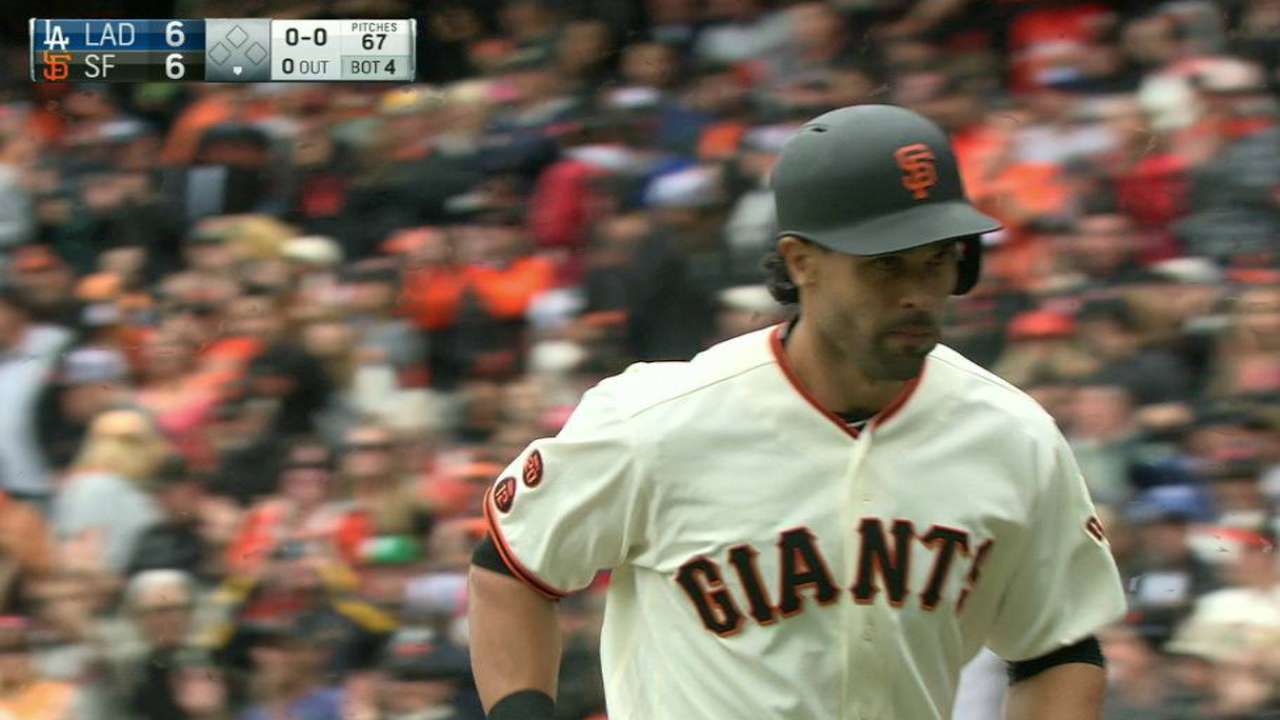 SAN FRANCISCO -- Angel Pagan plays the equivalent of a doubleheader almost daily. Maybe that's why he has the strength to excel for the Giants in the half of the twin bill he spends on the field.
On Monday, when Pagan contributed a pair of run-scoring hits to San Francisco's 5-4 triumph over San Diego, he asked reporters seeking his postgame reaction to keep their questions to a minimum. He wasn't being rude. Pagan simply had a pressing engagement, which became subject to a scheduling crunch resulting from the game's three-hour, 47-minute duration.
"I just finished the game, but I have another game in the gym," Pagan said.
Like most Major Leaguers, Pagan strictly adheres to a workout routine that doesn't end with the game's final out. But other players would be hard-pressed to match Pagan's steadfast belief in his regimen, pregame as well as postgame. Pagan's exercising helped sustain his encouraging comeback from the right knee soreness he endured last year, explaining his unshakable dedication to his program.
"Whatever I do in the gym before I go out there, whatever I do in the cage before I get an at-bat -- it's very important for me to be consistent," Pagan said before the Giants departed for their two-city, six-game trip that opens on Friday against the Mets at New York's Citi Field.
Pagan is obviously doing something right. He has rediscovered the form that made him the offensive dynamo that galvanized the Giants during the 2012 season, when they surged to the second of three San Francisco-era World Series titles. Among National Leaguers, the switch-hitter entered Thursday's off-day tied for eighth in hits (26), tied for 11th in runs scored (15) and seventh in batting average with runners in scoring position (.471).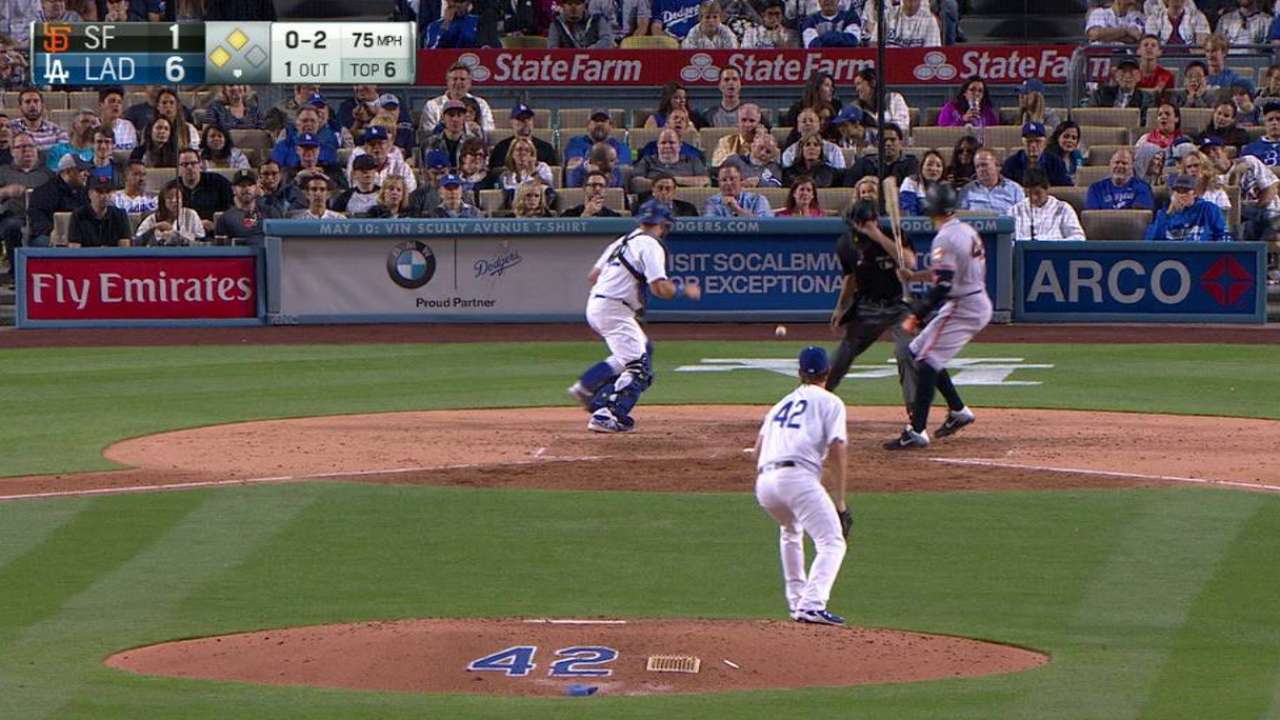 Remarkably, Pagan has accomplished all of this while batting ninth, a spot that pitchers typically inhabit. Giants manager Bruce Bochy figures that batting Pagan and Denard Span in succession gives San Francisco two leadoff men batting back-to-back, the better to disrupt opposing defenses.
"Having two leadoff hitters getting on base, one after the other, creates great situations for the 'big guys,' like I call them -- [Joe] Panik, [Hunter] Pence, Buster [Posey]," Pagan said. "We can create a lot of pressure on the bases, pitchers can make a mistake and that's how we win ballgames, putting points on the board."
The effectiveness of the 34-year-old Pagan clearly reflects his physical rejuvenation.
"The way he's running, the way he's played every day, I'll say it's a little more than I expected," Bochy said.
Referring to the arthroscopic right knee surgery Pagan underwent last October, Bochy added, "With the knee and the procedure he had done this offseason, he's a guy I thought I might have to baby. He ended up being the last guy getting a day off. The way he's played and the energy he's played with, the intensity, it's there every day. ... I think now we're seeing the Angel that we know."
Pagan's health is evident as he wears a path between his dressing stall and the gymnasium in the Giants' clubhouse. He preserves the physical gains he made during the offseason by continuing to hone his core, upper body and lower body. Pagan pays special attention to his shoulders, since he'll need them to assist him in keeping his bat aloft later in the season when he confronts fatigue.
Hitting coach Hensley Meulens pointed out the differences between an ailing Pagan and a fit one.
"It was difficult for him to maximize his mechanics in order to drive the ball and hit the ball like we know he can," Meulens said. "By getting healthy, now he's confident again. Now he can stay on his legs, because he's a guy who hits in a little bit of a crouch from both sides. When your knees are hurting, that's difficult to do. He was coming off them all the time last year. So that issue's gone. ... Now, his hands are in proper position, too. When you're coming off your legs and you're running away from the ball, his hands were dropping. So he hits a lot of fly balls. By staying on his legs, his hands stay in the right position and he hits line drives."
Chris Haft has covered the Giants since 2005, and for MLB.com since 2007. Follow him on Twitter at @sfgiantsbeat and listen to his podcast. This story was not subject to the approval of Major League Baseball or its clubs.