Inbox: Is skid cause for KC fans to panic?
Beat reporter Jeffrey Flanagan answers Royals fans' questions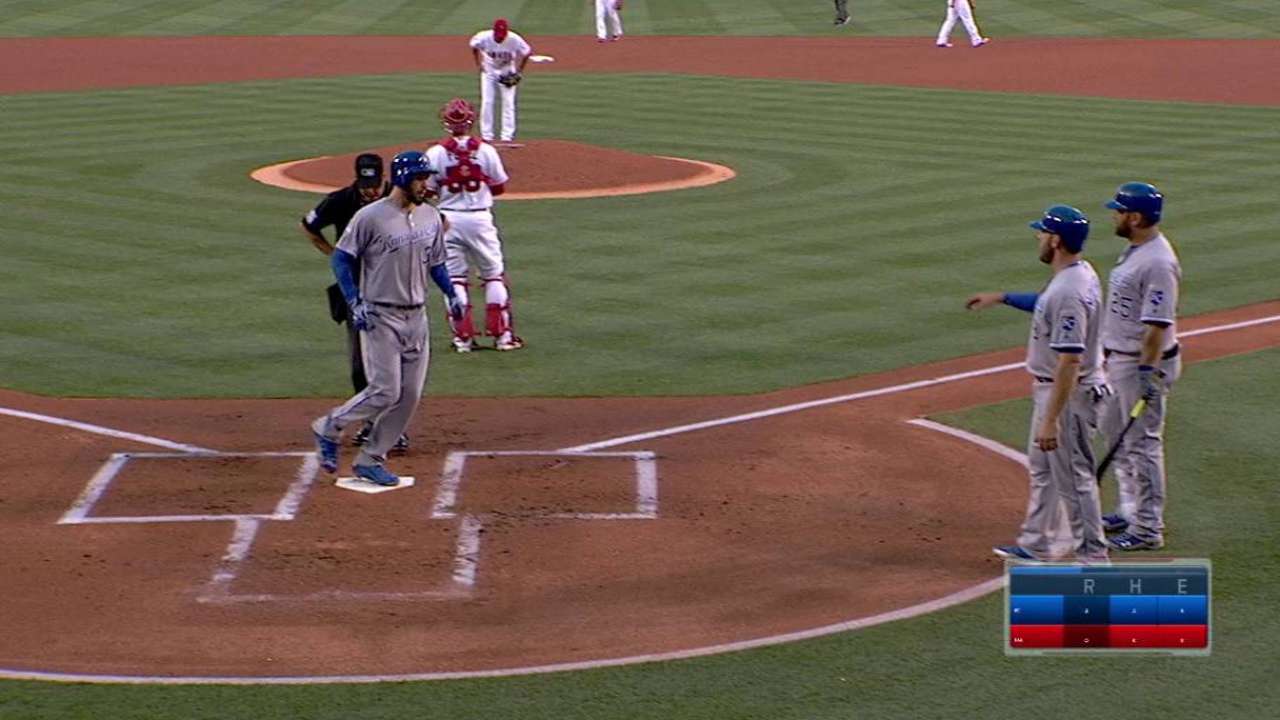 ANAHEIM -- The Royals have lost three straight games for the first time since the first week of September 2015. It's hardly a time for panic, but Kansas City fans on Twitter are somewhat close to full-fledged freak-out mode nonetheless.
So let's get right to this week's Royals Inbox, and maybe we can convince a few fans to back away from the edge of the cliff.
@FlannyMLB is it the perfect time to panic?

— Zoel Lopez (@zm_lopez) April 27, 2016
One would think that because the Royals have won back-to-back American League pennants plus a World Series title, it would grant them a little grace period from the freak-out. Not so. The thing is, Kansas City simply isn't hitting right now, outside of Mike Moustakas and Eric Hosmer. And such hitting slumps will happen over the course of 162 games. We're just 21 games into this season, and the Royals are three games over .500. There's no reason to panic about anything.
• Submit a question to the Royals Inbox
@FlannyMLB Are Royals in active discussions with Greg Holland? Likely he will return to team at some point?

— Michael Erdman (@MichaelErdman) April 27, 2016
I talked to Holly before the ring ceremony, and he said he continues to work out in Arizona as he rehabs from Tommy John surgery. Sure, he'd love to come back to the Royals, and he hopes it happens. But right now, there's not a lot of incentive for teams, including Kansas City, to crank out a deal. Teams will want to make sure the surgery was effective, so they'll wait to see him throw a little bit later in the summer.
@FlannyMLB How long before Esky gets dropped out of #1 hole? and why is Infante given such a long rope? and why does Paulo sit and not PH?

— KC ROYALTY 85-15 (@kcroyalty8515) April 27, 2016
Royals manager Ned Yost tried to drop Alcides Escobar from the top spot last September. It didn't work out too well. Yost wanted to believe in the metrics, so he put Ben Zobrist and Alex Gordon up top. The thing to remember about Yost, though, is that the advanced metric he believes in the most is wins and losses. From late September 2014 until now, Kansas City has consistently won with Esky leading off. Yost is not going to flip his lineup every time the team gets into a little rut. Down the road? Maybe.
As for Omar Infante, I seriously am puzzled by some of the fans' discontent with him. He played hurt last season, and therefore not very well. I get that. But Infante had a career-high 66 RBIs in 2014 and hit for a .924 OPS in the World Series, and many seem to have forgotten all of that. Managers, coaches and general managers don't.
But yes, Infante's defense through the first three weeks has not been typical of him. That is cause for concern. As for Paulo Orlando, he sits because the Royals want to see if Jarrod Dyson is an everyday player. And he sits because they are not going to bench a four-time Gold Glove Award winner in left field or a center fielder who finished third in the AL MVP Award voting last year. As for pinch-hitting, when does Yost ever pinch hit?
@FlannyMLB Boras client, but might Moustakas be the most realistic candidate for a post-2017 extension? Bit like A1, slow start, re-signs?

— Blake Tarrants (@btsportsman) April 27, 2016
I've said many times that I thought Moustakas would be first in line for an extension. And the whole "Scott Boras dislikes the Royals" thing really is a myth. Dayton Moore gets along fine with Boras. The truth is, Moore and his staff have done a terrific job of keeping homegrown talent (see Gordon), and Moore is determined to keep as many as he can.
@FlannyMLB Any chance Yost shakes up order soon to get Cain, Morales bats going? D'you think The Great Balbino sees some MLB action in Sept?

— Matthew Green (@Matthew11_) April 27, 2016
Yost, like most managers, can't afford to panic every time a slump on his team occurs. The lineup is pretty close to the one that won the World Series. As I mentioned before, he's not a guy who overreacts. Yost stands by his players, through their hot streaks and through their slumps. As for Balbino Fuenmayor, he's not on the 40-man roster, so that would have to change for him to get a September callup.
@FlannyMLB why isn't Danny Duffy throwing curveballs anymore?

— Ben Hillmon (@BenHillmon) April 27, 2016
I talked to Duffy a couple days ago casually, and he mentioned that he was going to focus more on his fastball, which in a reliever's role has been sitting around 96-97 mph. That will get guys out. Therefore, he's going to back off his secondary stuff. You'll still see Duffy use his slider and an occasional changeup, but he's going to challenge hitters more.
@FlannyMLB when the Royals are in the hunt in late July, would you forecast any deadline acquisitions? If so what position, and for whom?

— RoyalBall (@royal_ball) April 27, 2016
That's a great question I haven't thought much about yet. The Royals gave away a ton of prospects last July, and obviously it was worth it, winning a World Series championship. The cupboard isn't bare in terms of prospects to be traded, but they are not going to deal their top prospects like Kyle Zimmer or Raul Mondesi, because they need them to contribute fairly soon. Plus, I'm not sure where the needs will be, barring injury.
Kansas City has depth in the bullpen, plenty of rotation candidates and the position players are solid. Infante looks better offensively this season, and he leads the team in doubles (7), but if his defense doesn't return to normal, maybe they hunt for something there.
@FlannyMLB Will we see Dillon Gee in the rotation at some point this year? Has had 3 great appearances in long relief so far.

— Troy Wehking (@TroyWehking80) April 27, 2016
Yes, it is very possible Dillon Gee could get a shot at the rotation at some point. That's why the Royals signed him. They know Gee can induce a lot of ground balls, and they have a great defensive infield behind him. But Kansas City also believes that starters Chris Young and Kris Medlen will be quality starters throughout 2016, so it may take an injury for Gee to get that shot.
Jeffrey Flanagan has covered the Royals since 1991, and for MLB.com since 2015. Follow him on Twitter @FlannyMLB. This story was not subject to the approval of Major League Baseball or its clubs.