MLB.com Columnist
Alyson Footer
Arrieta, Bryant, Maddon earn Esurance Awards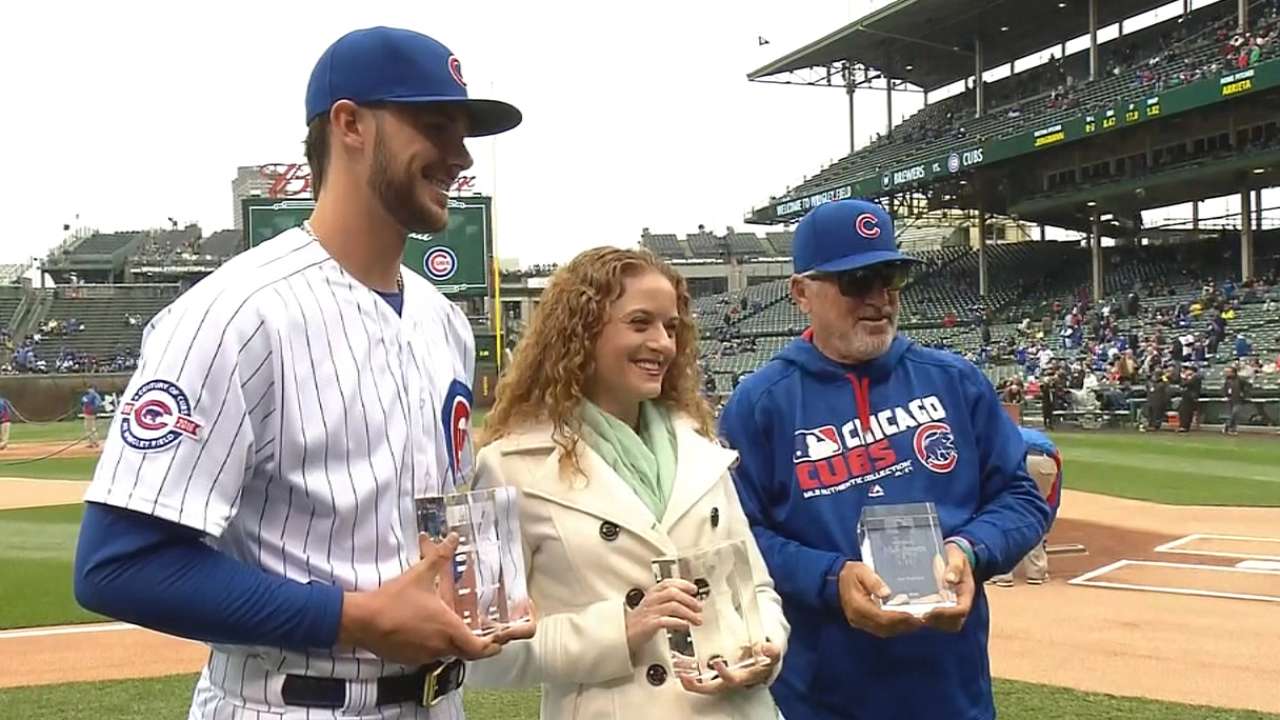 CHICAGO -- The Cubs' series with the Brewers at Wrigley Field this week included anticipation and impatience, mixed with a slew of accolades for one nearly unhittable pitcher.
Anticipation stemmed from Jake Arrieta's pending encore performance following his no-hitter against the Reds last week in Cincinnati. Impatience likely crept in for Cubs fans who had to wait an extra day to watch Arrieta pitch after his scheduled outing against the Brewers on Wednesday was washed away by rain.
And the accolades, which by now are not a new thing for these emerging Cubs, poured in all week. On Tuesday, Arrieta was honored by the organization for his latest no-hitter. On Thursday, he was presented with the MLB Esurance Awards as the Best Starting Pitcher and Best Breakout Player of 2015.
The Cubs received a total of four Esurance MLB Awards. Kris Bryant was honored as Best Rookie, and Joe Maddon as Best Manager.
Arrieta's awards reflected an historic 2015 season during which he went 12-1 with a 0.75 ERA in 15 starts after the All-Star break and finished the year at 22-6 with a 1.77 ERA. The National League Cy Young winner's second-half sprint included an Aug. 30 no-hitter at Dodger Stadium, helping to give Arrieta the lowest second-half ERA since the All-Star Game was instituted in 1933.
Speaking before a throng of reporters about a number of topics before the start of the Brewers series, Arrieta expressed a desire to keep the focus on what's happening in the present and reflect on awards and honors later.
"The end of the season is the time to reflect on the individual things and accomplishments that I was able to have," he said when asked to reflect on his recent no-hitter. "We've got bigger goals in store for us, especially now being only around 20 games into the season. We still have a long way to go."
Bryant, the unanimous choice last year as the NL Rookie of the Year, beat out fellow finalists Carlos Correa and Francisco Lindor for the Esurance MLB Award for the best rookie in either league. After he was called up in the middle of April last year, Bryant led all Major League rookies in RBIs (99), doubles (31) and runs scored (87). He played in 151 games and was a key member of a Cubs team that beat the Cardinals to advance to the NL Championship Series.
Being in the midst of a postseason run and playing in October were invaluable experiences for Bryant, not just for the enjoyment of the experiences as they were happening, but for how much they figure to help him as his career continues.
"I think we played eight games in the playoffs [nine including the NL Wild Card Game] and we made it pretty far," he said. "Just to get in that atmosphere, playing in the Wild Card Game -- a one-and-done-game -- to get the nerves out and just play in the first game, it's only going to help. Hopefully we can go even further this year and use that experience to our benefit."
Bryant's manager, whose Esurance Award reflected his well-known knack for getting the most out of his players, lauded Bryant's ability to perform at an elevated level even through tough stretches.
"There's something to be said about working through a difficult moment on the Major League level and coming out at the other end of the tunnel here," said Maddon, who guided last year's Cubs to 97 wins. "That really matters. When you have that first real struggle -- and guys like that, they don't struggle a lot. KB didn't really struggle in the Minor Leagues. Whenever you ride through the big league struggle and get them out successfully on the other side, that's the one lesson that's going to carry them a lot longer if you do it that way."
The Esurance MLB Awards annually honor Major League Baseball's greatest achievements as part of an industry-wide balloting process that includes five components, each of which accounts for 20 percent of the overall vote: media, front-office personnel, retired MLB players, fans at MLB.com and Society for American Baseball Research (SABR) voters.
Individual awards were presented for 24 separate categories, including Best Major Leaguer, Everyday Player, Bounceback Player, Social Media Personality and Postseason Performer. Winners were also recognized for the year's Best Offensive Play, Defensive Play, Moment, Single-Game Performance, Social Media Post, Celebrity Fan and Fan Catch.
Alyson Footer is a national correspondent for MLB.com. Follow her on Twitter @alysonfooter. This story was not subject to the approval of Major League Baseball or its clubs.