Lowrie providing needed consistency to A's offense
Switch-hitter has appeared in six spots in batting order since April 17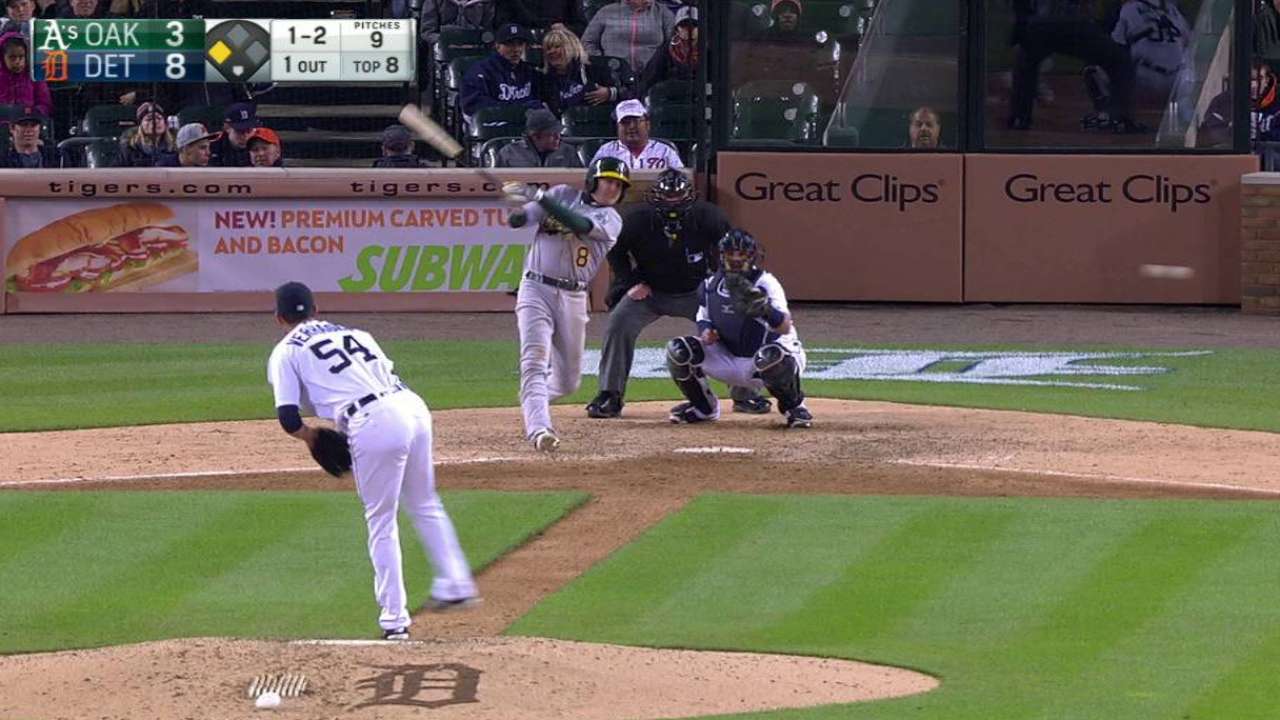 DETROIT -- Despite the A's offense sitting in the bottom third of the Majors in scoring, manager Bob Melvin says second baseman Jed Lowrie has been a valuable anchor.
Lowrie is batting .325, including .459 (17-for-37) since April 17, after going 2-for-3 in Thursday's 7-3 loss to the Tigers.
"I would say he's our most consistent [hitter], up to this point," Melvin said. "We've had some guys who have gone through hot and cold [streaks], but he's probably been the most consistent."
"I feel good. I have a good approach, so I'm going to try to maintain that," said Lowrie.
The switch-hitter is batting .350 against lefties with five RBIs and .317 against righties with seven RBIs, and he's done it up and down the lineup. Lowrie, who batted second on Thursday, has hit in every spot in the lineup from two to seven since April 17.
"He's a guy who doesn't care where he hits in the lineup," Melvin said. "You can move him around, and it doesn't faze him."
That willingness to move around the lineup is especially valuable as a switch-hitter.
"He knows he's helping me," Melvin said. "His switch-hitting will break up lefties at times, break up righties at times. If he's swinging well, I need him higher in the order. He doesn't have any problems with where he hits in the lineup."
Chris Vannini is a contributor to MLB.com based in Detroit. This story was not subject to the approval of Major League Baseball or its clubs.