Hoffman, Winfield named ASG spokespeople
Padres legends will generate public excitement, awareness for Midsummer Classic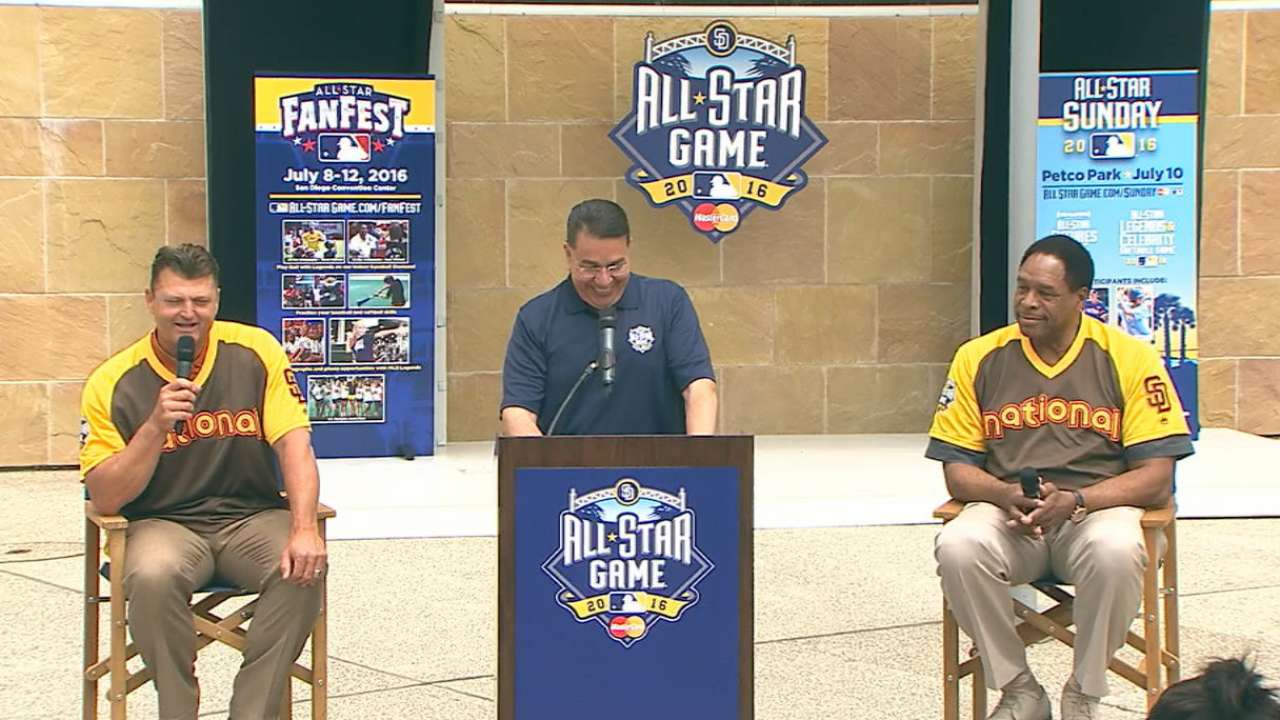 SAN DIEGO -- Numbers don't lie, and that's especially true in baseball.
So it was no mistake a 2016 Major League Baseball All-Star Game podium was between retired Padres Nos. 51 and 31.
San Diego greats Trevor Hoffman and Dave Winfield, once wearing those numbers with distinction, are extending a welcome for this summer's events for the 2016 All-Star Game presented by MasterCard.
• VOTE NOW: Cast this summer's starring roles
With 19 All-Star appearances between them, they're the perfect pair to extend the San Diego vibe for the 87th Midsummer Classic.
They were announced as the game's spokespeople on Thursday.
Hoffman and Winfield will help to generate public excitement and awareness for the All-Star Game and its surrounding events. They will also participate in All-Star events and make a variety of appearances throughout All-Star Week in San Diego, including appearances at MLB All-Star FanFest, ballpark events and community refurbishment projects.
"July is going to be amazing," said Hoffman, a seven-time All Star whose 601 saves rank second all-time. "You're not going to find a better All-Star Game than here in San Diego."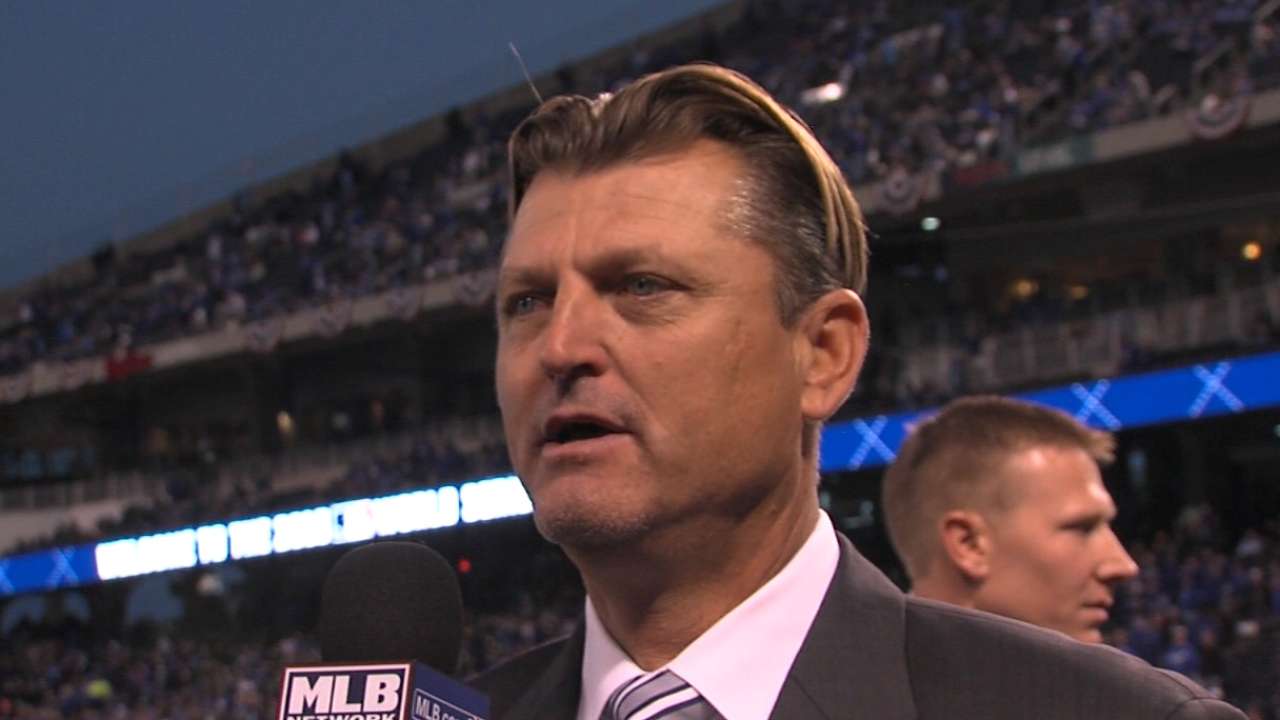 It's the third All-Star Game in San Diego, but the first in downtown's Petco Park.
Winfield, an All-Star 12 times, began his 22-year career with the Padres in 1973.
"It all started here," Winfield said.
Winfield, a Hall of Fame member, made his All-Star Game debut in 1977. It presented a sighting which still brings a smile to Winfield.
"The honorary captains are Joe DiMaggio for the American League and Willie Mays for the National," Winfield said. "You are like a wide-eyed kid and say, 'Oh, my gosh, can I get your autograph?'"
The All-Star Game was in San Diego the following year and Winfield was the recipient of San Diego's cheers.
"When you are the hometown favorite, the response you get is something else," he said. "I had to come back out and take another bow."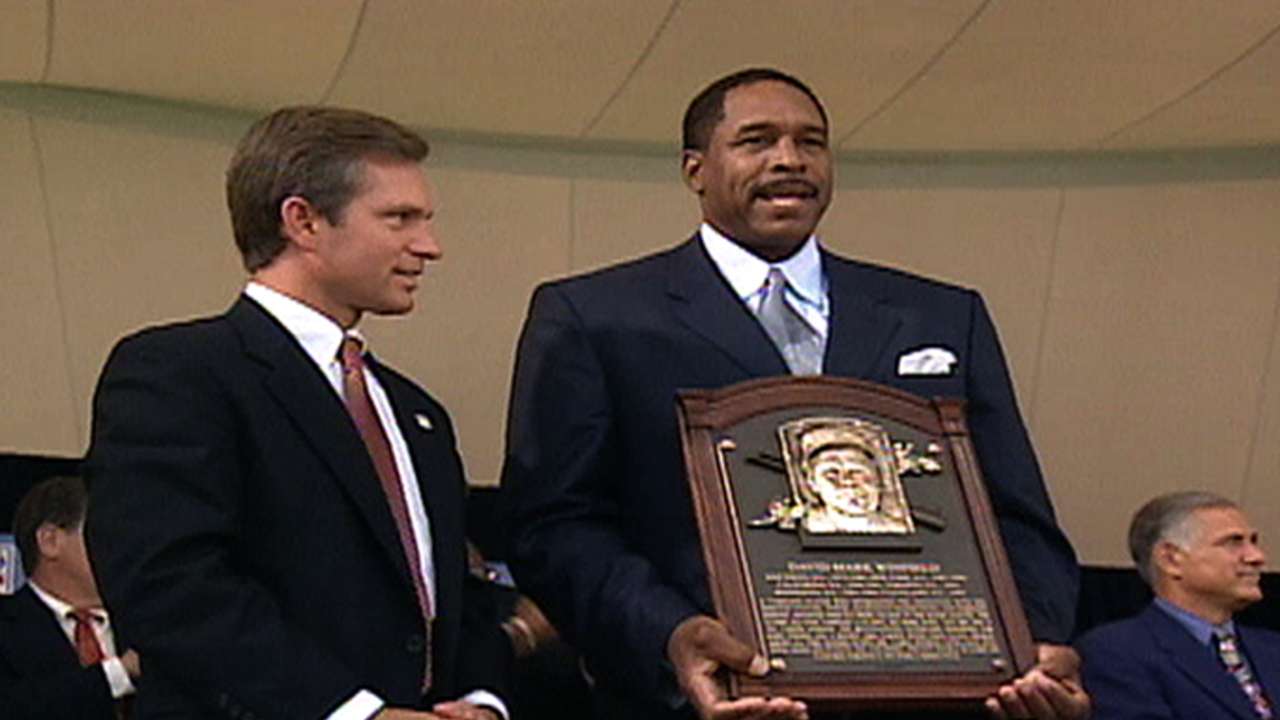 Hoffman, eligible for the Hall of Fame this year for the first time, had his All-Star Game moment.
It was the 1999 All-Star Game at Fenway Park in which the All-Century Team was announced. It was capped by Ted Williams, a San Diego native, arriving to the mound on a cart and immediately being surrounded by the players.
"So Ted just starts holding court, talking about hitting with a bunch of the guys," said Hoffman, who is in his second year as a senior advisor in the Padres' baseball operations department. "I know they had a schedule to keep and things had to keep moving, but he didn't care. He was enjoying so much talking with the players and they just loved it."
When Williams rose to throw the game's first pitch, he was steadied by former Padres icon Tony Gwynn.
"With Ted Williams, Tony Gwynn and the San Diego connection, that was special to be part of that," Hoffman said.
All-Star festivities begin on July 8 with All-Star FanFest at the San Diego Convention Center, along with a lineup of additional events taking place around the city. The All-Star Futures Game, All-Star Legends & Celebrity Softball Game will all be held on July 10, the T-Mobile Home Run Derby will take place on July 11, and the Midsummer Classic at Petco Park will be played July 12.
"It's going to be a special week,'' Winfield said.
Jay Paris is a contributor for MLB.com based in San Diego. This story was not subject to the approval of Major League Baseball or its clubs.