Inbox: Will a change come at third base?
Beat reporter Bryan Hoch answers questions from Bombers fans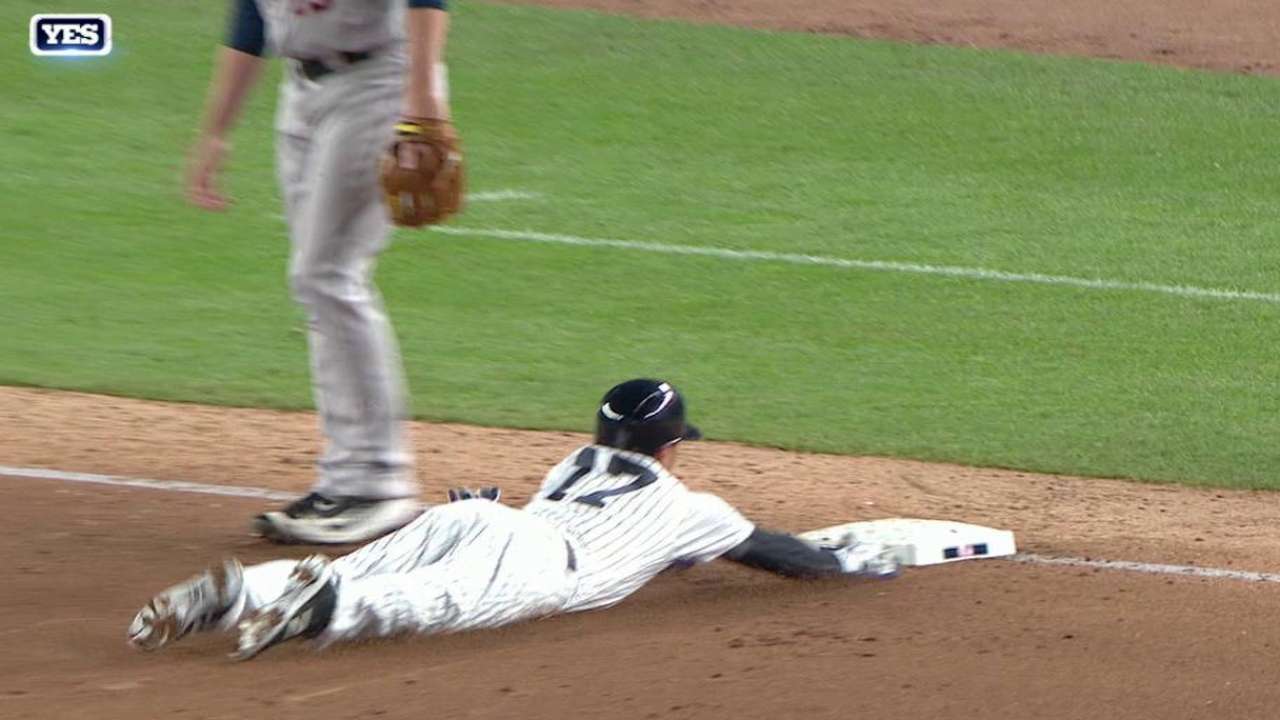 Is there any talk of improving at third base for the Yankees? Chase Headley is batting .148.
-- Craig T., Utah
There have been calls for Joe Girardi to ride the hot hand and offer more at-bats to Ronald Torreyes, who came out of nowhere to win a utility job in the spring and will enjoy this off-day in Boston batting a robust .400. While Girardi has shown some willingness to play Torreyes, that's probably not a permanent solution.
Headley has been frustrated by his slow start, but the Yankees would point to bad luck as one of the underlying reasons -- something that's not exactly foreign to the rest of the hitters in the order, as we're sure you've noticed. Headley's line-drive percentage has improved since the beginning of the month, and his batting average on balls in play is an alarming .190; it was .317 last year. While those balls still aren't finding grass regularly enough, there's reason to believe that it should begin to even out at some point.
• Submit a question to the Yankees Inbox
If not, then that's a topic better revisited more than four weeks into the season. Having made a large financial commitment to Headley based partially upon his work ethic (overlooked in the offensive problems is that, with the help of Joe Espada, Headley's defense seems to have improved nicely), the Yanks have to trust that the veteran will find a way to get on track.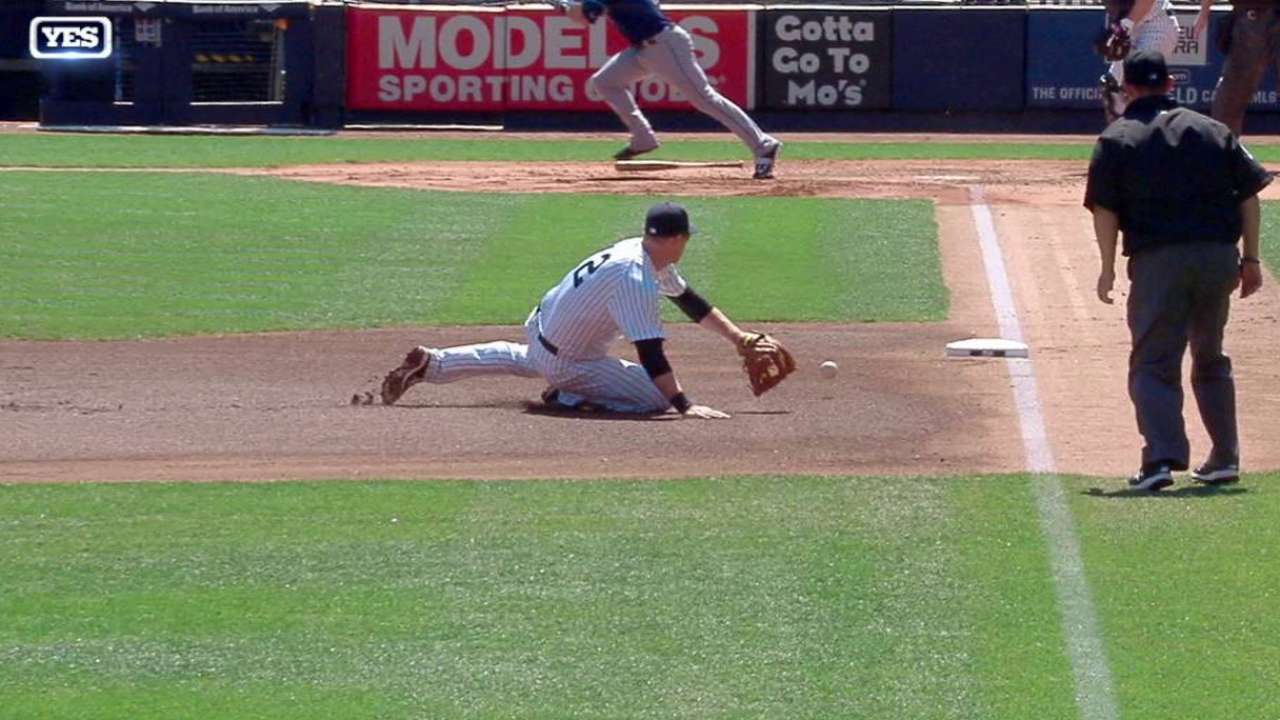 Is Aroldis Chapman really going to become the closer with Andrew Miller so dominant?
-- Cristiano P., via Twitter
That's what they say, and May 9 is going to be here before you know it. Chapman's 30-game suspension has nearly peeled off the calendar, and the Yankees really haven't missed a beat in the bullpen, at least as far as the late-inning mix goes.
Here comes @a_miller48! #LetsGoYankees pic.twitter.com/SyUKApFPWi

— New York Yankees (@Yankees) April 26, 2016
Their reasoning for Chapman handling the ninth inning is largely based upon comfort. Chapman has done it for a considerable amount of time and is accustomed to the job, while both Miller and Dellin Betances seem to have no issue slotting back in the setup mix. No matter how they're aligned, the Yankees' depth in that department promises to be impressive. It'll be up to the bats and starters to give them some leads to protect.
If Alex Rodriguez were to be out for an extended period of time, is Nick Swisher the first choice to bring up?
-- Mike R., New York
This question came in before Rodriguez returned to the lineup on Wednesday, hitting a homer in the Yankees' 3-2 loss at Texas, but it's a good launching point to explore Swisher's situation.
.@AROD just making it look easy. https://t.co/eXrWauBtEk pic.twitter.com/UxmiHd8JTh

— New York Yankees (@Yankees) April 28, 2016
Swisher is off to a good start down at Triple-A Scranton/Wilkes-Barre, having slugged three homers, and the Yankees have taken a look at him in right field while they gauge what he has left in the tank. That seemed to be a reaction to Aaron Hicks' injury on the last homestand, and from all reports, Swisher looked OK out there -- even making a catch against the wall on one play.
Mostly, the Yanks view Swisher as insurance at first base behind Mark Teixeira, so unless there was an injury to Teixeira, the question really is more about having Swisher or Dustin Ackley on the roster. Considering that Brian Cashman tried for a long time to acquire Ackley and the analytics department believes strongly in his potential -- particularly with the short porch at Yankee Stadium -- he doesn't seem to be in any danger. In theory, if Rodriguez were to miss a significant amount of time, that would be an opportunity to offer Carlos Beltran additional reps as a designated hitter.
When do you think we see Aaron Judge in the big leagues?
-- Jayden B., via Twitter
The conservative timeline we've been sticking to has been that Judge would make his Major League debut late this season, probably as a September callup, and would be in position to compete for an Opening Day roster spot next spring. Personally speaking, I've been saying that I wouldn't be surprised to see Judge in the Majors any time after the All-Star break.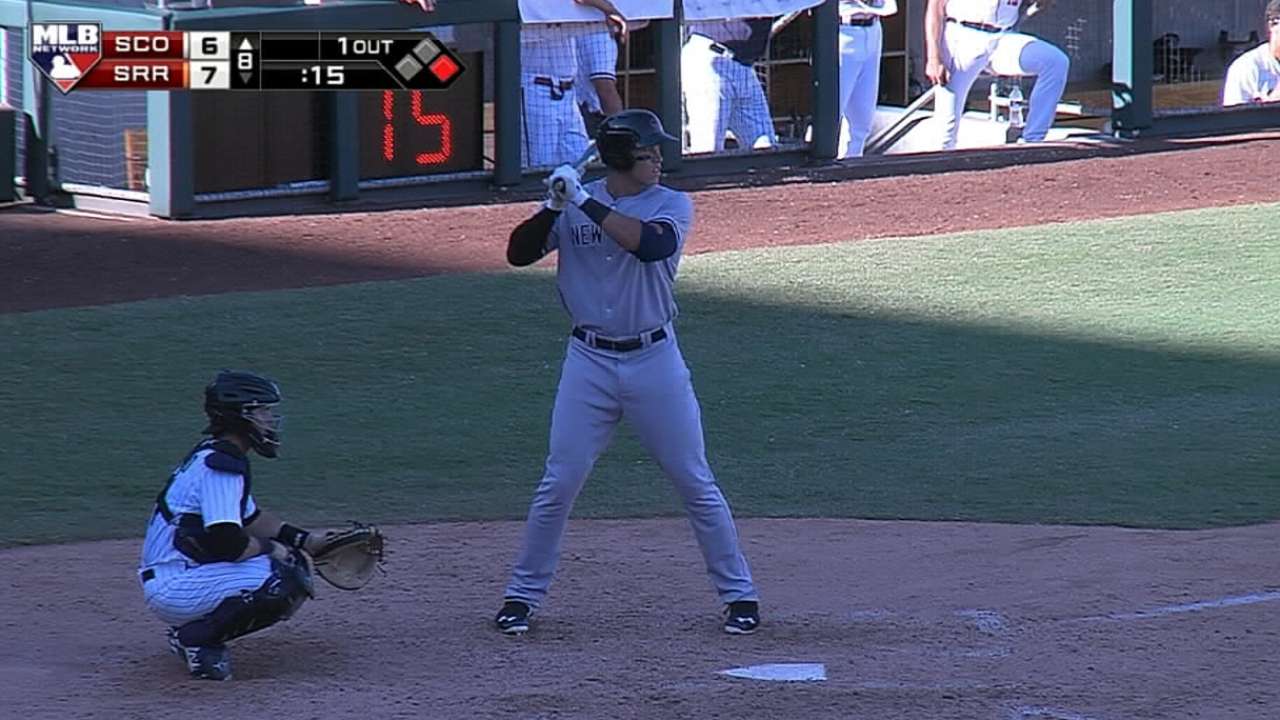 Down at Triple-A Scranton/Wilkes-Barre, Judge owns a .267/.296/.400 line through 18 games, and let's not overlook that Judge has struck out 25 times against four walks in 75 at-bats. Power hitters are going to strike out, but coupled with what happened last year at Triple-A, that suggests he still has work to do developing his approach against those more polished pitchers. They do have an option on the 40-man roster in Ben Gamel, and he's a candidate to get the call if and when the Yankees need to shuffle the roster.
Any possibility that the Yankees send Luis Severino back down to Triple-A?
-- Chris P., Middletown, N.Y.
There was a day this spring when Girardi was asked about the possibility of Severino not making the club, and Girardi looked at the questioner like he had three heads. Unless Severino fell "flat on his face," Girardi said then, he was a lock to be in the Yankees' rotation based upon what he did in those 11 starts at the end of the 2015 season.
• Consistency -- and 1st win -- elude Severino
Fast-forward to this moment, and it doesn't look all that unrealistic. What you're seeing now are some growing pains, and Severino would be far from the first 22-year-old to require extra seasoning. His location and lack of feel for his slider, a pitch that was important for him down the stretch last year, have contributed to the high hits-per-nine-innings rate.
Thus far, the Yanks believe that Severino and pitching coach Larry Rothschild will be able to work it out at the big league level, though they do have choices like Ivan Nova and Luis Cessa waiting for opportunities to jump into the rotation.
Bryan Hoch has covered the Yankees for MLB.com since 2007. This story was not subject to the approval of Major League Baseball or its clubs.