Newly confident Nicolino quickly dispatches Dodgers
Marlins starter shows improved pace, command in season debut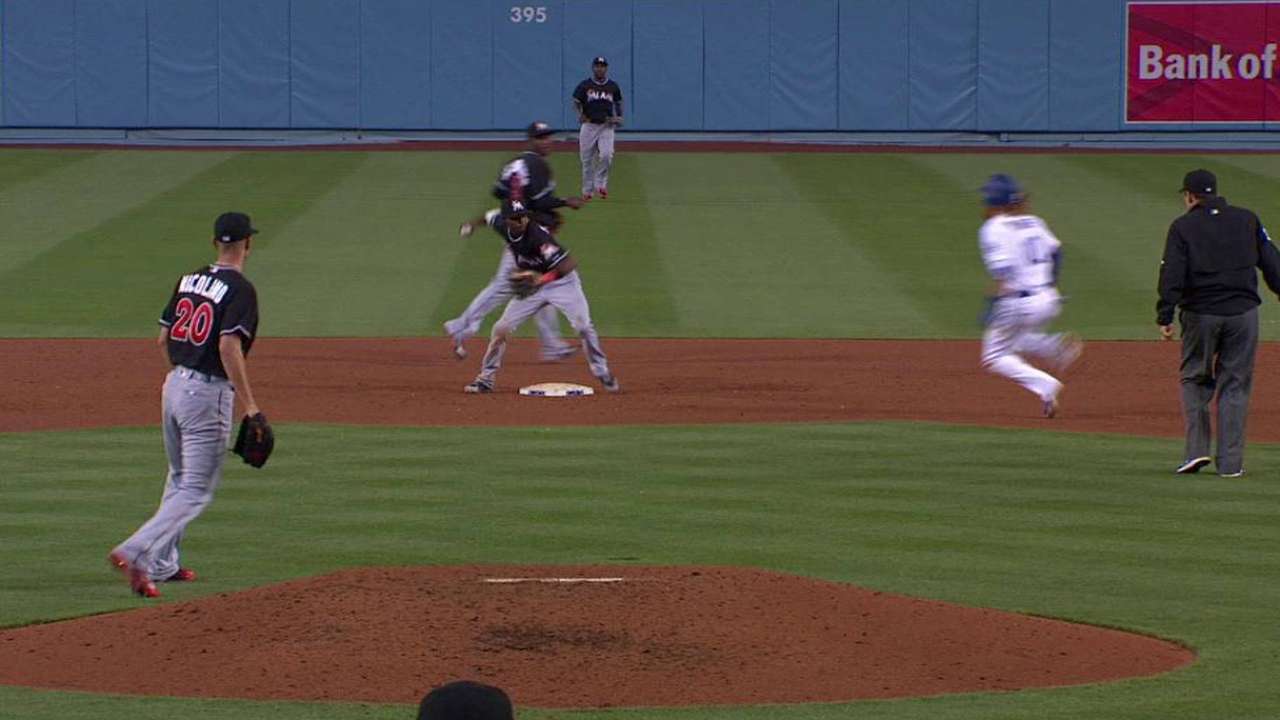 LOS ANGELES -- There wasn't much wasted time when Justin Nicolino was on the mound Wednesday night in the Marlins' 2-0 win over the Dodgers at Dodger Stadium. The 24-year-old left-hander, who got a taste of the big leagues last year, was making his season debut, and from the beginning he was attacking the zone.
He wasn't overpowering by any means, but Nicolino did what's carried him throughout his professional career. He worked both sides of the plate and mixed speeds, and helped Miami clinch the organization's first series victory at Los Angeles since 2010.
Nicolino logged 7 1/3 innings, the most by any Miami starter this year, scattering two hits while walking two and striking out two.
"I'm just trying to get the ball and go," Nicolino said. "Whether it's a strike or a ball, that way I don't have time to think about what the next pitch is going to be or dwelling on if my last pitch was a bad pitch."
One of the most noticeable changes Nicolino showed from a year ago was his tempo. He received the ball, and was ready to throw. In the past, he might overthink situations.
"I feel 100 percent more ready than last year," the lefty said. "Having the experience of last year and facing the Dodgers like I did last year. There's a better idea of what I'm doing out there. There's a confidence in what I'm throwing and understanding why I'm throwing it, and when I'm throwing it and it correlates to how I'm pitching this year."
As a rookie in 2015, Nicolino tossed 74 innings, and he faced the Dodgers on June 26 at Marlins Park. That happened to be the day Giancarlo Stanton broke the hamate bone in his left hand and missed the rest of the season.
Nicolino gave up five runs in four innings and took the loss.
"Just throwing everything for strikes and not throwing as many cutters," Nicolino said. "I have a lot more confidence throwing my curveball. It's still a work in progress, but I'm throwing all my pitches and executing them as well as I possibly can."
Without an overpowering fastball, Nicolino relies on command. Statcast™ listed his fastball average at 89.65 mph, although he touched 92 on occasion. The league average is 92.60.
Manager Don Mattingly notes Nicolino won't wow you with stuff, but he's impressed by his ability to pitch.
"He drives the ball in," Mattingly said. "He's got a good mix with his changeup. He used his breaking ball a little bit. To me, he just kept driving the ball in tonight against the righties, forcing them to see the ball in."
Dodgers catcher A.J. Ellis gave the Miami lefty credit.
"He was very aggressive, attacked the strike zone," Ellis said. "He had us in bad counts all night. He deserves a lot of credit making his first start of the year and we just couldn't get anything going."
Joe Frisaro has covered the Marlins for MLB.com since 2002. He writes a blog, called The Fish Pond. Follow him on Twitter @JoeFrisaro and listen to his podcast. This story was not subject to the approval of Major League Baseball or its clubs.