Lack of command, support equal issues for CC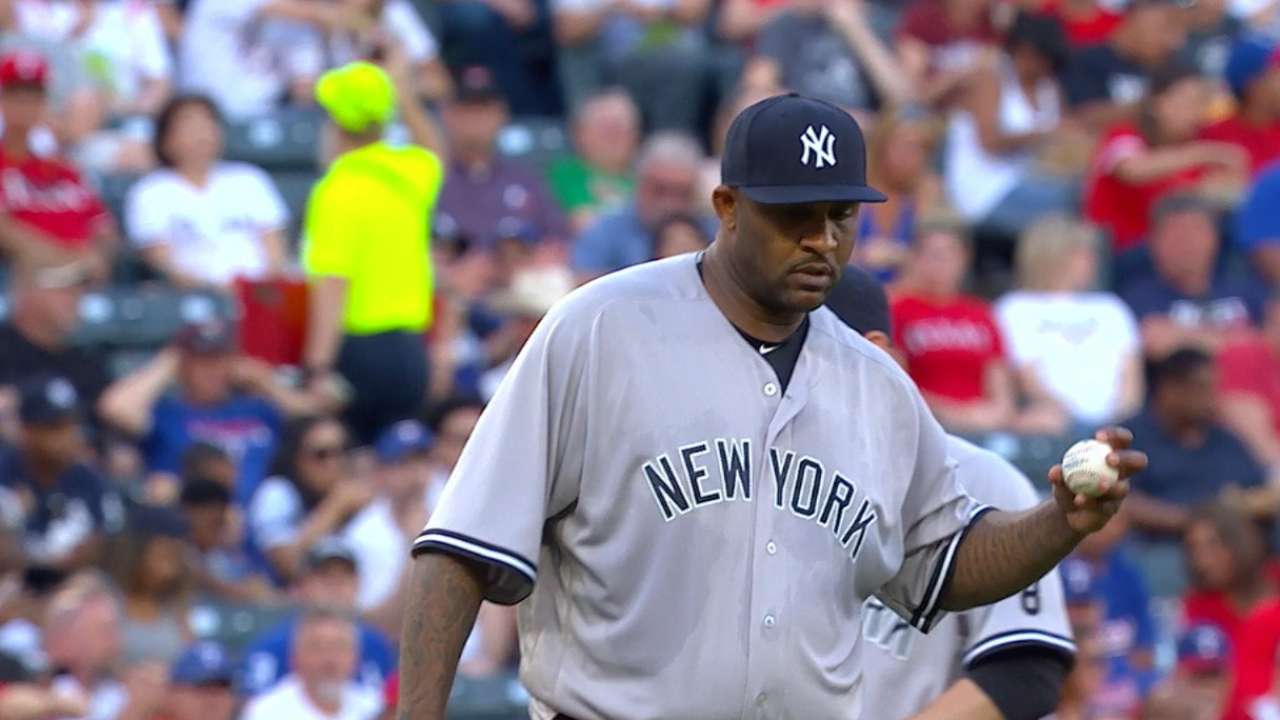 ARLINGTON -- For three consecutive starts, including Wednesday's 3-2 loss to the Rangers, lefty CC Sabathia has allowed three earned runs and left the game with his team trailing. Command has been a problem for Sabathia lately, but clearly, so has a lack of run support.
After back-to-back 4 2/3-inning outings, Sabathia pitched deeper on Wednesday night, going six. This longer, more effective start was "encouraging," manager Joe Girardi said -- it just wasn't enough to win for the low-scoring Yankees, who have tallied more than four runs just once in the last 15 games.
"He was pretty good -- his sinker was really good, and his breaking ball was really good tonight," Girardi said.
But he walked three batters and hit one, and two of those he walked later scored.
"[I had] better overall stuff," Sabathia said. "Obviously, the walks killed me tonight, but I feel like I made some good pitches. I was able to minimize [the damage] and go deeper into the game."
Sabathia walked the Rangers' No. 9 hitter, catcher Bryan Holaday, to lead off the third, and Holaday later scored on an Adrian Beltre single. In Sabathia's sixth and final inning, with the Yankees holding onto a 2-2 tie, he walked Rougned Odor with two outs, and then Elvis Andrus tripled home the go-ahead run.
Though Sabathia hadn't gone past the fifth inning in his previous two starts, Girardi didn't have anybody warming up in the sixth on Wednesday, believing Sabathia was in control.
"I liked the way he was throwing the baseball," Girardi said. "I think he deserved to be out there. He was throwing the ball good, he had given up two runs to that point. At that point it was his game."
Sabathia threw a two-seam fastball to Andrus with a 2-2 count, and it was hit in the air between center and right field.
"I probably could have made a better pitch," Sabathia said.
Right fielder Carlos Beltran couldn't get to the Andrus triple, which rolled all the way to the wall while Odor scored from first.
"[Beltran] did everything he could," Girardi said. "If I have him standing six feet to the right ... There's a lot of 'ifs' and 'buts.'"
Sabathia got the next batter to pop out on his 90th and final pitch. In all, he allowed five hits after giving up 16 in the previous two outings.
"It's something I can build off of and go out the next time and try to get us a win," Sabathia said.
Dave Sessions is a contributor to MLB.com based in Arlington. This story was not subject to the approval of Major League Baseball or its clubs.