Bradley, Payano among top prospect performers Wednesday
Indians' No. 3 notches three extra-base hits, Rangers' No. 29 prospect strikes out 11 in one-hit shutout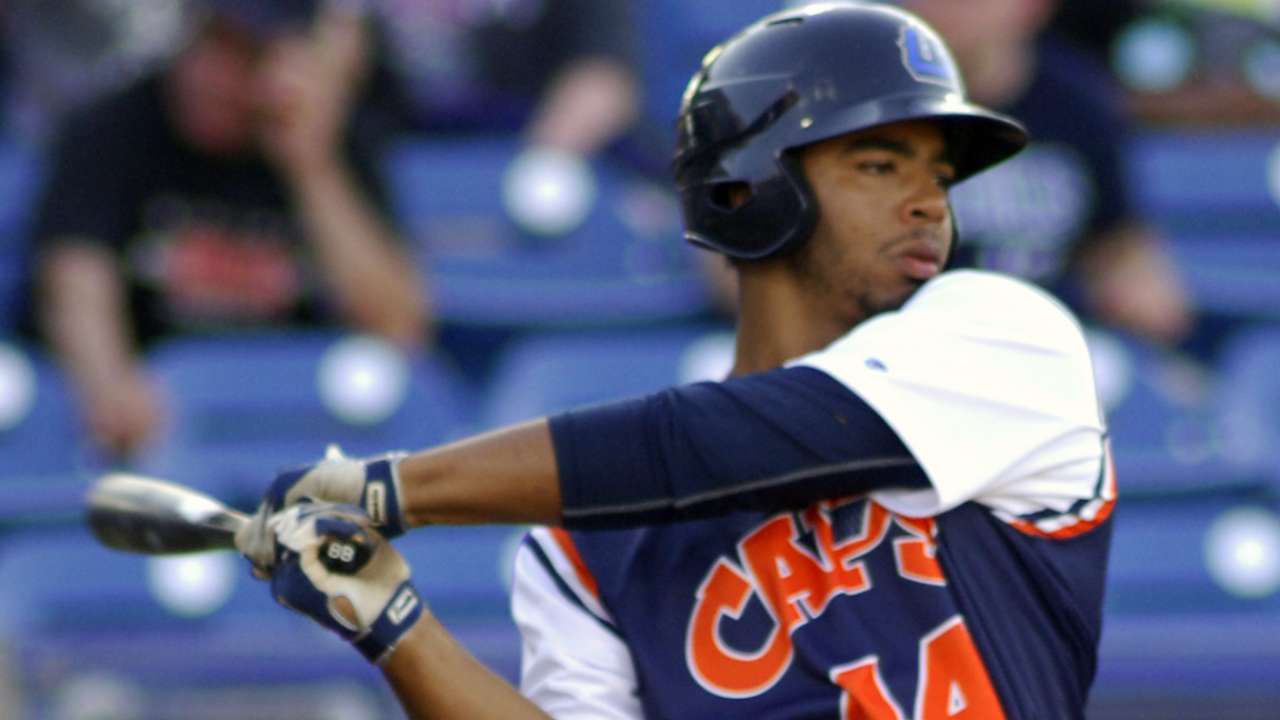 Bobby Bradley is on a roll right now, and his hot hitting continued on Wednesday.
Baseball's No. 90 overall prospect (Indians No. 3) helped Class A Advanced Lynchburg to a 12-6 win over Winston-Salem by going 3-for-5 with a home run, a pair of doubles and three RBIs. Bradley's three-run homer was part of a 10-run fifth inning for the Hillcats, who erased a 4-1 deficit.
The long ball was the fifth of the season for Bradley and his second in as many days. The 19-year-old first baseman, a third-round pick in the 2014 Draft, is 8-for-13 over his last three games, raising his season line to .278/.354/.556 with 22 RBIs.
The rest of the best performances from top prospects Wednesday
• Class A Advanced Salem enjoyed its own 10-run inning in a 14-7 victory over Frederick, getting help from a pair of highly touted players. No. 22 overall prospect Andrew Benintendi (Red Sox No. 3), slammed a three-run homer to cap the scoring after drawing a walk earlier in the frame. No. 14 overall prospect Rafael Devers (Red Sox No. 2) also walked in the inning, forcing home a run. Devers broke out of a slump by going 2-for-3 with a homer (his second), a double, a walk and four RBIs, raising his average to .149. Benintendi went 1-for-4 with a walk and two runs scored, and the homer was his first of the season.
• No. 73 overall prospect Ian Happ (Cubs No. 3) continued to swing a hot bat by going 2-for-4 on Wednesday. Happ's two-run homer in the first inning helped lift Class A Advanced Myrtle Beach to a 5-1 win over Potomac and gave the second baseman four long balls and 17 RBIs this season. A first-round pick last summer, Happ is batting .438 with four homers and 10 RBIs over his last 10 games.
• Braves No. 19 prospect Ricardo Sanchez improved to 2-1 by putting up zeros for five innings in Class A Rome's 2-1 win at West Virginia. The 19-year-old left-hander allowed three hits and one walk while striking out five, lowering his ERA to 2.84.
• Cardinals No. 10 prospect Harrison Bader propelled Double-A Springfield to an 8-1 win over Northwest Arkansas with a huge game out of the leadoff spot. Bader, a third-round pick last year, raised his season average to .338 by going 4-for-5 with a double, his third home run, two runs scored and three RBIs. The 21-year-old center fielder owns an .890 OPS in 2016.
• Giants No. 3 prospect Phil Bickford tossed a season-high seven innings for Class A Augusta, holding Kannapolis scoreless in a game it rallied to win, 4-3. Bickford, a first-round pick a year ago, limited the opposition to four hits and struck out nine without issuing a walk. The 20-year-old already has fashioned a 33-to-4 strikeout-to-walk ratio over 20 2/3 innings this season.
• Padres No. 9 prospect Jacob Nix had his best start of the season in Class A Fort Wayne's 1-0 win over Peoria. The 20-year-old right-hander, a third-round pick in the 2015 Draft, completed four scoreless innings, allowing a pair of singles, walking nobody and striking out four. Since he was hit hard in his season debut for the TinCaps, Nix has given up only one earned run while picking up nine strikeouts over three outings (10 innings).
• Pirates No. 17 prospect Steven Brault turned in his best start of the season for Triple-A Indianapolis as he allowed four hits and struck out a career-high 11 in six scoreless innings. The Indians lost to Norfolk, 7-6, in 12 innings, but Brault left the team with a three-run lead. The 23-year-old southpaw lowered his ERA to 1.83.
• Phillies No. 13 prospect Zach Eflin produced another strong outing for Triple-A Lehigh Valley, holding Scranton/Wilkes-Barre scoreless over 6 1/3 innings in a 2-0 victory. Eflin (3-0, 2.05 ERA) allowed four hits, with the righty walking one and striking out six. He has allowed no more than one run in three of his four outings this season.
• Phillies No. 23 prospect Dylan Cozens launched his fifth homer of the season and reached base safely in all five plate appearances as Double-A reading cruised past Akron, 11-2. The 21-year-old right fielder worked a trio of walks and doubled in addition to going deep, driving in three runs to bring his season total to 16.
• Rangers No. 7 prospect Eric Jenkins hit a solo homer with one out in the bottom of the first inning, and that was all the support No. 29 prospect Pedro Payano needed. Jenkins finished 2-for-4, and Payano twirled a one-hit shutout, as Class A Hickory defeated Greensboro, 2-0. Payano had gone exactly five innings in each of his first three starts but this time went the distance after carrying a no-hitter into the eighth. The right-hander walked two, struck out a career-high 11 and lowered his ERA to 0.38.
"My command was great," Payano told MiLB.com. "I was throwing all my pitches for strikes. My changeup and curveball were very good, and I was just thinking, 'Let me go slow, pitch to contact and I can go late in the game.'"
• Reds No. 23 prospect Aristides Aquino popped his first two home runs of the season -- both of them solo shots -- accounting for Class A Advanced Daytona's only scoring in a 14-2 loss to Clearwater. Aquino, who walked in his other two plate appearances, had been off to a slow start. He has a .605 OPS through 19 games.
• The pitching of Rockies No. 29 prospect Harrison Musgrave and the hitting of the team's No. 7 prospect, Raimel Tapia led Double-A Hartford to a 4-1 victory over Harrisburg. Musgrave allowed only one baserunner over seven innings, as Shawn Pleffner singled to right field with two outs in the seventh inning. The 24-year-old lefty (3-0, 0.87 ERA) struck out six in his third outing of the season. Meanwhile, Tapia helped spark the offense out of the leadoff spot by going 3-for-4 with a solo homer (his second) and three runs scored.
• Yankees No. 7 prospect Domingo Acevedo racked up nine strikeouts over eight strong innings, improving to 2-0 in Class A Charleston's 3-2 victory over Lakewood. The 22-year-old right-hander surrendered only two runs (one earned) on two hits and one walk, lowering his ERA to 1.91 in 28 1/3 innings across five starts.
Andrew Simon is a reporter for MLB.com. Follow him on Twitter @AndrewSimonMLB. This story was not subject to the approval of Major League Baseball or its clubs.