Phelps, Mattingly ejected; Urena ends threat
Marlins reliever, manager exit with bases loaded in eighth inning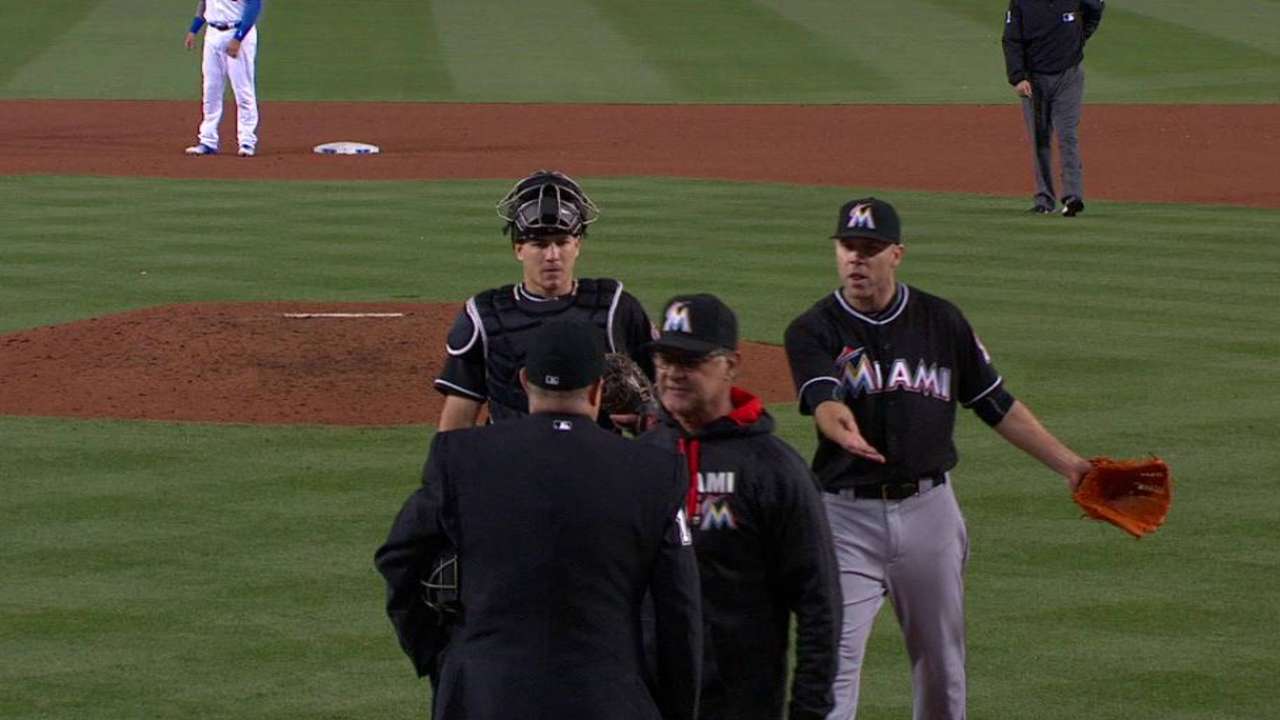 LOS ANGELES -- Marlins reliever David Phelps, upset after close pitches were called balls in a walk to pinch-hitter Joc Pederson in the frantic eighth inning, was ejected by home-plate umpire Todd Tichenor on Wednesday night at Dodger Stadium.
Miami manager Don Mattingly also drew an ejection after arguing with Tichenor. Tempers boiled in the visiting dugout as the walk to Pederson filled the bases with one out in a game the Marlins managed to hold on to for a 2-0 win over the Dodgers.
"I'm trying to keep [Phelps] in the game," Mattingly said. "Obviously, it's just an emotional time. He's trying to get that out. Things are going on. Guys are fighting. Guys are emotional. They want to win. I have no problem with that, other than we've got to keep our emotions in check, and know when we have to stay in the game."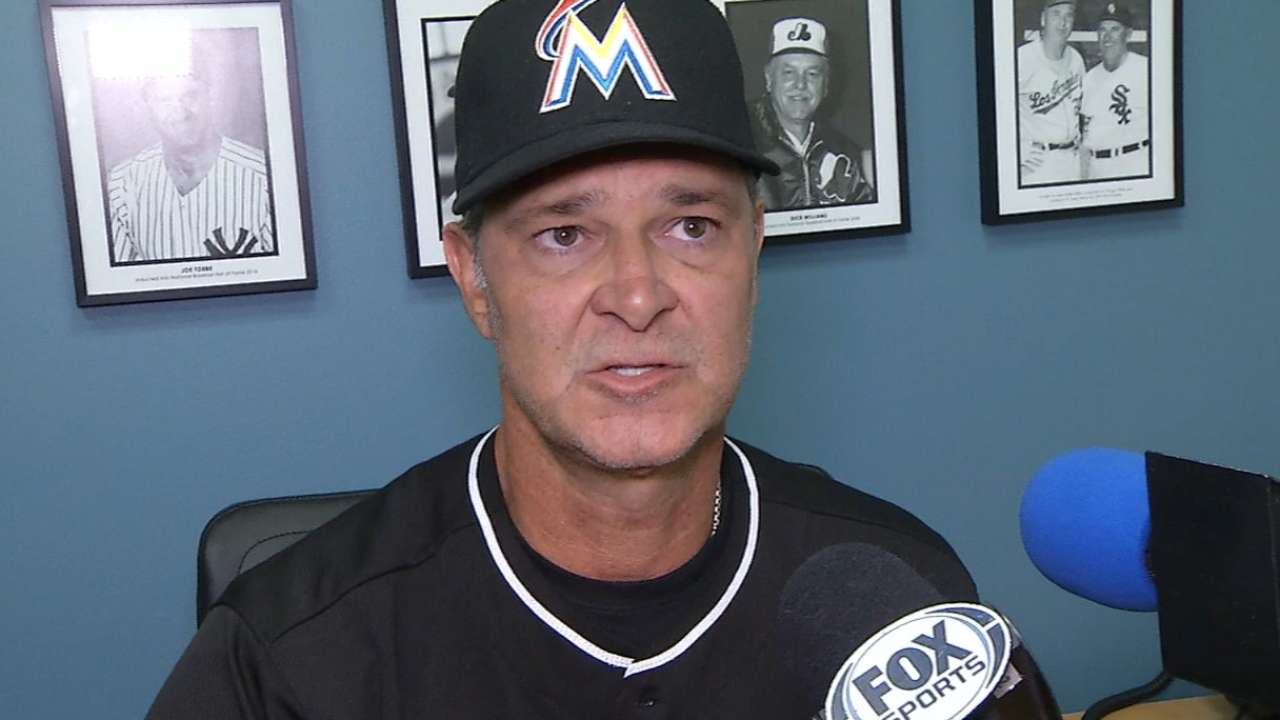 The wild eighth inning started off calmly, as Miami starter Justin Nicolino took the mound at 94 pitches. He retired A.J. Ellis on a ground ball to second, and was replaced at 99 pitches.
From that point, the Marlins used four relievers to face the next four batters. Bryan Morris walked pinch-hitter Chase Utley on four pitches, and Cody Ege walked pinch-hitter Yasmani Grandal on five pitches.
Phelps came in with two on and had a couple of borderline inside pitches called balls. After ball four, a 93-mph two-seam fastball, Phelps threw his hands up and walked toward home plate.
"I wasn't arguing balls and strikes," Phelps said. "I was more curious as to where the pitch was. Obviously, I was frustrated with -- I thought two pretty good pitches. My arms went up. I understand that probably frustrated him. At the same time, I didn't curse at him. I didn't argue balls and strikes. I was seriously just asking where it was. I don't know if he couldn't hear me or if he just thought I was saying something else."
Tichenor tossed the Miami reliever, as Mattingly dashed to home plate, where he also exchanged words.
Mattingly, who managed the Dodgers the previous five seasons, was booed by the crowd as he was ejected for the second time this year. On Friday in San Francisco, he also was tossed for arguing over the strike zone.
Jose Urena replaced Phelps and struck out Yasiel Puig on a changeup, and got Adrian Gonzalez to fly out to right field to get out of the jam.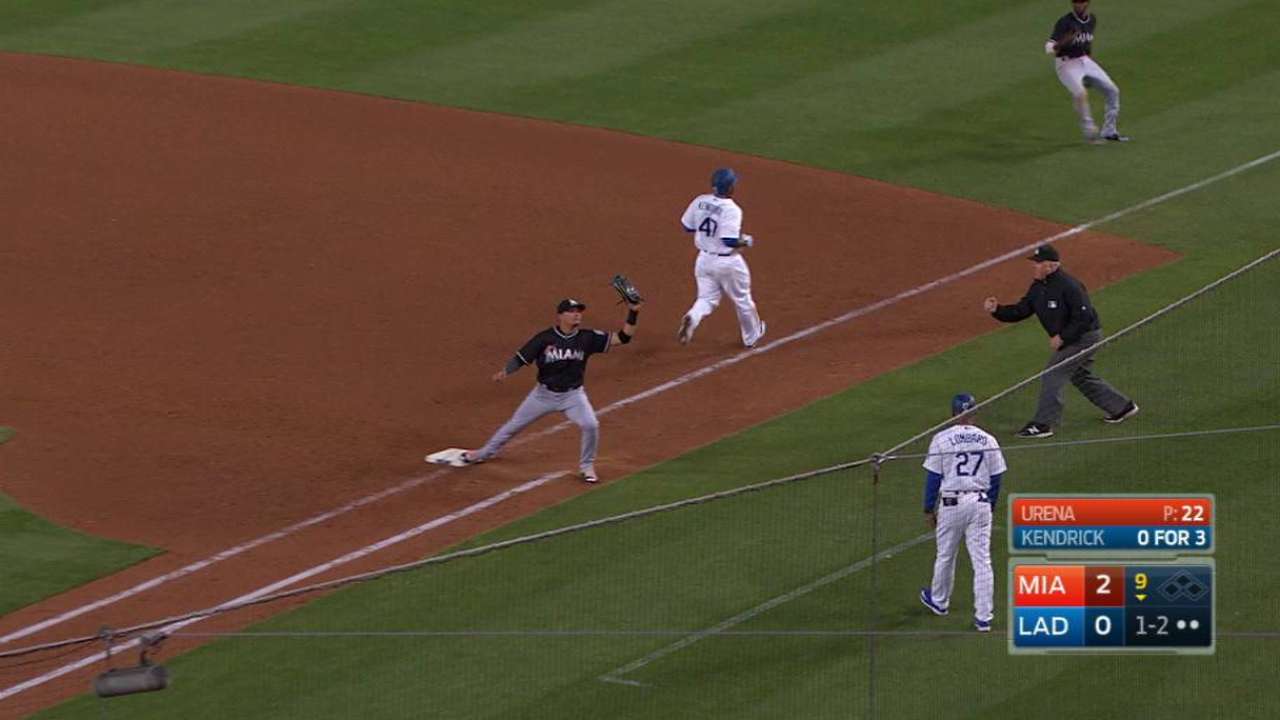 "That happened so quickly," Urena said. "You don't think something like that is going to happen. Had to be ready to go. I just think of going out there, and getting a ground ball for a double play."
The Marlins bullpen was thin because setup right-hander Kyle Barraclough and closer A.J. Ramos were not available, each throwing the previous three games.
"I'm not furstrated that I got thrown out," Phelps said. "I'm frustrated that our bullpen was thin tonight, and I'm in there to get five outs. I walk the first guy and then I'm gone. So I put our guys in a bad situation. That's a game I want to win. I want to be out there pitching. I don't want to get thrown out of a game."
Urena ended up getting the five-out save. But if the game continued, the right-hander was going to log as many innings as possible.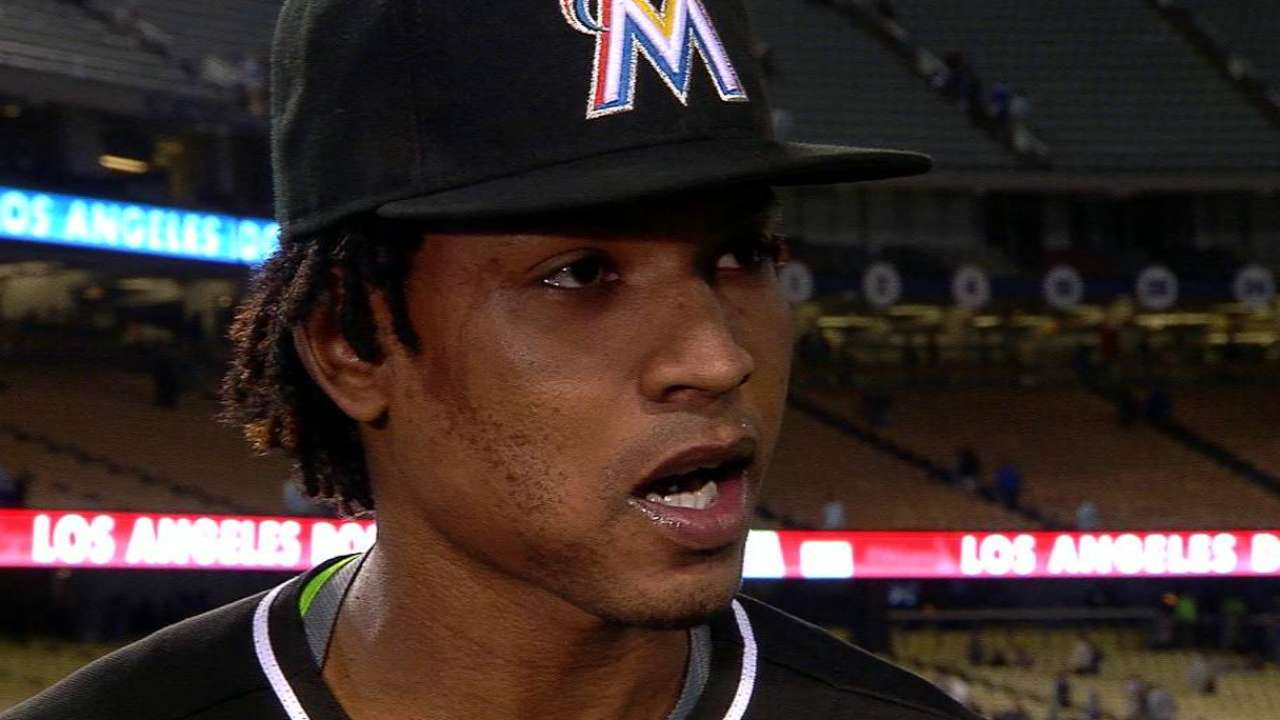 "Big situation," Urena said. "That was a big game for the team. But, you know, we can handle that."
Joe Frisaro has covered the Marlins for MLB.com since 2002. He writes a blog, called The Fish Pond. Follow him on Twitter @JoeFrisaro and listen to his podcast. This story was not subject to the approval of Major League Baseball or its clubs.