MLB.com Columnist
Richard Justice
Sharp Tillman encouraging for struggling rotation
O's need ace to maintain form in order to have chance at postseason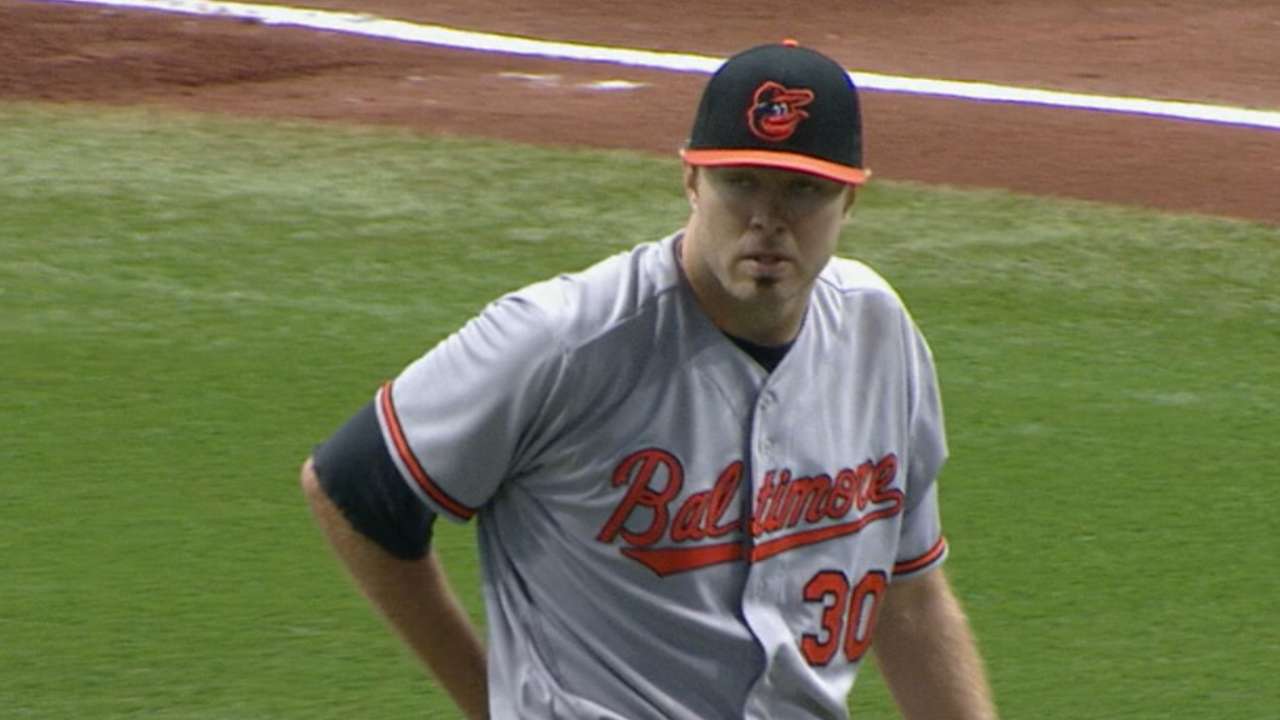 When the Orioles get a performance out of Chris Tillman like this one, they can almost see October from here.
No, it's never that simple. Stuff happens. On the other hand, the O's probably aren't going to the postseason without Tillman being the guy he was in, say, 2014.
Virtually everything they think they can make out of this season begins with their ace having a solid comeback season. On Wednesday, Tillman offered more encouragement he's on track to do just that.
"He was the difference in the game," Orioles manager Buck Showalter said after watching Tillman pitch 6 2/3 scoreless innings in a 3-1 victory over the Rays at Tropicana Field.
Tillman's fastball touched 96 mph, and he mixed in an assortment of breaking balls and changeups. He kept Tampa Bay off balance, inducing 16 swings-and-misses.
"I felt good coming in," Tillman said. "I kind of had it from the get-go. Being able to carry it over into the game is a big part of it, and we got it going from the get-go. It was good to see."
The O's won the American League East two years ago, in part because Tillman pitched 207 1/3 innings and went 13-6 with a 3.34 ERA. He wasn't close to being that guy last season, when he had a 4.99 ERA and Baltimore finished 81-81.
Since a rain-shortened Opening Day assignment, Tillman has had three solid starts in four turns as the Orioles (12-8) have spent every day of the young season alone atop the division.
Against the Rays on Wednesday, Tillman did what an ace is supposed to do. He got deep into the game and ended a three-game losing streak. Tillman also matched Tampa Bay starter Matt Moore inning for inning until right fielder Joey Rickard's three-run home run in the fifth.
"Oh, he was good, really good," Showalter said of Tillman. "He's been good most of the year, ever since Spring Training. He had a really good offseason."
Tillman did all of this two nights after the O's got a hopeful first start from right-hander Kevin Gausman. Another right-hander, Tyler Wilson, won his first start of the season last weekend in Kansas City.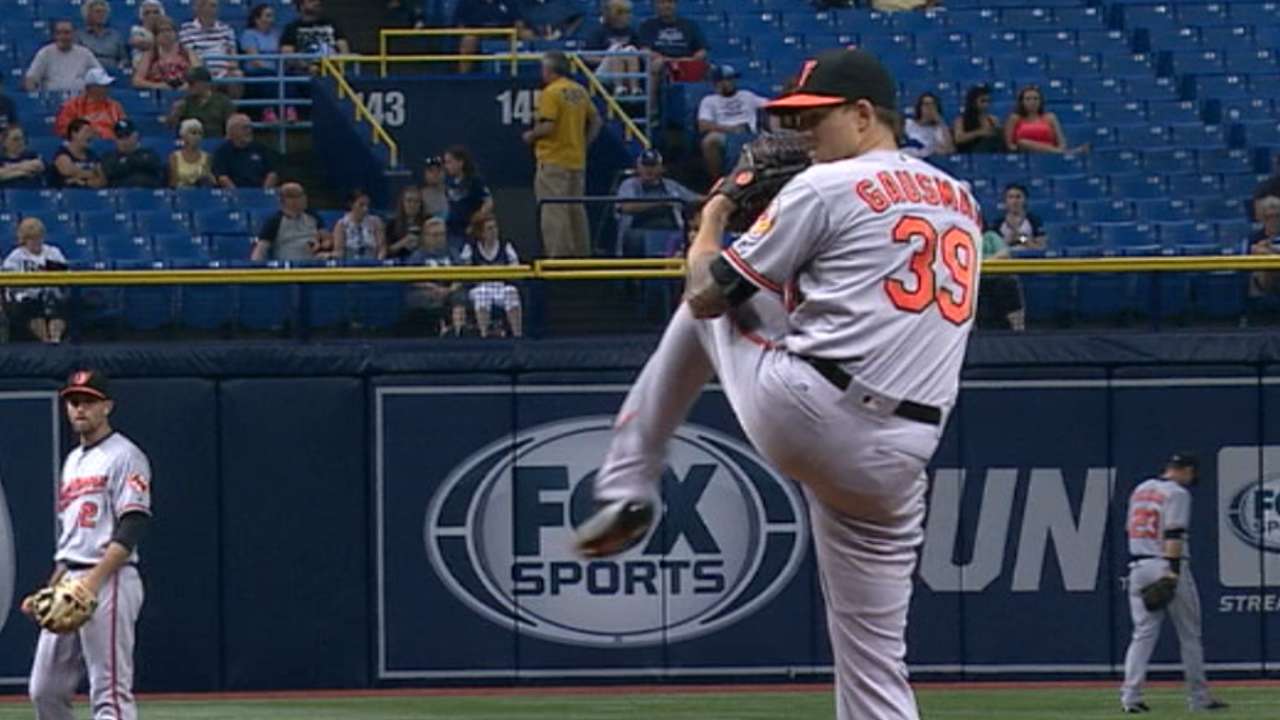 This is a rotation that had a very rough spring and has lost right-hander Yovani Gallardo to a sore shoulder. Showalter is piecing things together a week at a time, and he has been since Opening Day.
The Orioles had their best start ever (7-0), despite just one starting pitcher getting an out after the sixth inning. No matter how good the O's bullpen is -- and its 1.80 ERA is the second best in the Majors -- it cannot continue to shoulder that kind of workload.
Tillman's performance on Wednesday came at a time when the Orioles had lost eight of 12 since the 7-0 start. Meanwhile, an offense that scored 40 runs in the first seven games began the night with 42 in the past 12 games, including one run in the past 26 innings.
In the top of the fifth inning, the O's scored three runs off Moore in a span of six pitches. Moore issued a four-pitch walk to Nolan Reimold, allowed a first-pitch single to Jonathan Schoop then let a first-pitch fastball to Rickard catch too much of the plate.
Rickard's home run was the first for the Orioles since Chris Davis hit one Saturday in Kansas City, and it gave them more runs with one swing than they'd gotten in their previous 31 frames.
The Orioles got Rickard from the Rays in last December's Rule 5 Draft. He has filled a huge hole in left field and at the leadoff spot, and he appears to be the latest in a string of extraordinary success stories by Dan Duquette, the O's executive vice president of baseball operations.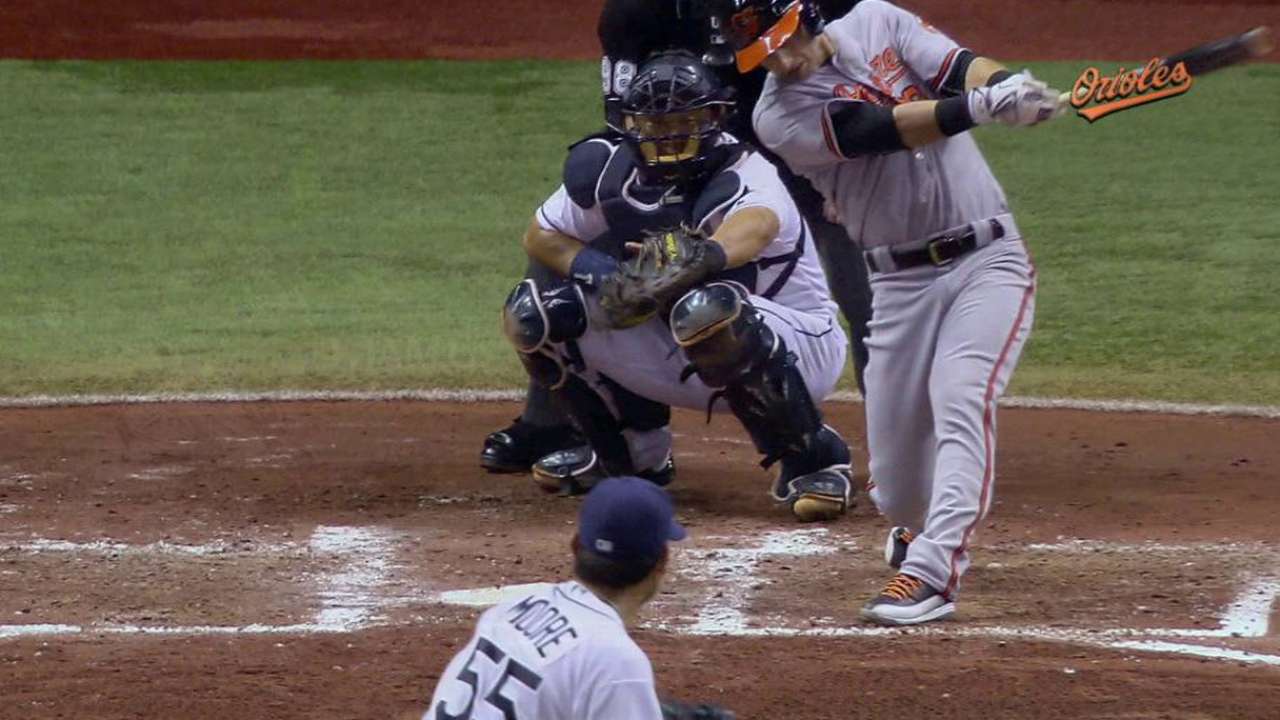 In the five seasons Duquette and Showalter have been together in Baltimore, the Orioles are the AL's winningest franchise with 366 victories. The 7-0 start was important because it came at the end of a tough spring and injected confidence in every area of the organization.
Twenty games means nothing. First place in April means nothing. Everything comes back to pitching. The O's will hit. Their bullpen will remain one of the best. And Showalter, continuing to build a Hall of Fame resume, will do his thing in instilling confidence and putting players in position to succeed.
When there's starting pitching like the Orioles have gotten the past few days, anything seems possible. Now they return home for a 10-game homestand against the White Sox, Yankees and Athletics.
"We'll take it and go home," Showalter said. "We pitched good."
Richard Justice is a columnist for MLB.com. Read his blog, Justice4U. This story was not subject to the approval of Major League Baseball or its clubs.