Feldman will be ready in relief
Right-hander being skipped in Astros rotation in favor of Devenski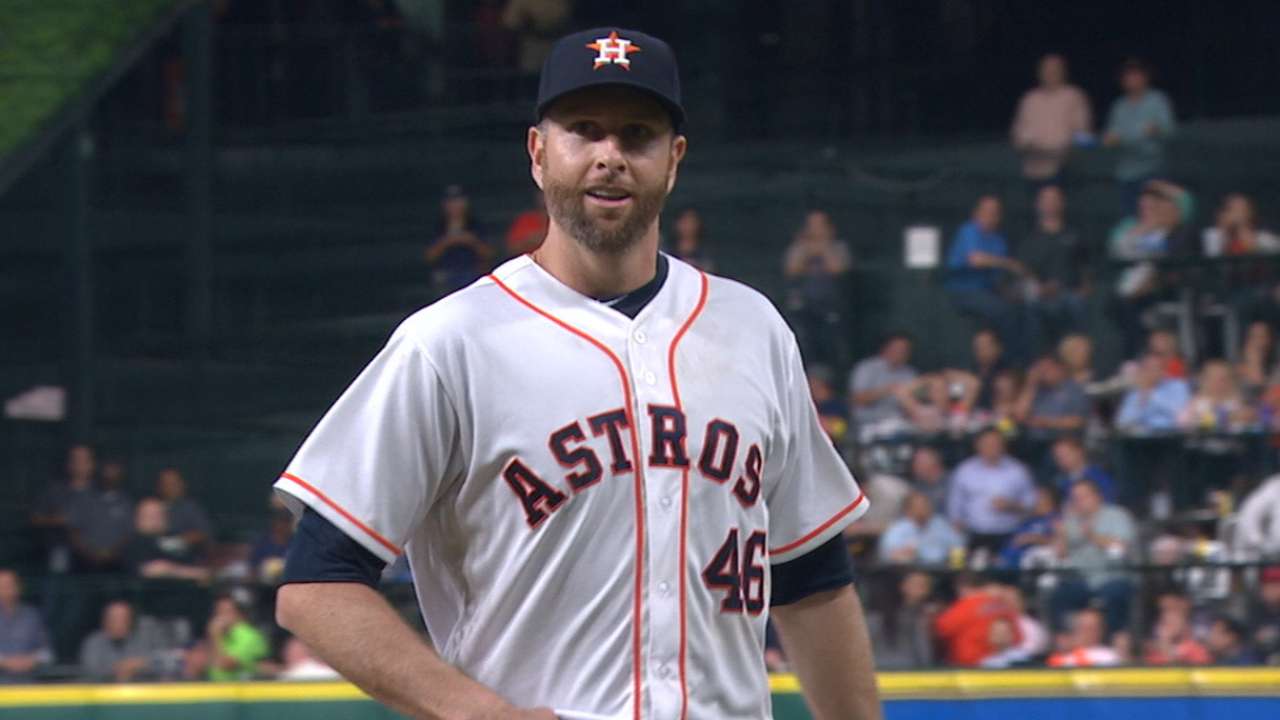 SEATTLE -- Veteran right-hander Scott Feldman is taking the the news that he's being replaced in the rotation by rookie right-hander Chris Devenski in stride. Feldman has been through this before, he said Wednesday, adding that he needed to focus now on being ready to pitch in relief this weekend in Oakland.
Feldman went 0-2 with a 4.58 ERA in four starts out of the gate, but was told by manager A.J. Hinch on Tuesday that Devenski would start in his place. Hinch said Feldman could return to the rotation next week.
"I'll be rooting for Devo to do well and at the same time make sure I'm ready when I'm called upon and just try to do anything I can help the team win," said Feldman, who broke into the Majors as a reliever.
Devenski, meanwhile, will be making his first Major League start on Saturday. Devenski has appeared in six games in relief and allowed 11 hits, one run and one walk while striking out 12 batters in 13 2/3 innings. He's been efficient and has thrown strikes, which is something the rotation could use.
"It was a little bit of a surprise," said Devenski, who was a starter in the Minor Leagues. "I felt like it's something I could do, that I wanted to do was start at this level. I did not expect it to happen this soon, but it's here and I'm ready to take advantage of it."
Hinch has said the move has more to do with giving Devenski a shot that anything Feldman did or didn't do. Feldman's performance hasn't been much different than fellow right-handers Mike Fiers and Doug Fister, and better than Collin McHugh, who won 19 games a year ago and carried a 7.56 ERA into Wednesday's start.
"When you look at making a decision for Devenski to face the A's, it does set off a little bit of insecurity amongst the guys that maybe haven't gotten off to a great start," Hinch said. "The reality is we have a lot of starters that we have options and we want to match them up perfectly with the opponent.
"It really was getting Devenski a start and not threatening the stability of our rotation or putting any undue pressure. There's enough pressure as it is. We would like to get into games better and pitch better in the first, second and third innings that have given us trouble. How it slots out is going to work out over time."
Brian McTaggart has covered the Astros since 2004, and for MLB.com since 2009, and writes an MLBlog, Tag's Lines. Follow @brianmctaggart on Twitter. This story was not subject to the approval of Major League Baseball or its clubs.