Bumped up to No. 2, J.D. snaps out of slide
Tigers slugger answers Ausmus' tweak with second-inning homer off Gray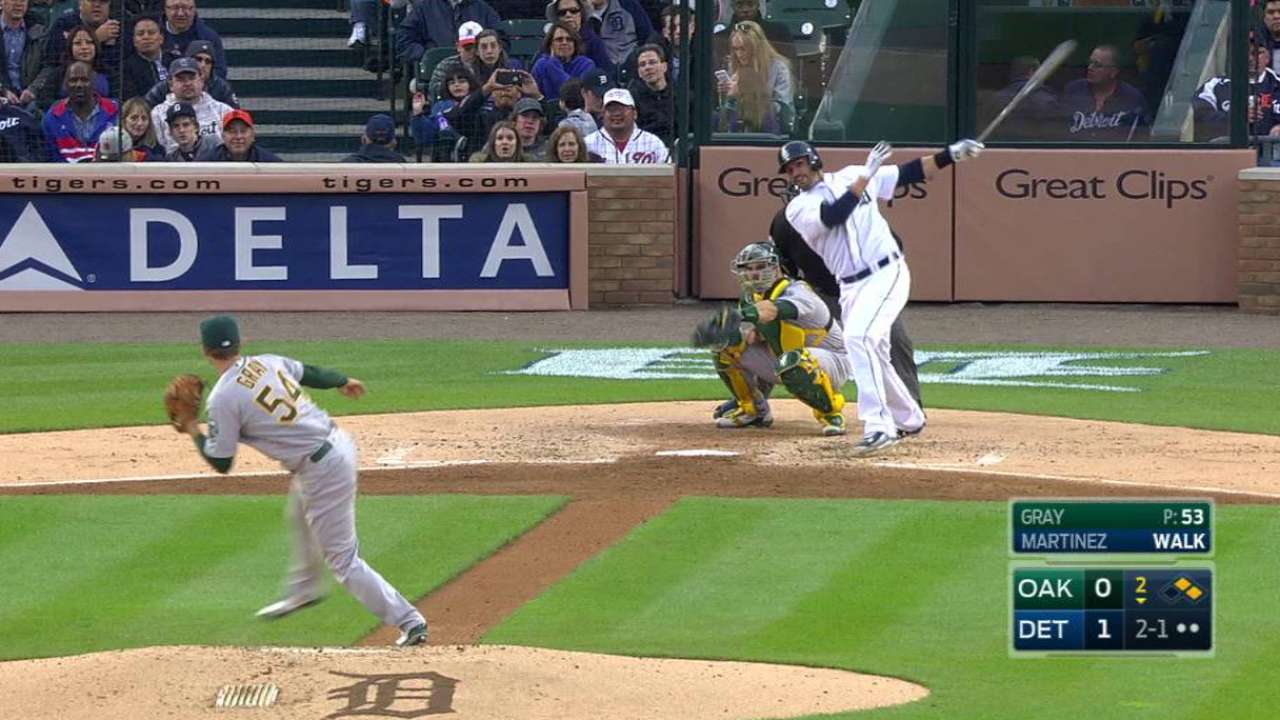 DETROIT -- J.D. Martinez understands why baseball is considered a fun game, why players can remain enthusiastic even when times get tough. But the Tigers slugger also might have given the best explanation of why the opposite is true when hitters are struggling, as he had been before hitting a three-run homer off A's ace Sonny Gray in the second inning of Wednesday night's 9-4 win.
"You can say baseball's fun, you're in the big leagues, you get to come to a Major League field every day -- and, yeah, that's great," said Martinez, who followed Wednesday's homer with a fourth-inning sacrifice fly to the warning track. "I love it. Obviously, this is a job, it's a grind, but it's what you love to do. It's your passion. I get to play what I dreamed about since I was a kid. So, on that end, I love it. But I also take pride in it.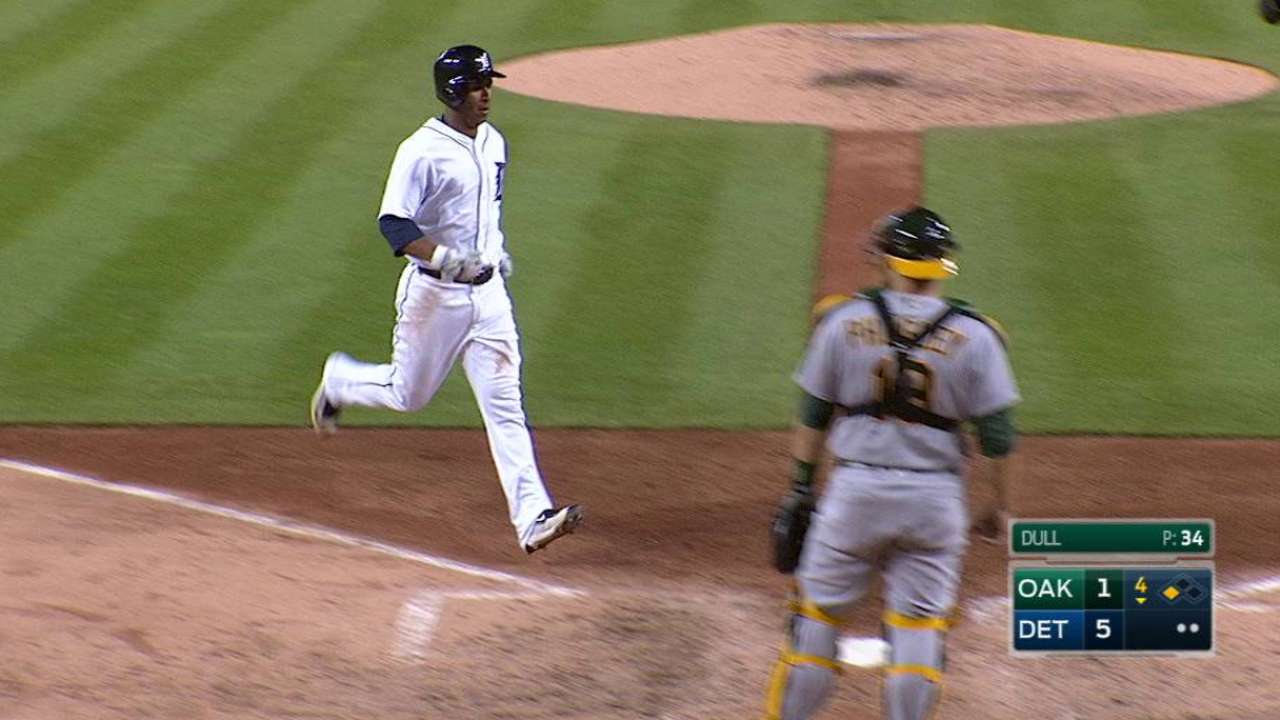 "When I come to the park, when I go out there, you don't know who's watching. People come out here to see you play and see you perform, and when you're not performing, you're not producing, like our lineup … it's very frustrating, because you know you could be doing so much better. And you know what to expect from yourself. And when you're not doing that, it's hard. That's what takes the fun out of it."
Martinez entered Wednesday's game in a 3-for-26 slump over his previous seven games. With both Martinez and Justin Upton struggling, manager Brad Ausmus switched the two sluggers in the batting order on Wednesday, hoping the simple change could get both going. Ausmus thought over the swap on Tuesday, debating bigger changes such as batting Jose Iglesias second, but he decided on a move centered on his two scuffling power hitters.
Before the game, Ausmus called the move a "blind dart," hoping it could lead to something. He declined the opportunity to gloat after the win.
"He would've eventually gotten back to the guy we've seen the last couple years," Ausmus said of Martinez. "We talked after [batting practice] to make sure he doesn't change anything. Just because he's hitting in the two-hole doesn't mean you try to hit ground balls to the right side to get guys over. He knew that, but I just wanted to be sure.
"You only have so much at your beck and call as a manager, things you can do, when an offense is struggling. Not that it was a huge shock with the lineup change, but you hope it's some sort of shock that has some positive effect."
Though Martinez's numbers in Spring Training were promising, he said before the game that he hasn't felt consistently comfortable with his timing at the plate since then. And that can make the game less than fun.
"When you're up there and everything feels good and you're competing against the pitcher and the pitcher strikes you out, you're like, 'OK, yeah, I struck out, but that's OK,'" Martinez said. "But when you're up there and you're not competing, it's like you're more wondering where you're going to be that day with your swing, how you're feeling that day."
It might have been more fun when Martinez was offered a Gray fastball and sent it out to right-center, clearing the high wall over the out-of-town scoreboard with a drive projected by Statcast™ to land 409 feet from the plate.
Jason Beck has covered the Tigers for MLB.com since 2002. Read Beck's Blog, follow him on Twitter @beckjason and listen to his podcast. This story was not subject to the approval of Major League Baseball or its clubs.