Roberts sticks with matchups in center field
Dodgers start Pederson vs. righties, Thompson vs. lefties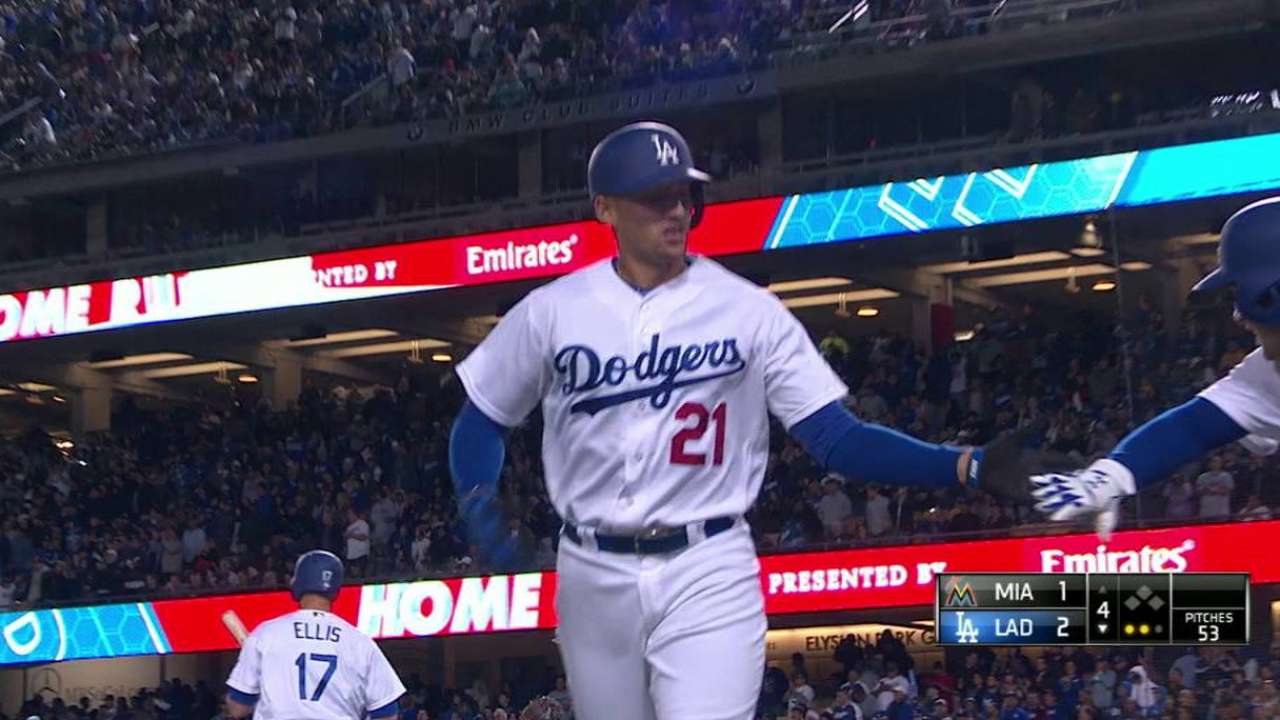 LOS ANGELES -- Trayce Thompson's start in center field Wednesday against Justin Nicolino continued a pattern of him getting every start against left-handed starters, and Joc Pederson appearing in the lineup in every matchup against right-handers.
Still, manager Dave Roberts has been hesitant to label the situation a platoon.
"I've talked about that, but I've also talked about using the roster," Roberts said. "I think that Trayce is good out there in center field and I want to get him at-bats. It makes sense to get him in there against left-handed pitching. Joc had a good at-bat against a left-hander, Breslow, last night, so it's not like I'm pinch-hitting every time a left-hander gets in there."
• Cast your Esurance All-Star ballot for Joc and other #ASGWorthy players
So far in 2016, Pederson has been hitless in five at-bats against left-handers. Meanwhile, Thompson has seen several more opportunities against same-handed pitchers in 2016, hitting .217/.280/.304 in 25 plate appearances against right-handers.
"Trayce has swung the bat well," Roberts said. "Throughout his Minor League splits, they're pretty much even. I think that this is a day Joc could have played, certainly, but I felt that I wanted to get Trayce in there."
As far as playing the matchups against starters, the Dodgers have faced a group of southpaws who are particularly tough against same-handed hitters. All four different pitchers carry a significant career OPS split.
Left-handers faced by the Dodgers
Roberts did say he planned for Pederson to break the mold when the Dodgers take on Matt Moore of the Rays next week. So far in his career, Moore's arsenal has led to an OPS split that is nearly a dead heat, .695 to .710.
"Certain guys, their out pitches are a changeup, certain lefties it's a breaking ball," Roberts said. "Typically, when a breaking ball is their best secondary, it's tougher on the left-on-left, the visual. Guys that have a changeup as an out pitch, typically the left-handers can handle them more."
With both Dodgers center fielders 25 or younger, they still have room to grow against same-handed pitching. For now, it's a matter of Roberts balancing short-term strength against long-term development.
Jack Baer is a reporter for MLB.com based in Los Angeles. This story was not subject to the approval of Major League Baseball or its clubs.