Baez fine with part-time role for Cubs
Maddon says infielder understands value he provides off bench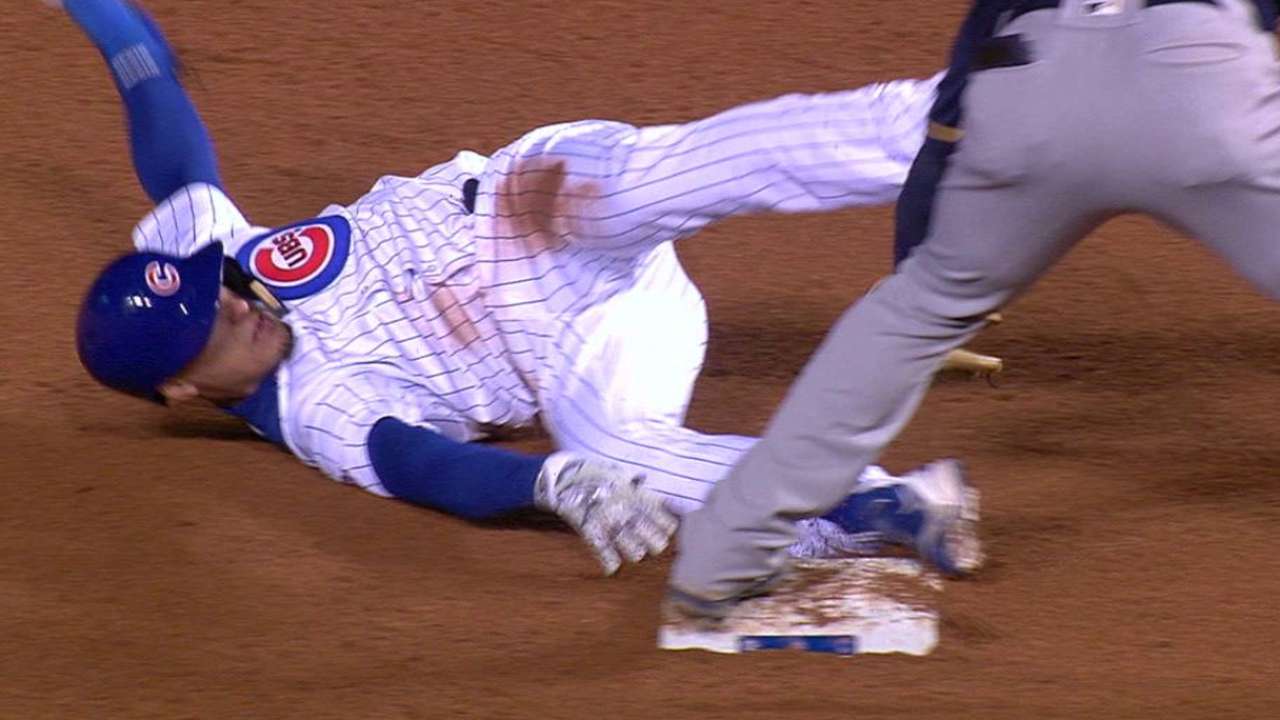 CHICAGO -- Cubs manager Joe Maddon has told Javier Baez that someday he'll be in the lineup every day in the big leagues. But right now, Baez has accepted his role as a pinch-hitter and defensive sub, something he might not have been able to do a year ago.
"He understands his role," Maddon said Wednesday. "He knows he'll be an everyday player at some point, but for right now, he knows this is his way to be in the Major Leagues and how valuable he is to us."
On Tuesday, Baez came off the bench and delivered a pinch-hit single in the seventh, then stole second with a nifty slide and eventually scored. The Cubs are working with Baez to get him to cut down on his swing.
"He still comes out of his shoes once in a while, but he's able to get back in his shoes with two strikes and he looks better," Maddon said. "He cannot handle it any better than he is right now. He's smiling, he's chirpy, he's ready. His face is good before the game, his eyes are good. I think that's the difference. He could not be the same guy last year."
• Miguel Montero, who was scratched from Tuesday's lineup, was not listed in the starting lineup for Wednesday's game that was postponed, but the catcher was available to pinch-hit, Maddon said.
Montero had some stiffness in his back over the weekend in Cincinnati. Backup catcher David Ross had been in the starting lineup for the ninth game this season.
• If the Cubs need a spot starter, Adam Warren may be their man out of the bullpen. Maddon likes the right-hander's ability to get both righties and lefties out, effectively using his fastball and changeup.
"He's got a lot of confidence," Maddon said. "The role he played in New York probably built a lot of inbred confidence for him. He just needs opportunity."
Acquired from the Yankees for Starlin Castro, Warren said he's ready for whatever the Cubs need.
"I felt I did about every kind of role there was from starting to closing to everything in between," Warren said of his time with the Yankees. "Just understanding the pressure that was in New York to perform -- and there's pressure here to perform as well, and I think it's similar. My demeanor as far as not trying to show emotion, and trying to keep everything contained, I think it helps portraying calmness and not letting anybody in on what's going on in my head."
• Both the Cubs and the White Sox are enjoying success at the start of the season, and Maddon says he's "digging it."
"I'm happy for [manager Robin Ventura] and their success," Maddon said of the White Sox skipper. "I think it's great for the city. If we could both sustain this kind of play, it could make for a very interesting summer."
Carrie Muskat has covered the Cubs since 1987, and for MLB.com since 2001. She writes a blog, Muskat Ramblings. You can follow her on Twitter @CarrieMuskat and listen to her podcast. This story was not subject to the approval of Major League Baseball or its clubs.